6. maj 2022
Mouser & Wevolver Launch University Technology Exposure Program 2022
Mouser Electronics, Inc., the New Product Introduction (NPI) leader™ empowering innovation, is delighted to launch the 2022 University Technology Exposure Program in partnership with Wevolver. The program aims to recognise and reward innovation from engineering students and researchers across the globe.
The purpose of the University Technology Exposure Program is to elevate the work of engineering students and researchers by allowing them to share their projects and ideas. The program will enable the development of new partnerships and collaborations, increase career prospects, and inform the wider community of engineers about the incredible innovation of students and researchers.
The University Technology Exposure Program 2022 invites engineering students from all engineering disciplines to submit innovative projects covering a wide range of fields, including 3D printing, robotics, autonomous vehicles, batteries, drones, nanotechnology, and more.
"Wevolver's University Technology Exposure Program aligns closely with Mouser's ethos — to empower innovation," said Mark Patrick, Mouser's Technical Marketing Manager, EMEA. "The students of today are the engineers of tomorrow, and we encourage them at this early stage of their engineering careers to begin sharing innovative ideas. Mouser is delighted to partner with Wevolver again to launch this worthwhile student program."
Wevolver aims to empower people to create and innovate by providing access to engineering knowledge through a variety of media including blogs and podcasts. Mouser has partnered with Wevolver for 2 years, continuing its successful work together.
Entries are open until July 31, 2022.
For more information about Wevolver's University Technology Exposure Program 2022 and to learn how to submit an entry, please visit https://www.wevolver.com/student-program/.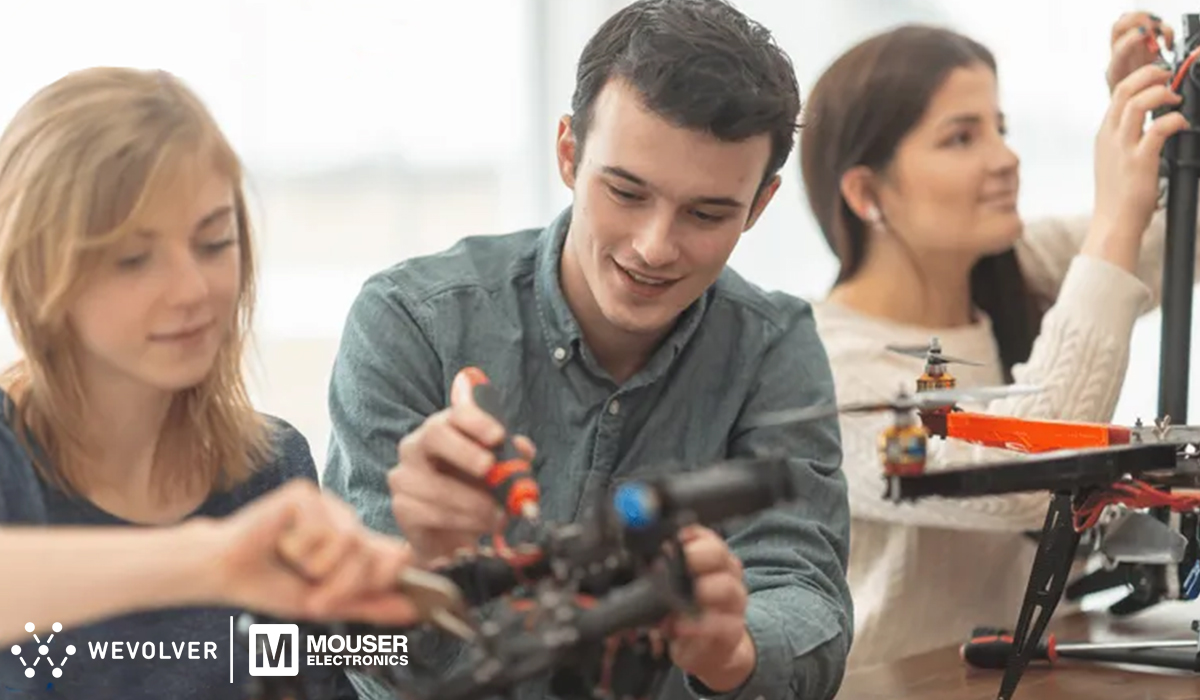 About Mouser Electronics
Mouser Electronics, a Berkshire Hathaway company, is an authorised semiconductor and electronic component distributor focused on New Product Introductions from its leading manufacturer partners. Serving the global electronic design engineer and buyer community, the global distributor's website, mouser.com, is available in multiple languages and currencies and features more than 6,8 million products from over 1.200 manufacturer brands. Mouser offers 27 support locations worldwide to provide best-in-class customer service in local language, currency and time zone. The distributor ships to over 650.000 customers in 223 countries/territories from its 93.000 square-meter, state-of-the-art facilities in the Dallas, Texas, metro area. For more information, visit https://www.mouser.com/.
About Wevolver
Wevolver is a platform & community where engineers stay up to date about state of the art technologies. On Wevolver.com companies, universities, and individual experts publish articles, videos, and podcasts about engineering topics such as robotics, AI, manufacturing, aerospace, IoT, etc.
Wevolver reaches millions of engineers every month, with the majority of its community consisting of young professionals in mechanical, electrical, and software engineering.