24. november 2021
Mouser Spotlight: eBooks
Mouser Offers Extensive Range of Informative eBooks for Design Engineers
Mouser Electronics, Inc., the New Product Introduction (NPI) leader empowering innovation, continues to support engineers by offering new technical resources. This year, the global distributor has released more eBooks than ever before, collaborating with top manufacturers to provide practical guides that offer design engineers the information to solve new engineering challenges.
For the latest eBooks, Mouser collaborated with Amphenol Corporation, Bourns and Maxim Integrated® (now part of Analog Devices):
Enabling the Industrial IoT Revolution from Amphenol
In Enabling the Industrial IoT Revolution, subject matter experts from Mouser and Amphenol offer detailed insights into topics including industrial data centres; heating, ventilation, and cooling (HVAC) systems; and indoor air quality systems as well as smart manufacturing, intelligent automation, construction, and mining.
How to Choose the Right Surge Protection Technology from Bourns
Increasing complexity in electronic designs has led to a matching increase in PCB density. As a result, these denser board layouts are at a greater risk of damage from transients like lightning and voltage surges. In How to Choose the Right Surge Protection Technology from Bourns and Mouser, engineers receive a step-by-step guide on how to choose the right surge protection technology for a given application.
7 Experts on LiDAR Design from Maxim Integrated, now part of Analog Devices
The new eBook 7 Experts on LiDAR Design provides design engineers with detailed insights into how to meet application performance demands while simultaneously building lighter and smaller devices. Connecting designers directly to the solutions needed for LiDAR innovation, the eBook features information on products such as the MAX40025 and MAX40026 single comparators and the MAX40027 dual comparator.
For more eBooks from Mouser and leading manufacturers visit https://eu.mouser.com/applications/manufacturer-ebooks/.
Additionally, Mouser provides a wealth of engaging articles, applications notes, and more to support design engineers:
Helpful and time-saving online services and tools: https://eu.mouser.com/servicesandtools/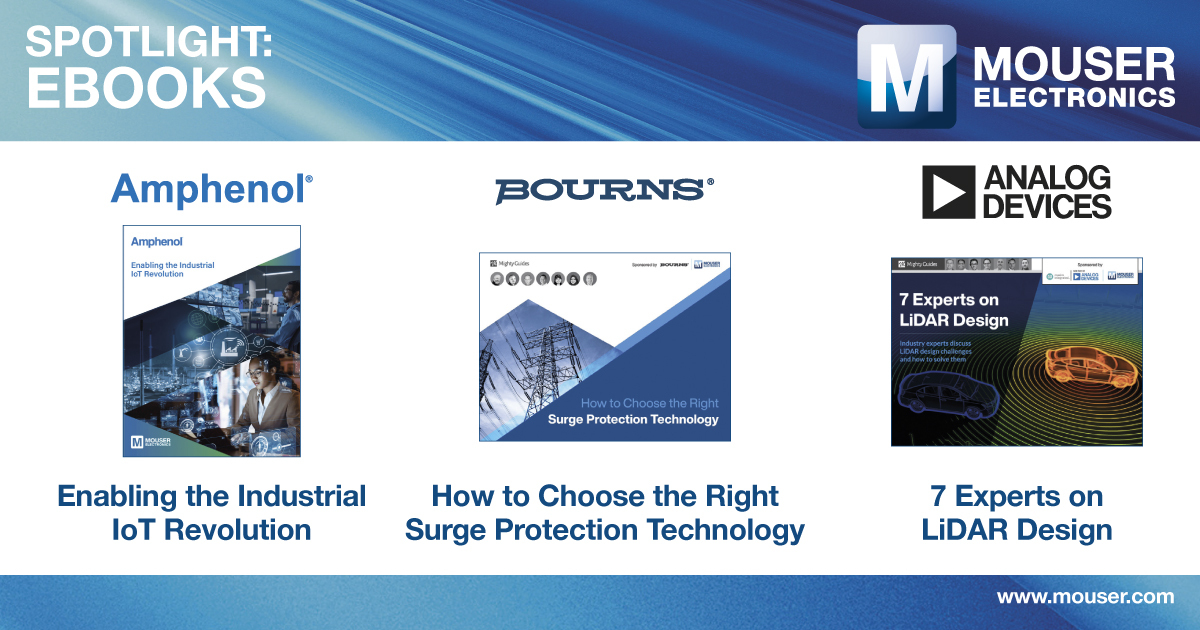 About Mouser Electronics
Mouser Electronics, a Berkshire Hathaway company, is an authorised semiconductor and electronic component distributor focused on New Product Introductions from its leading manufacturer partners. Serving the global electronic design engineer and buyer community, the global distributor's website, mouser.com, is available in multiple languages and currencies and features more than 5 million products from over 1,100 manufacturer brands. Mouser offers 27 support locations worldwide to provide best-in-class customer service in local language, currency and time zone. The distributor ships to over 630,000 customers in 223 countries/territories from its 1 million-square-foot, state-of-the-art distribution facilities in the Dallas, Texas, metro area. For more information, visit https://www.mouser.com/.