23. august 2021
Mouser Spotlight: Automotive Embedded Systems
Mouser Stocks Latest Innovations in MCUs, Display Drivers, Motor Drivers, and Interconnect Solutions for Challenging Automotive Environments
Mouser Electronics, Inc., the New Product Introduction (NPI) leader empowering innovation, stocks a variety of new products that are designed to assist engineers to implement next-generation automotive electronic designs. Covering a broad range of automotive categories, the new products underline Mouser's position as the trusted authorised distributor for advanced automotive solutions to help boost performance, enhance comfort and improve safety.
Automotive embedded product highlights available from Mouser include the following:
Infineon Technologies Traveo II 32-bit automotive microcontroller units (MCUs) feature a single Arm®Cortex®-M4F plus dual Arm Cortex-M7F processors, and are capable of delivering 1500 DMIPS operation. These devices have 4MB of flash and 512kB SRAM memory, as well as an eight-channel CAN FD interface. The scalability and IP compatibility of these MCUs allow automobile manufacturers to take a platform approach and address requirements of different vehicle models while minimising the engineering resources. https://eu.mouser.com/new/cypress-semiconductor/cypress-traveo-32-bit-arm-automotive-mcus/
The Maxim Integrated MAX25530 four-channel automotive backlight driver is optimised for incorporation in automotive dashboards, central information units, and navigation systems. This device has a four-output TFT-LCD bias power with a synchronous boost converter, an inverting buck-boost converter, and two charge pump drivers, all integrated into a compact package that helps save valuable board space. https://eu.mouser.com/new/maxim-integrated/maxim-max25530-drivers/
Samtec's 400-pin COM-HPC interconnect array solutions can provide the high-density connectivity needed by artificial intelligence (AI) systems and connected vehicles. They support data rates reaching 32Gbps/channel, thereby allowing PCIe 5.0 interfacing to be supported. https://eu.mouser.com/new/samtec/samtec-com-hpc-interconnect-solutions/
Among the many automotive motor control solutions available from Infineon Technologies, the TLE92108-x multi-MOSFET driver ICs can control up to eight half-bridges (i.e., 16 N-channel MOSFETs) and incorporate numerous diagnostic and safety functions to ensure long-term operation. https://eu.mouser.com/new/infineon/infineon-tle9210x-drivers/
The50mm-pitch Premo-Flex FFC jumpers from Molex offer low-profile, ultra-thin foil aluminium shielding to make them highly suited to deployment in environments where a high degree of protection from electromagnetic interference (EMI) is essential — such as complex automotive GPS and infotainment systems. https://eu.mouser.com/new/molex/molex-premo-flex-flexible-ffc-jumpers/
Additionally, Mouser provides a wealth of engaging articles, eBooks, applications notes, and more to support automotive engineers available at https://resources.mouser.com/automotive.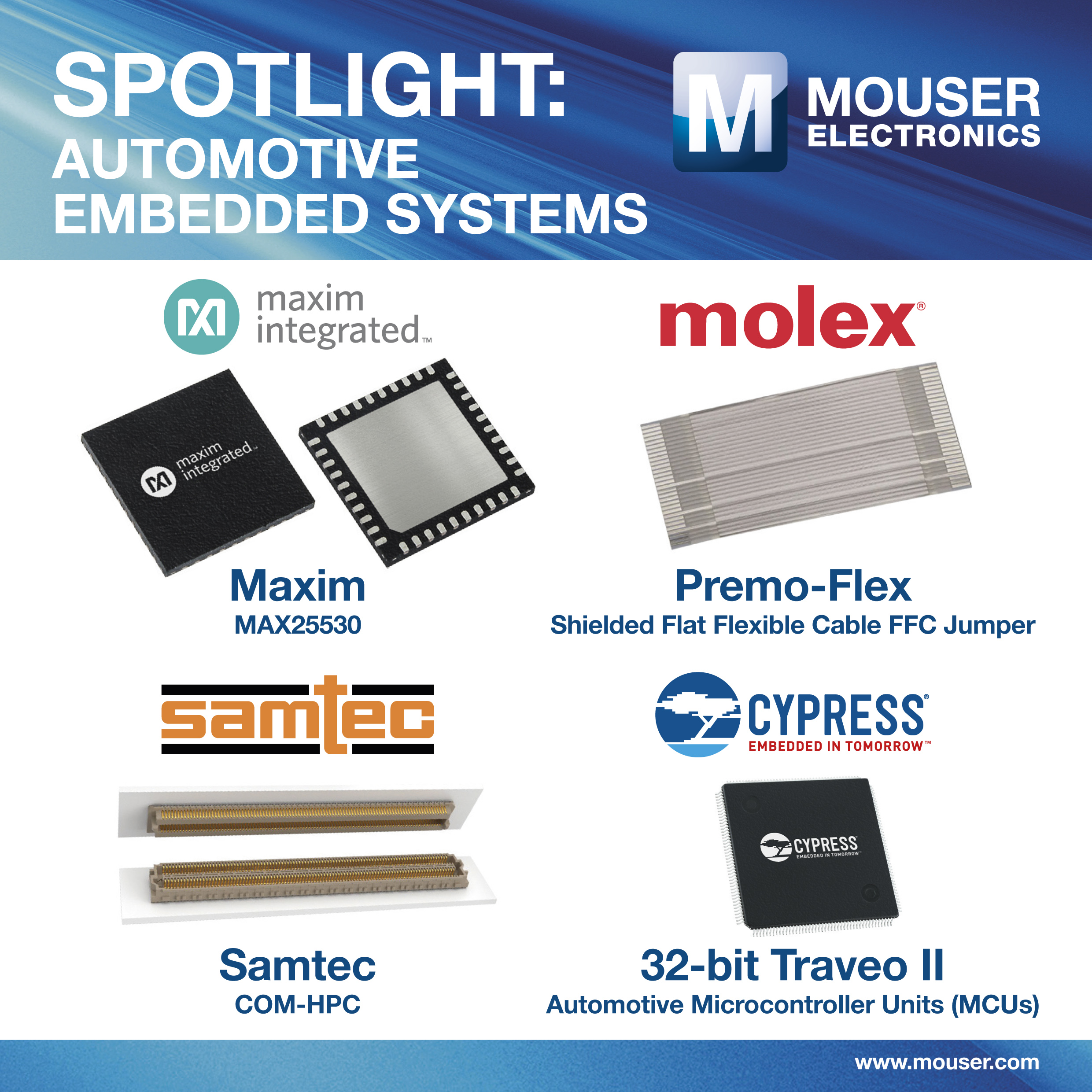 About Mouser Electronics
Mouser Electronics, a Berkshire Hathaway company, is an authorised semiconductor and electronic component distributor focused on New Product Introductions from its leading manufacturer partners. Serving the global electronic design engineer and buyer community, the global distributor's website, mouser.com, is available in multiple languages and currencies and features more than 5 million products from over 1,100 manufacturer brands. Mouser offers 27 support locations worldwide to provide best-in-class customer service in local language, currency and time zone. The distributor ships to over 630,000 customers in 223 countries/territories from its 1 million-square-foot, state-of-the-art distribution facilities in the Dallas, Texas, metro area. For more information, visit https://eu.mouser.com/.