8. juni 2018
Mouser-Sponsored Formula E Team Preps for First Car Race in Zurich Since 1955
Mouser-Sponsored Formula E Team Preps for First Car Race in Zurich Since 1955
Molex and TTI Join Mouser to Support All-Electric Race Car Technology
June 8, 2018 – Auto racing returns to Switzerland June 10 after a 64-year absence, and the Mouser Electronics-sponsored DRAGON team is gearing up to take the checkered flag.
The tenth round of the 2018 ABB FIA Formula E Championship series will be a historic trip through the streets of Zurich, Switzerland's largest city. It's a tight course of only 1.5 miles, but with two unusually long straightaways some speed records are likely to be set.
The ABB Formula E Championship features cars that are powered solely by electric power and represent a vision for the future of the motor sports industry, serving as a framework for research and development around zero-emission motoring. Racing is all about speed and endurance, and racing sponsorships are an innovative way for Mouser to communicate its performance-driven business model and promote the newest technologies from its manufacturer partners.
The Mouser-sponsored cars are piloted this year by single-seater ace Jerome D'Ambrosio and three-time FIA WTCC drivers' champion José María López. This is the fourth season of the ABB FIA Formula E Championship and the fourth season that Mouser Electronics is a team sponsor along with valued supplier Molex. Mouser and Molex are sponsoring the DRAGON team throughout the season in collaboration with TTI, Inc.
Switzerland banned auto racing in 1954 due to safety concerns; however, with the improved safety built into today's vehicles as well as the sustainability and technological advancements of all-electric auto racing, the Swiss government lifted the ban.
"Formula E is at the forefront of the electric car revolution, and we at Mouser are very proud to have a role in helping to develop sustainable transportation around the world," said Todd McAtee, Vice President, Americas Business Development for Mouser Electronics. "We are proud to team up with Molex and TTI to promote this exciting new technology."
"Molex is honored to continue our collaboration with Mouser and TTI to sponsor the DRAGON team," said Fred Bell, Vice President of Global Distribution for Molex. "We are  committed to innovative technology and working to further advance the industry."
"TTI is excited to partner with Mouser and Molex in supporting the DRAGON team and this exciting cutting-edge automotive technology," said Mike Morton, TTI Chief Operating Officer.
To further support D'Ambrosio and López, fans are encouraged vote for their favorite driver in FANBOOST, which allows fans to play an active role in influencing the outcome of the race. FANBOOST gives fans the opportunity to vote for their favorite driver and award them an extra boost of power during the race. The three drivers with the most FANBOOST votes are awarded a significant burst of power, which they can deploy in a 5-second window during the second half of the race. FANBOOST voting opens six days before the race and is available all the way up to six minutes into the race. To learn how to register for FANBOOST and to see the full Formula E schedule, visit http://www.mouser.com/formula-e.
After Zurich, the series travels to the Brooklyn Circuit in New York City for the season-finale double-header July 14 and 15.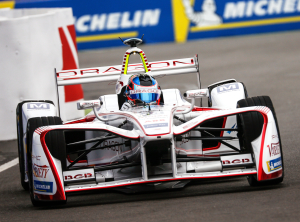 Mouser / Formula E Zurich
With its broad product line and unsurpassed customer service, Mouser strives to empower innovation among design engineers and buyers by delivering advanced technologies. Mouser stocks the world's widest selection of the latest semiconductors and electronic components for the newest design projects. Mouser Electronics' website is continually updated and offers advanced search methods to help customers quickly locate inventory. Mouser.com also houses data sheets, supplier-specific reference designs, application notes, technical design information, and engineering tools.
About Mouser Electronics
Mouser Electronics, a Berkshire Hathaway company, is an award-winning, authorized semiconductor and electronic component distributor focused on rapid New Product Introductions from its manufacturing partners for electronic design engineers and buyers. The global distributor's website, Mouser.com, is available in multiple languages and currencies and features more than 5 million products from over 700 manufacturers. Mouser offers 23 support locations around the world to provide best-in-class customer service and ships globally to over 600,000 customers in more than 220 countries/territories from its 750,000 sq. ft. state-of-the-art facility south of Dallas, Texas. For more information, visit http://www.mouser.com.
About Molex
Molex brings together innovation and technology to deliver electronic solutions to customers worldwide. With a presence in more than 40 countries, Molex offers a full suite of solutions and services for many markets, including data communications, consumer electronics, industrial, automotive, commercial vehicle and medical.
Trademarks
Mouser and Mouser Electronics are registered trademarks of Mouser Electronics, Inc. All other products, logos, and company names mentioned herein may be trademarks of their respective owners.
Further information, contact:

Kevin Hess, Mouser Electronics

Senior Vice President of Marketing

(817) 804-3833

For press inquiries, contact:

Nick Foot, BWW Communications

PR Director

+44 (0) 1491 636393