23. maj 2019
Mouser-Sponsored Formula E Team Drives into Berlin
Mouser-Sponsored Formula E Team Drives into Berlin
Molex, TTI, AVX Join Mouser to Support Electric Car Racing Team
May 23, 2019 – Following another top-ten finish at the Monaco E-Prix, the Mouser Electronics-sponsored GEOX DRAGON Formula E racing team heads to Germany for the Berlin E-Prix on May 25. At the Monaco E-Prix, driver José María "Pechito" López continued GEOX DRAGON's successful season, coming in tenth.
Mouser is sponsoring the GEOX DRAGON Formula E team throughout the 2018-19 ABB FIA Formula E Championship racing season, in collaboration with TTI, Inc. and valued suppliers Molex and AVX. This is the fifth-straight year that Mouser and Molex have sponsored Formula E racing.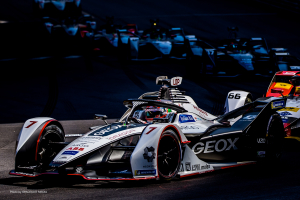 The Formula E series features cars that are powered solely by electricity and represent a vision for the future of the motor sports industry, serving as a framework for research and development around zero-emission motoring. Racing is all about speed and endurance, and racing sponsorships are an innovative way for Mouser to communicate its performance-driven business model and promote the newest technologies from its manufacturer partners.
Team drivers for the Berlin E-Prix are three-time World Touring Car Driver's Champion and multiple FIA Formula E podium finisher López and GEOX DRAGON Test and Reserve Driver, Maximilian Günther, who will take the wheel in his home country.
Fans can cast a vote for López and Günther in FANBOOST, which allows fans to play an active role in influencing the outcome of the race. FANBOOST gives fans the opportunity to vote for their favorite driver and award them an extra boost of power during the race. The five drivers with the most FANBOOST votes are awarded a significant burst of power, which they can deploy in a 5-second window during the second half of the race. FANBOOST voting for the Berlin E-Prix opened May 20 and is available up to 15 minutes into the race.
The Formula E series finishes out the Europe races in Bern, Switzerland, on June 22, before the season-ending double-header in New York, July 13 and 14.
For more information about Formula E and to register and vote in FANBOOST, visit http://www.mouser.com/formula-e.
Mouser / Formula E Berlin E-Prix
Page Two
About Mouser Electronics
Mouser Electronics, a Berkshire Hathaway company, is an award-winning, authorized semiconductor and electronic component distributor focused on rapid New Product Introductions from its manufacturing partners for electronic design engineers and buyers. The global distributor's website, Mouser.com, is available in multiple languages and currencies and features more than 5 million products from over 750 manufacturers. Mouser offers 25 support locations around the world to provide best-in-class customer service and ships globally to over 600,000 customers in more than 220 countries/territories from its 750,000 sq. ft. state-of-the-art facility south of Dallas, Texas. For more information, visit http://www.mouser.com.
About Molex
Molex brings together innovation and technology to deliver electronic solutions to customers worldwide. With a presence in more than 40 countries, Molex offers a full suite of solutions and services for many markets, including data communications, consumer electronics, industrial, automotive, commercial vehicle and medical.
About AVX
AVX Corporation is a technology leader in the manufacture of passive electronic components and interconnect products worldwide. The Passive Components segment manufactures a full line of surface mount and leaded ceramic capacitors, radio frequency (RF) thick and thin film components, multi-layer ceramic and tantalum capacitors, film capacitors, ceramic and film power capacitors, super capacitors, EMI filters, thick and thin film packages, varistors, thermistors, inductors, and resistive products.
About TTI
TTI, Inc., a Berkshire Hathaway company, is an authorized, specialty distributor of interconnect, passive and electromechanical (IP&E) components and the distributor of choice for industrial and consumer electronics manufacturers worldwide. Broader and deeper inventory, leading-edge products and custom supply chain solutions have established TTI as the leading specialist in electronic component distribution. Globally, the company maintains 1.9 million square feet of dedicated warehouse space containing over 850,000 component part numbers. Along with its subsidiaries, Mouser Electronics, Sager Electronics, and TTI Semiconductor Group, TTI employs more than 6,700 people at more than 133 locations throughout North America, Europe and Asia. For more information about TTI, visit http://www.ttiinc.com.
About GEOX DRAGON
GEOX DRAGON was founded in 2006, by Owner and Team Principal Jay Penske. GEOX DRAGON is headquartered in California (Los Angeles), the largest EV market in the world, and has additional racing operations in Britain (Silverstone, UK). In 2014, GEOX DRAGON became one of the three founding teams of the FIA Formula-E Championship. The team finished Runner-Up (2nd place) in the Championship in 2015 and scored the first ever Formula E race wins in both Germany and Mexico in 2016 and 2017. GEOX DRAGON develops its powertrains under the Penske Autosport marque. The team's engineering and mechanic personnel are some of the finest and most experienced engineers and crew in the world, collectively accumulating over 185 years of racing experience, and achieving over 220+ race wins and 17 Championship titles. GEOX DRAGON's pilots for Season 5 include three-time World Touring Car Driver's Champion and multiple FIA Formula E podium finisher José María López, Formula 2 race winner and former Formula 1 pilot and reigning IMSA Champion Felipe Nasr, and GEOX DRAGON Test and Reserve Driver, Maximilian Günther. GEOX DRAGON's team motto is the Latin phrase "E Pluribus Unum" – meaning "out of many, there is one."
Trademarks
Mouser and Mouser Electronics are registered trademarks of Mouser Electronics, Inc. All other products, logos, and company names mentioned herein may be trademarks of their respective owners.
– 30 –
For further information, contact:

Kevin Hess, Mouser Electronics

Senior Vice President of Marketing

(817) 804-3833

For press inquiries, contact:

Nick Foot, BWW Communications

PR Director

+44 (0)1491 636393