26. juli 2018
Mouser-Sponsored DRAGON Formula E Team Finishes Electrifying Season Molex and TTI Join Mouser to Celebrate All-Electric Race Team at NYC Series Finale
Mouser-Sponsored DRAGON Formula E Team Finishes Electrifying Season
Molex and TTI Join Mouser to Celebrate All-Electric Race Team at NYC Series Finale
July 26, 2018 – Mouser Electronics congratulates the DRAGON Formula E racing team on finishing another hard-fought season. The Mouser-sponsored DRAGON cars were piloted this year by single-seater ace D'Ambrosio and three-time FIA WTCC drivers' champion José María López.
López drove a tough race early on in the season on January 12 in Marrakesh and managed a sixth-place finish. López also had a strong qualifying run June 10 in Zurich, earning the No. 3 spot, but lost time late in the race after touching a barrier on turn one. D'Ambrosio piloted the Mouser-backed No. 7 car in a hard-fought contest in Zurich, earning the No. 2 spot in the qualifying rounds and pushing through to take a third-place podium finish.
This was the fourth season of the ABB FIA Formula E Championship and the fourth season that Mouser Electronics was a team sponsor along with valued supplier Molex. Mouser and Molex sponsored the DRAGON team throughout the season in collaboration with TTI, Inc.
"D'Ambrosio, López and the entire DRAGON team showed exceptional skill and tenacity in every race," said Todd McAtee, Vice President, Americas Business Development for Mouser Electronics. "All of us at Mouser celebrate the efforts of this team and the exciting automotive technology that puts Formula E at the forefront of the electric car revolution."
The Formula E series features cars that are powered solely by electricity and represent a vision for the future of the motor sports industry, serving as a framework for research and development around zero-emission motoring. Racing is all about speed and endurance, and racing sponsorships are an innovative way for Mouser to communicate its performance-driven business model and promote the newest technologies from its manufacturer partners.
"Molex is honored to have once again teamed up with Mouser to sponsor the No. 18 car and the dedicated, hardworking DRAGON team this season," said Fred Bell, vice president of global distribution, Molex. "We look forward to continuing our support of the automotive industry by developing innovation solutions that further advance the market."
"TTI congratulates the DRAGON team on an exciting, competitive season. We are pleased to have had a role in promoting this cutting-edge automotive technology with our partners, Mouser and Molex," said Mike Morton, TTI's Chief Operating Officer.
For more, visit http://www.mouser.com/formula-e.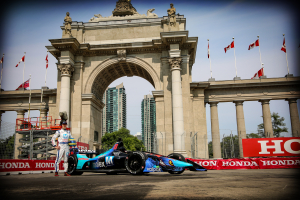 Mouser / Formula E Season Wrapup
With its broad product line and unsurpassed customer service, Mouser strives to empower innovation among design engineers and buyers by delivering advanced technologies. Mouser stocks the world's widest selection of the latest semiconductors and electronic components for the newest design projects. Mouser Electronics' website is continually updated and offers advanced search methods to help customers quickly locate inventory. Mouser.com also houses data sheets, supplier-specific reference designs, application notes, technical design information, and engineering tools.
About Mouser Electronics
Mouser Electronics, a Berkshire Hathaway company, is an award-winning, authorized semiconductor and electronic component distributor focused on rapid New Product Introductions from its manufacturing partners for electronic design engineers and buyers. The global distributor's website, Mouser.com, is available in multiple languages and currencies and features more than 5 million products from over 700 manufacturers. Mouser offers 23 support locations around the world to provide best-in-class customer service and ships globally to over 600,000 customers in more than 220 countries/territories from its 750,000 sq. ft. state-of-the-art facility south of Dallas, Texas. For more information, visit http://www.mouser.com.
About Molex
Molex brings together innovation and technology to deliver electronic solutions to customers worldwide. With a presence in more than 40 countries, Molex offers a full suite of solutions and services for many markets, including data communications, consumer electronics, industrial, automotive, commercial vehicle and medical.
Trademarks
Mouser and Mouser Electronics are registered trademarks of Mouser Electronics, Inc. All other products, logos, and company names mentioned herein may be trademarks of their respective owners.
Further information, contact:

Kevin Hess, Mouser Electronics

Senior Vice President of Marketing

(817) 804-3833

For press inquiries, contact:

Nick Foot, BWW Communications

PR Director

+44 (0) 1491 636393