15. august 2017
Mouser Signs Global Agreement with ROBOTIS to Distribute OpenCM and DYNAMIXEL Solutions for Robotics
Mouser Signs Global Agreement with ROBOTIS to Distribute OpenCM and DYNAMIXEL Solutions for Robotics
August 15, 2017 – Mouser Electronics, Inc., the New Product Introduction (NPI) leader that empowers innovation, has entered into a global distribution agreement with ROBOTIS, a leading developer and manufacturer of modular robotics and specialized smart servos, industrial actuators, manipulators, open-source humanoid platforms and robotic development solutions.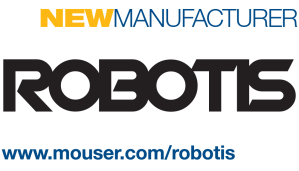 The ROBOTIS portfolio, now available from Mouser Electronics, includes controllers, servos, and accessories that support professional robot developers who design multi-jointed robots for DIY, education, industry, and research sectors. ROBOTIS OpenCM9.04 open-source controllers run on an STMicroelectronics STM32 F1 microcontroller with a 32-bit ARM® Cortex®-M3 core. The controllers incorporate the OpenCM integrated development environment (IDE), cross-platform software based on ROS and C/C++ that allows developers to easily program the controllers. ROBOTIS technology takes advantage of the latest technical advances in single-board computers (SBCs), depth sensors, and 3D-printing technology in the robotics community.
Mouser is also stocking ROBOTIS' DYNAMIXEL smart actuator system, a series of modular devices for creating and connecting powerful and flexible robotic joints. DYNAMIXEL devices are high-performance actuators with a fully integrated DC motor, reduction gearhead, controller, driver, and network in a single servo module actuator. The programmable and networkable devices allow developers to read and monitor actuator status through a data packet stream and enables solutions based on intelligent actuator feedback. To support the DYNAMIXEL products, Mouser offers several lines of TTL/RS-485 (3P/4P) communication cable sets and accessories. These highly flexible cables feature high pull-out force connectors and a sheath design that resists against breaking and peeling.
To learn more about Mouser's partnership with ROBOTIS and their comprehensive portfolio of robotic solutions, visit http://www.mouser.com/robotis/.
Mouser / ROBOTIS New Supplier Announcement
Page Two
With its broad product line and unsurpassed customer service, Mouser strives to empower innovation among design engineers and buyers by delivering advanced technologies. Mouser stocks the world's widest selection of the latest semiconductors and electronic components for the newest design projects. Mouser Electronics' website is continually updated and offers advanced search methods to help customers quickly locate inventory. Mouser.com also houses data sheets, supplier-specific reference designs, application notes, technical design information, and engineering tools.
About Mouser Electronics
Mouser Electronics, a Berkshire Hathaway company, is an award-winning, authorized semiconductor and electronic component distributor focused on rapid New Product Introductions from its manufacturing partners for electronic design engineers and buyers. The global distributor's website, Mouser.com, is available in multiple languages and currencies and features more than 4 million products from over 600 manufacturers. Mouser offers 22 support locations around the world to provide best-in-class customer service and ships globally to over 550,000 customers in 170 countries from its 750,000 sq. ft. state-of-the-art facility south of Dallas, Texas. For more information, visit http://www.mouser.com.
About ROBOTIS
ROBOTIS is a leading designer and manufacturer of modular robotic platforms and specialized robot actuators that commercializes personal robots for use in DIY, education, industry, and research sectors. ROBOTIS manufactures the highly acclaimed DYNAMIXEL smart servo, which has been widely used for robotics education and research for over a decade.
Trademarks
Mouser and Mouser Electronics are registered trademarks of Mouser Electronics, Inc. All other products, logos, and company names mentioned herein may be trademarks of their respective owners.
– 30 –
Further information, contact:

Kevin Hess, Mouser Electronics

Senior Vice President of Marketing

(817) 804-3833

For press inquiries, contact:

Nick Foot, BWW Communications

PR Director

+44 (0)1491 636393