29. januar 2018
Mouser Signs Global Agreement to Distribute Espressif's Wireless SoCs and Modules for IoT
Mouser Signs Global Agreement to Distribute Espressif's Wireless SoCs and Modules for IoT
January 29, 2018 – Mouser Electronics, Inc., the New Product Introduction (NPI) leader that empowers innovation, announces a global distribution agreement with Espressif Systems. Through the agreement, Mouser is now an authorized distributor of Espressif's popular and affordable line of ESP8266 and ESP32-based low-power wireless systems-on-chip (SoCs), modules, and development boards for Internet of Things (IoT) applications.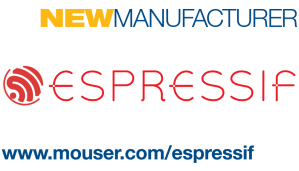 The Espressif portfolio of solutions, available from Mouser Electronics, consists of a comprehensive assortment of innovative, versatile solutions that enable low-cost wireless connectivity for a broad range of wireless applications. Espressif's ESP8266EX, ESP8285, and ESP8089 Wi-Fi SoCs are highly integrated Wi-Fi solutions based on a low-power 32-bit Tensilica microcontroller. The SoCs incorporate antenna switches, a power amplifier, and other components onto a compact 5×5 mm QFN package. The single-chip solutions feature system-level power management and offer SPI, SDIO 2.0, and UART interfaces, with the ESP8266EX and ESP8089 SoCs also offering I2C, I2S, PWM, and GPIO.
ESP32 SoCs are a single 2.4 GHz Wi-Fi and Bluetooth® combo chips designed for mobile and wearable devices and the IoT. The chips feature a dual-core system architecture with two Xtensa LX6 CPUs, and integrate radio and antenna switching circuitry with ultra-low power consumption. The ESP32-DOWDQ6 and ESP32-DOWD SoCs feature 520 Kbytes of SRAM, 448 Kbytes of ROM, and 16 Kbytes of SRAM in RTC. The ESP32-D2WD includes the same features of the ESP32-D0W, but adds 2 Mbytes of embedded on-chip flash memory.
Espressif single-core Wi-Fi modules are fully pre-certified, allowing faster time to market with reduced development costs. Both the ESP-WROOM-02 and ESP-WROOM-S2 feature an embedded ESP8266EX chip and 2 Mbytes of flash memory. The ESP-WROOM-S2 can work as the SDIO/SPI slave, with SPI speed up to 8 Mbps.
Espressif dual-core Wi-Fi and Bluetooth low energy modules are high-performance, low-power devices designed to provide a complete wireless solution tailored to advanced IoT applications. Both the ESP-WROOM-32 and ESP32-WROVER modules are based on the ESP32-D0WDQ6 SoC and include 4 Mbytes of flash memory. The ESP32-WROVER (with PCB antenna) and ESP32-WROVER-I (with IPEX antenna) add 4 Mbytes of external pseudo-static random-access memory (PSRAM) that supports audio products and other applications.
Mouser also offers a selection of Espressif's versatile development boards. The ESP-WROVER-KIT is Espressif's most versatile development board. The board, compatible with ESP32 modules,  offers a rich list of features, such as onboard high-speed microSD card interface, VGA camera interface, as well as a 3.2-inch SPI LCD panel and I/O expansion capabilities. The ESP32-DevKitC includes a mounted ESP-WROOM-32 module that combines Wi-Fi, Bluetooth Classic, and Bluetooth low energy, and offers a pinout optimized for including the board on a breadboard for easy prototyping. The ESP-Launcher is a Micro USB-powered development board that allows access to all 32 pins of ESP8266 SoC. The board helps engineers develop solutions based on the ESP-WROOM-32 module as well as the ESP32 SoC.
To learn more, visit http://www.mouser.com/espressif.http://www.mouser.com/nxp-s32v234-processor/
Mouser / Espressif New Supplier Announcement
Page Two
With its broad product line and unsurpassed customer service, Mouser strives to empower innovation among design engineers and buyers by delivering advanced technologies. Mouser stocks the world's widest selection of the latest semiconductors and electronic components for the newest design projects. Mouser Electronics' website is continually updated and offers advanced search methods to help customers quickly locate inventory. Mouser.com also houses data sheets, supplier-specific reference designs, application notes, technical design information, and engineering tools.
About Mouser Electronics
Mouser Electronics, a Berkshire Hathaway company, is an award-winning, authorized semiconductor and electronic component distributor focused on rapid New Product Introductions from its manufacturing partners for electronic design engineers and buyers. The global distributor's website, Mouser.com, is available in multiple languages and currencies and features more than 5 million products from over 700 manufacturers. Mouser offers 22 support locations around the world to provide best-in-class customer service and ships globally to over 600,000 customers in 170 countries from its 750,000 sq. ft. state-of-the-art facility south of Dallas, Texas. For more information, visit http://www.mouser.com.
About Espressif Systems
Espressif Systems is an advanced and professional IC design company that provides low-power Wi-Fi and Bluetooth SoCs and wireless solutions for the Internet of Things (IoT) applications. The company has a team of innovators from around the world, working in the area of chip design, algorithm research, software development, open source development, product development, and customer services.
Trademarks
Mouser and Mouser Electronics are registered trademarks of Mouser Electronics, Inc. All other products, logos, and company names mentioned herein may be trademarks of their respective owners.
– 30 –
Further information, contact:

Kevin Hess, Mouser Electronics

Senior Vice President of Marketing

(817) 804-3833

For press inquiries, contact:

Nick Foot, BWW Communications

PR Director

+44 (1)491 636393