17. januar 2018
Mouser Signs Distribution Deal with Onion, Boosts IoT Offering
Mouser Signs Distribution Deal with Onion, Boosts IoT Offering
Onion's Omega2+ Board Just 25% the Size of Similar SBCs
January 16, 2018 – Mouser Electronics, Inc., the industry's leading New Product Introduction (NPI) distributor with the widest selection of semiconductors and electronic components, has signed a global distribution agreement with Onion Corporation, a global provider of highly integrated wireless microprocessor modules and Internet of Things (IoT) development kits. Through the agreement, Mouser will distribute the Omega2+ device, kits, and accessories, ideal for applications such as home automation, coding education, Wi-Fi media servers, robotics, and networking.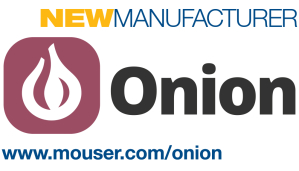 The Onion product line, available from Mouser Electronics, revolves around the Omega2+, an easy-to-use, expandable IoT computer packed with built-in Wi-Fi connectivity, a MicroSD card slot, and a powerful 580 MHz MIPS processor. Though just a fraction of the size of other single board computers, the Omega2+ is a full computer with a Linux operating system, 128 MBytes of DDR2 memory and 32 MBytes of flash storage. The device also offers 15 general-purpose inputs and outputs (GPIO), two PWM, and two UART interfaces.
Mouser also now stocks a variety of docks and expansion boards, which provide additional functionality to the Omega2+ board. The Expansion Dock powers the Omega2+ and breaks out the GPIOs. The dock also allows engineers to expand their Omega2+ with expansion modules like OLED, relay, and servo. Additionally, engineers can use the Arduino Dock R2 and add the Omega2+ to existing Arduino-based projects. The Arduino Dock R2 is a full Arduino Uno that allows the Omega2 to control the Arduino's ATmega microcontroller through a serial connection.
The Omega2 Starter Kit and Omega2 Maker Kit both include an Omega2+ board, expansion dock, breadboard, and a variety of components to help engineers quickly get started building circuits. The Maker Kit includes the same components as the Starter Kit and adds two servos, a DC motor, H-bridge chip, buzzer, and three expansion boards.
To learn more, visit http://www.mouser.com/onion.
Mouser / Onion Corp New Supplier
Page Two
With its broad product line and unsurpassed customer service, Mouser strives to empower innovation among design engineers and buyers by delivering advanced technologies. Mouser stocks the world's widest selection of the latest semiconductors and electronic components for the newest design projects. Mouser Electronics' website is continually updated and offers advanced search methods to help customers quickly locate inventory. Mouser.com also houses data sheets, supplier-specific reference designs, application notes, technical design information, and engineering tools.
About Mouser Electronics
Mouser Electronics, a Berkshire Hathaway company, is an award-winning, authorized semiconductor and electronic component distributor focused on rapid New Product Introductions from its manufacturing partners for electronic design engineers and buyers. The global distributor's website, Mouser.com, is available in multiple languages and currencies and features more than 4 million products from over 700 manufacturers. Mouser offers 22 support locations around the world to provide best-in-class customer service and ships globally to over 550,000 customers in 170 countries from its 750,000 sq. ft. state-of-the-art facility south of Dallas, Texas. For more information, visit http://www.mouser.com.
About Onion
Onion Corporation has a charter to bring IoT development to everyone: makers, developers, students, and commercial and industrial OEMs. With its tiny, affordable, and modular Omega2 platform, Onion has made IoT development quick, easy, and fun.
Trademarks
Mouser and Mouser Electronics are registered trademarks of Mouser Electronics, Inc. All other products, logos, and company names mentioned herein may be trademarks of their respective owners.
– 30 –
Further information, contact:

Kevin Hess, Mouser Electronics

Senior Vice President of Marketing

(817) 804-3833

For press inquiries, contact:

Nick Foot, BWW Communications

PR Director

+44 (0)1491 636393