20. december 2017
Mouser Signs Agreement with RushUp to Distribute KITRA and JAM Product Accelerator Boards for IoT
Mouser Signs Agreement with RushUp to Distribute KITRA and JAM Product Accelerator Boards for IoT
December 20, 2017 – Mouser Electronics, Inc., the New Product Introduction (NPI) leader that empowers innovation, announces a distribution agreement with RushUp, creator of innovative product accelerator boards for makers, developers, and high-mix/low-volume companies that want to quickly incorporate Internet of Things (IoT) technologies into their products. Through the agreement, Mouser will distribute RushUp's KITRA and JAM board solutions.
The RushUp portfolio, now available from Mouser Electronics, is comprised of two product families: the KITRA, based on Samsung ARTIK IoT modules, and the JAM, based on STM32 Open Development Environment (ODE) function packs from ST Microelectronics (ST). The KITRA boards facilitate easy integration into small devices without the extra time and cost associated with R&D and engineering validation. The family of KITRA product accelerators includes the KITRA 520, a super-integrated, 40×40 mm general-purpose IoT platform with dual computational functionality, sensors, USB, LEDs and more.
RushUp JAM family of boards includes Cloud-JAM and Cloud-JAM L4, which allow engineers to develop with STM32 ODE and STM32 Nucleo boards in the prototype phase and go to production with JAM boards without requiring industrialization, validation, and firmware or software development. These product accelerators incorporate a series of STM32 Nucleo development boards into a single module to form production-grade versions of the P-NUCLEO-CLD1 and FP-CLD-AZURE STM32 ODE function packs.
The Cloud-JAM board is based on the STM3F401RE microcontroller, while the Cloud-JAM L4 is based on the STM32L476RG microcontroller. Both boards enable engineers to connect motion and environmental sensors to the cloud, interfacing via a Wi-Fi network using SSID, password and web authentication stored in the dynamic NFC.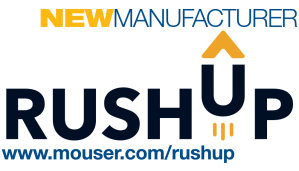 To learn more about Mouser's partnership with RushUp and their portfolio of KITRA and JAM boards, visit http://www.mouser.com/rushup.
Mouser / RushUp New Supplier Announcement
With its broad product line and unsurpassed customer service, Mouser strives to empower innovation among design engineers and buyers by delivering advanced technologies. Mouser stocks the world's widest selection of the latest semiconductors and electronic components for the newest design projects. Mouser Electronics' website is continually updated and offers advanced search methods to help customers quickly locate inventory. Mouser.com also houses data sheets, supplier-specific reference designs, application notes, technical design information, and engineering tools.
About Mouser Electronics
Mouser Electronics, a Berkshire Hathaway company, is an award-winning, authorized semiconductor and electronic component distributor focused on rapid New Product Introductions from its manufacturing partners for electronic design engineers and buyers. The global distributor's website, Mouser.com, is available in multiple languages and currencies and features more than 4 million products from over 600 manufacturers. Mouser offers 22 support locations around the world to provide best-in-class customer service and ships globally to over 550,000 customers in 170 countries from its 750,000 sq. ft. state-of-the-art facility south of Dallas, Texas. For more information, visit http://www.mouser.com.
About RushUp
RushUp S.r.l. accelerates the development of products for the IoT world through their innovative electronic platforms that enable designers and high-mix/low-volume application companies to quickly transform their ideas into a real product using the company's industrialized product accelerators. RushUp has two main families of product accelerators – the KITRA and JAM – that deliver technologically advanced and highly industrialized electronic solutions that can be used to substantially reduce or eliminate the time and cost associated with R&D and validation during the engineering development process.
Trademarks
Mouser and Mouser Electronics are registered trademarks of Mouser Electronics, Inc. All other products, logos, and company names mentioned herein may be trademarks of their respective owners.
Further information, contact:
Kevin Hess, Mouser Electronics
Senior Vice President of Marketing
(817) 804-3833
Kevin.Hess@mouser.com
For press inquiries, contact:
Nick Foot, BWW Communications
PR Director
+44 (0) 1491 636393
Nick.Foot@bwwcomms.com