8. februar 2019
Mouser Releases New Issue of Methods Technology eZine Highlighting Emerging Transformational Design Trends
Mouser Releases New Issue of Methods Technology eZine Highlighting Emerging Transformational Design Trends
February 8, 2019 – Mouser Electronics, Inc., the New Product Introduction (NPI) leader empowering innovation, announces the newest issue of its Methods technology and solutions eZine. The first issue of volume three, Design Trends and the Transformation of Everything, looks at transformative technologies such as 5G, augmented reality (AR), autonomous vehicles, and more, with articles penned by thought leaders and subject-matter experts.
The new issue is framed by a foreword by Sam George, Director of Microsoft Azure IoT Engineering, in which he offers a high-level overview of the technologies discussed in later articles. While focusing on a wide range of transformational design trends, the issue features multiple articles on issues relevant to the Internet of Things (IoT), including practical applications in industrial IoT, a survey of IoT development kits, and IoT contributions to sustainable engineering. The new issue also includes an interview about MicroPython with Ladyada and a piece by "Wizard of Make" Bob Martin on innovation to productization. Rounding out the issue is a look at what's after Moore's Law.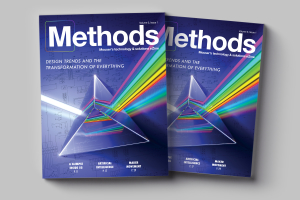 "Both hardware and software engineering have reached a turning point, supported by transformational design technologies," said Kevin Hess, Senior Vice President of Marketing at Mouser Electronics. "The newest issue of Methods offers expert insight and perspectives on these trends, illustrating how new technologies like 5G and augmented reality will revolutionize engineering and development."
In addition to the Methods eZine, Mouser offers many resources for design engineers and buyers, including blogs and eBooks. Mouser's Applications and Technologies sites offer exclusive design resources, white papers, videos, and product information, enabling design engineers to reach new heights in product development and innovation.
To sign up to read all issues of Methods, including the first issue of volume three, go to eng.info.mouser.com/methods-ezine.
Mouser / Methods Transformation of Everything
Page Two
With its broad product line and unsurpassed customer service, Mouser strives to empower innovation among design engineers and buyers by delivering advanced technologies. Mouser stocks the world's widest selection of the latest semiconductors and electronic components for the newest design projects. Mouser Electronics' website is continually updated and offers advanced search methods to help customers quickly locate inventory. Mouser.com also houses data sheets, supplier-specific reference designs, application notes, technical design information, and engineering tools.
About Mouser Electronics
Mouser Electronics, a Berkshire Hathaway company, is an award-winning, authorized semiconductor and electronic component distributor focused on rapid New Product Introductions from its manufacturing partners for electronic design engineers and buyers. The global distributor's website, Mouser.com, is available in multiple languages and currencies and features more than 5 million products from over 750 manufacturers. Mouser offers 23 support locations around the world to provide best-in-class customer service and ships globally to over 600,000 customers in more than 220 countries/territories from its 750,000 sq. ft. state-of-the-art facility south of Dallas, Texas. For more information, visit http://www.mouser.com.
Trademarks
Mouser and Mouser Electronics are registered trademarks of Mouser Electronics, Inc. All other products, logos, and company names mentioned herein may be trademarks of their respective owners.
– 30 –
Further information, contact:

Kevin Hess, Mouser Electronics

Senior Vice President of Marketing

(817) 804-3833

For press inquiries, contact:

Nick Foot, BWW Communications

PR Director

+44 (0)1491 636393