1. juni 2017
Mouser Offers TI's CC2640R2F SimpleLink Bluetooth 5 MCU for IoT Applications
Mouser Offers TI's CC2640R2F SimpleLink Bluetooth 5 MCU for IoT Applications
May 31, 2017 – Mouser Electronics, Inc., the New Product Introduction (NPI) leader that empowers innovation, is now stocking the CC2640R2F SimpleLink™ ultra-low-power wireless microcontroller from Texas Instruments (TI). Part of TI's CC26xx SimpleLink family of 2.4 GHz devices, the CC2640R2F microcontroller features a small, single-chip system that integrates a flash-based microcontroller and Bluetooth® Smart radio to target Bluetooth 4.2 and Bluetooth 5 low-energy applications.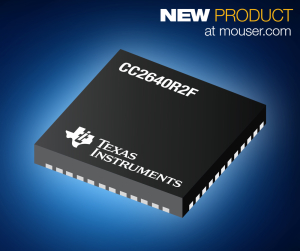 The TI CC2640R2F SimpleLink microcontroller, available from Mouser Electronics, combines a 61 μA/MHz ARM® Cortex®-M3 microcontroller and a rich peripheral set that includes an 8.2 μA/MHz sensor controller. The 48 MHz ARM microcontroller offers 128 kBytes of flash and 28 kBytes of SRAM and supports over-the-air (OTA) updates. The sensor controller is ideal for interfacing external sensors and for collecting analog and digital data autonomously while the rest of the system is in sleep mode. The CC2640R2F device includes a 12-bit analog-to-digital converter, up to 31 general-purpose inputs and outputs (GPIOs), and built-in robust security on chip with one of the simplest radio frequency (RF) and antenna designs available. Minimal RF expertise is required to implement the device, which helps make development and layout extremely easy.
The CC2640R2F wireless microcontroller is available in 2.7×2.7 mm WCSP and 4×4, 5×5 and 7×7 mm QFN packages, and is designed for a board array of wireless Internet of Things (IoT) applications, including health and fitness, industrial, and home and building automation.
With ready-to-use protocol stacks (including the SIMPLELINK-CC2640R2-SDK software development kit for Bluetooth 5), the SimpleLink portfolio of wireless connectivity solutions not only offers designers maximum flexibility and support but also delivers the industry's only multi-standard capabilities with code- and pin-compatibility across Bluetooth Smart, 6LoWPAN, ZigBee and ZigBee RF4CE. To learn more about TI's CC26xx SimpleLink microcontrollers, go to http://www.mouser.com/new/Texas-Instruments/ti-cc26xx-simplelink/.
To learn more about TI's CC2640R2F SimpleLink wireless microcontrollers, visit http://www.mouser.com/new/Texas-Instruments/ti-cc26xx-simplelink/#tabs-8.
Mouser / Texas Instruments CC2640R2F SimpleLink™ Ultra-Low Power Wireless MCUs
Page Two
With its broad product line and unsurpassed customer service, Mouser strives to Empower Innovation among design engineers and buyers by delivering What's Next in advanced technologies. Mouser stocks the world's widest selection of the latest semiconductors and electronic components for the newest design projects. Mouser Electronics' website is continually updated and offers advanced search methods to help customers quickly locate inventory. Mouser.com also houses data sheets, supplier-specific reference designs, application notes, technical design information, and engineering tools.
About Mouser Electronics
Mouser Electronics, a Berkshire Hathaway company, is an award-winning, authorized semiconductor and electronic component distributor focused on rapid New Product Introductions from its manufacturing partners for electronic design engineers and buyers. The global distributor's website, Mouser.com, is available in multiple languages and currencies and features more than 4 million products from over 600 manufacturers. Mouser offers 22 support locations around the world to provide best-in-class customer service and ships globally to over 550,000 customers in 170 countries from its 750,000 sq. ft. state-of-the-art facility south of Dallas, Texas. For more information, visit http://www.mouser.com.
Trademarks
Mouser and Mouser Electronics are registered trademarks of Mouser Electronics, Inc. All other products, logos, and company names mentioned herein may be trademarks of their respective owners.
– 30 –
Further information, contact:

Nick Foot, BWW Communications

PR Director

+44 (0)1491 636393

For press inquiries, contact:

Kelly DeGarmo, Mouser Electronics

Manager, Corporate Communications and Media Relations

(817) 804-7764