12. juni 2017
Mouser Offers ON Semiconductor's IoT Modular Platform for Smart and Connected Cloud-Based Apps
Mouser Offers ON Semiconductor's IoT Modular Platform for Smart and Connected Cloud-Based Apps
June 12, 2017 – Mouser Electronics, Inc., the authorized global distributor with the newest semiconductors and electronic components, is now stocking the IoT Development Kit (IDK) from ON Semiconductor. Combining hardware and software elements to enable rapid implementation of smart and connected cloud-based applications, ON Semiconductor's IoT Development Kit provides engineers with all of the building blocks needed to speed the evaluation, design and implementation of medical-, home- and industrial-based Internet of Things (IoT) designs. The IDK is a modular, easy-to-use platform that offers designers a market-leading portfolio of power-efficient semiconductors that includes sensors, power management, connectivity, processors and actuators.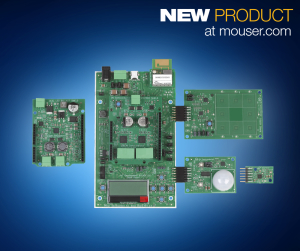 The ON Semiconductor IoT Development Kit, available from Mouser Electronics, features a Wi-Fi-enabled baseboard (BB-GEVK: IoT Development Kit Base Board) that incorporates ON Semi's NCS36510 system-on-chip (SoC), a low-power-optimized 32-bit ARM® Cortex®-M3 core that runs the ARM mbed™ operating system. A wide selection of different modules or daughter cards can then be attached to the baseboard to provide various types of functionality based on design need. In addition, the kit supports cloud connectivity by state-of-the-art protocols such as MQTT and REST, and offers added support for security functions including encryption, secure debug, secure boot and authentication.
Along with the hardware, the ON Semiconductor IDK also includes a comprehensive software development framework that encompasses the embedded operating system, drivers, APIs for hardware shields (where each device has its own API, for a total of 21 APIs), a graphical user interface (GUI) and sample applications code. This highly flexible IDK has been designed to address a broad spectrum of IoT markets and applications, including motor control, climate and sense control, lighting control, process and industrial control, motion control, position control, and patient monitoring and healthcare.
To learn more, visit http://www.mouser.com/new/onsemiconductor/onsemi-iot-development-kit/.
Mouser / ON Semiconductor IoT Development Kit
Page Two
With its broad product line and unsurpassed customer service, Mouser strives to empower innovation among design engineers and buyers by delivering advanced technologies. Mouser stocks the world's widest selection of the latest semiconductors and electronic components for the newest design projects. Mouser Electronics' website is continually updated and offers advanced search methods to help customers quickly locate inventory. Mouser.com also houses data sheets, supplier-specific reference designs, application notes, technical design information, and engineering tools.
About Mouser Electronics
Mouser Electronics, a Berkshire Hathaway company, is an award-winning, authorized semiconductor and electronic component distributor focused on rapid New Product Introductions from its manufacturing partners for electronic design engineers and buyers. The global distributor's website, Mouser.com, is available in multiple languages and currencies and features more than 4 million products from over 600 manufacturers. Mouser offers 22 support locations around the world to provide best-in-class customer service and ships globally to over 550,000 customers in 170 countries from its 750,000 sq. ft. state-of-the-art facility south of Dallas, Texas. For more information, visit http://www.mouser.com.
About ON Semiconductor
ON Semiconductor is a premier supplier of high-performance, energy-efficient silicon solutions for green electronics. ON Semiconductor's broad portfolio of power and signal management, logic, discrete and custom devices helps customers efficiently solve their design challenges in automotive, communications, computing, consumer, industrial, LED lighting, medical, military/aerospace and power applications.
Trademarks
Mouser and Mouser Electronics are registered trademarks of Mouser Electronics, Inc. All other products, logos, and company names mentioned herein may be trademarks of their respective owners.
– 30 –
Further information, contact:

Nick Foot, BWW Communications

PR Director

+44 (0)1491 636393

For press inquiries, contact:

Kelly DeGarmo, Mouser Electronics

Manager, Corporate Communications and Media Relations

(817) 804-7764