17. august 2018
Mouser Offers Intel RealSense D400 Series Depth-Sensing Cameras with Unparalleled Functionality and Size
Mouser Offers Intel RealSense D400 Series Depth-Sensing Cameras with Unparalleled Functionality and Size
August 17, 2018 – Mouser Electronics, Inc., the New Product Introduction (NPI) leader empowering innovation, is now stocking the Intel® RealSense™ D400 product family. Built specifically to help embedded systems sense, understand, interact and learn from real-world environments, the Intel RealSense D400 product family offers designers a comprehensive platform of ready-to-use cameras, depth modules and vision processors that deliver embedded depth-sensing technology, real-time processing, and high-speed 3D imaging that is versatile and robust for a variety of indoor and outdoor applications.
The Intel RealSense D400 product family, available from Mouser Electronics, includes two depth-sensing cameras: the D415 and D435. Both incorporate the latest Intel RealSense Vision Processor D4 to handle the complex depth algorithm, and use stereo image sensors to capture and calculate disparity between images. The D415 camera features a rolling shutter stereo camera pair, standard infrared (IR) projector and a full HD RGB camera that is ideal for stationary and slow-moving applications. The D435 camera, by contrast, features a global shutter stereo camera pair, wide IR projector and a full HD RGB camera, which is more suitable for applications such as virtual reality (VR) or robotics. Both cameras deliver low light performance with less than 1 lux minimum sensitivity and use a USB 3.0 connection with power over USB. Both cameras offer a depth stream output resolution of up to 1280 × 720 px with a frame rate of 30 fps.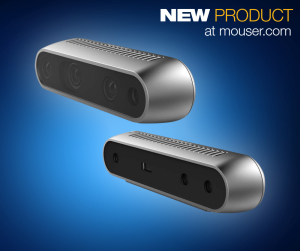 For higher volume embedded applications, Intel offers the Vision Processor D4 and Depth Module D400 Series, also available from Mouser Electronics. The compact Vision Processor D4 computes high-resolution 3D depth maps in real time without requiring a dedicated GPU or host processor when paired with  RealSense Depth Modules. The D400 Depth Module Series can capture indoor or outdoor environments with long-range capabilities, high-depth resolution and IR stereo, and are offered with multiple options, including standard or wide field of view, rolling or global shutter technology and passive or active IR depth sensing.
The Intel RealSense Depth Camera D400 product family is supported by a cross-platform (Windows, Linux, macOS) and open-source software development kit (SDK), which features libraries, wrappers, computer vision sample code and tools to help designers start coding projects and debugging camera settings. Additionally, designers can quickly download the Intel RealSense viewer for use with either the D435 or D415 Depth Camera to quickly evaluate the D400 product family.
To learn more about the Intel RealSense 400 product family, visit http://www.mouser.com/intel-realsense-camera-400 and watch the video at http://www.youtube.com/watch?v=Ak_pofp5sNs.
Mouser / Intel RealSense D400 Series Cameras
Page Two
With its broad product line and unsurpassed customer service, Mouser strives to empower innovation among design engineers and buyers by delivering advanced technologies. Mouser stocks the world's widest selection of the latest semiconductors and electronic components for the newest design projects. Mouser Electronics' website is continually updated and offers advanced search methods to help customers quickly locate inventory. Mouser.com also houses data sheets, supplier-specific reference designs, application notes, technical design information, and engineering tools.
About Mouser Electronics
Mouser Electronics, a Berkshire Hathaway company, is an award-winning, authorized semiconductor and electronic component distributor focused on rapid New Product Introductions from its manufacturing partners for electronic design engineers and buyers. The global distributor's website, Mouser.com, is available in multiple languages and currencies and features more than 5 million products from over 700 manufacturers. Mouser offers 23 support locations around the world to provide best-in-class customer service and ships globally to over 600,000 customers in more than 220 countries/territories from its 750,000 sq. ft. state-of-the-art facility south of Dallas, Texas. For more information, visit http://www.mouser.com.
Trademarks
Mouser and Mouser Electronics are registered trademarks of Mouser Electronics, Inc. All other products, logos, and company names mentioned herein may be trademarks of their respective owners.
Intel and RealSense are trademarks of Intel Corporation in the U.S. and/or other countries.
– 30 –
Further information, contact:

Kevin Hess, Mouser Electronics

Senior Vice President of Marketing

(817) 804-3833

For press inquiries, contact:

Nick Foot, BWW Communications

PR Director

+44 (0)1491 636393