27. april 2018
Mouser Now Stocks Qorvo's Powerful 1800W QPD1025L GaN-on-SiC Transistors for Avionics
Mouser Now Stocks Qorvo's Powerful 1800W QPD1025L GaN-on-SiC Transistors for Avionics
April 27, 2018 – Mouser Electronics, Inc., the industry's leading New Product Introduction (NPI) distributor with the widest selection of semiconductors and electronic components, is now stocking QPD1025L gallium nitride (GaN) on silicon carbide (SiC) transistors from Qorvo. Operating with 1.8 kW at 65 V, the QPD1025 is the industry's highest-power GaN-on-SiC radio frequency transistor, delivering the high signal integrity and extended reach essential for L-band avionics and identification friend or foe (IFF) applications.
The proven performance and reliability of GaN technology makes it an ideal choice for infrastructure, defense and aerospace applications such as radar, communications, navigation, and similar applications. The increased performance capabilities offer designers the flexibility to reduce board space and system costs while improving system performance.
The Qorvo QPD1025L, available from Mouser Electronics, is a high-electron-mobility transistor (HEMT) that supports both pulsed and continuous wave (CW) operations to more efficiently offer performance comparable to silicon-based LDMOS devices. Powered from a 65 V rail, the device offers 22.5 dB linear gain and a typical power-added efficiency (PAE3dB) of 77.2 percent. The QPD1025L transistor feature internal input prematch, which simplifies external board match and saves board space.
The lead-free, RoHS-compliant transistor is supported by the QPD1025L evaluation board.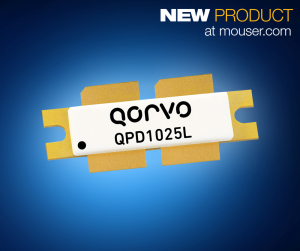 To learn more about the QPD1025L transistor, visit http://www.mouser.com/qorvo-qpd1025l-rf-transistors. For more information on Qorvo GaN RF transistors, go to http://www.mouser.com/qorvo-gan-rf-transistors.
Mouser / Qorvo QPD1025L GaN-on-SiC Transistors
With its broad product line and unsurpassed customer service, Mouser strives to empower innovation among design engineers and buyers by delivering advanced technologies. Mouser stocks the world's widest selection of the latest semiconductors and electronic components for the newest design projects. Mouser Electronics' website is continually updated and offers advanced search methods to help customers quickly locate inventory. Mouser.com also houses data sheets, supplier-specific reference designs, application notes, technical design information, and engineering tools.
About Mouser Electronics
Mouser Electronics, a Berkshire Hathaway company, is an award-winning, authorized semiconductor and electronic component distributor focused on rapid New Product Introductions from its manufacturing partners for electronic design engineers and buyers. The global distributor's website, Mouser.com, is available in multiple languages and currencies and features more than 5 million products from over 700 manufacturers. Mouser offers 22 support locations around the world to provide best-in-class customer service and ships globally to over 600,000 customers in 170 countries from its 750,000 sq. ft. state-of-the-art facility south of Dallas, Texas. For more information, visit http://www.mouser.com.
About Qorvo
Qorvo makes a better world possible by providing innovative RF solutions at the center of connectivity. The company combines product and technology leadership, systems-level expertise and global manufacturing scale to quickly solve customers' most complex technical challenges. Qorvo serves diverse high-growth segments of large global markets, including advanced wireless devices, wired and wireless networks and defense radar and communications. They also leverage their unique competitive strengths to advance 5G networks, cloud computing, the Internet of Things, and other emerging applications that expand the global framework interconnecting people, places and things.
Trademarks
Mouser and Mouser Electronics are registered trademarks of Mouser Electronics, Inc. All other products, logos, and company names mentioned herein may be trademarks of their respective owners.
Further information, contact:

Kevin Hess, Mouser Electronics

Senior Vice President of Marketing

(817) 804-3833

For press inquiries, contact:

Nick Foot, BWW Communications

PR Director

+44 (0) 1491 636393