27. februar 2018
Mouser Now Stocks Molex's Power-Boosting Triple-Band Wi-Fi Antenna for IoT and M2M Applications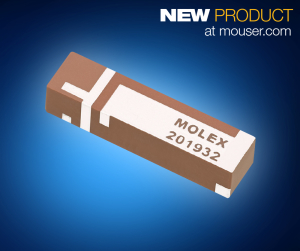 February 27, 2018 – Mouser Electronics, Inc., the industry's leading New Product Introduction (NPI) distributor with the widest selection of semiconductors and electronic components, is now stocking the triple-band Wi-Fi antenna from Molex, designed to penetrate areas of interference and deliver reliable internet connectivity to places where walls and barriers present a challenge. Offering increased power efficiency and long-range connectivity to Wi-Fi certified products, the ceramic antenna is a robust option for Internet of Things (IoT) and machine-to-machine (M2M) applications.
The Molex triple-band Wi-Fi antenna, available from Mouser Electronics, offers 900 MHz, 2.4 GHz, and 5 GHz frequencies for increased range and penetration in areas of interference. The 900 MHz band also results in reduced power consumption when compared with similar 2.4 GHz and 5 GHz antennas. The compact, surface-mount antenna features a ceramic housing that enables it to withstand temperatures ranging from minus 40 to 125 degrees Celsius.
The triple-band Wi-Fi antenna is suitable for a wide range of applications that demand a broad signal range. The antenna supports IP-based cloud connectivity, making it an ideal choice for the development of IoT and M2M solutions such as connected vehicles, smart homes and smart cities. Additionally, the device's extended range makes it a useful choice for medical, retail and agricultural applications demanding signal penetration and wide range.
To learn more, visit http://www.mouser.com/molex-tri-band-antenna.
Mouser / Molex Triple-Band Wi-Fi Antenna
Page Two
With its broad product line and unsurpassed customer service, Mouser strives to empower innovation among design engineers and buyers by delivering advanced technologies. Mouser stocks the world's widest selection of the latest semiconductors and electronic components for the newest design projects. Mouser Electronics' website is continually updated and offers advanced search methods to help customers quickly locate inventory. Mouser.com also houses data sheets, supplier-specific reference designs, application notes, technical design information, and engineering tools.
About Mouser Electronics
Mouser Electronics, a Berkshire Hathaway company, is an award-winning, authorized semiconductor and electronic component distributor focused on rapid New Product Introductions from its manufacturing partners for electronic design engineers and buyers. The global distributor's website, Mouser.com, is available in multiple languages and currencies and features more than 5 million products from over 700 manufacturers. Mouser offers 22 support locations around the world to provide best-in-class customer service and ships globally to over 600,000 customers in 170 countries from its 750,000 sq. ft. state-of-the-art facility south of Dallas, Texas. For more information, visit http://www.mouser.com.
About Molex
Molex brings together innovation and technology to deliver electronic solutions to customers worldwide. With a presence in more than 40 countries, Molex offers a full suite of solutions and services for many markets, including data communications, consumer electronics, industrial, automotive, commercial vehicle and medical.
Trademarks
Mouser and Mouser Electronics are registered trademarks of Mouser Electronics, Inc. All other products, logos, and company names mentioned herein may be trademarks of their respective owners.
– 30 –
Further information, contact:

Kevin Hess, Mouser Electronics

Senior Vice President of Marketing

(817) 804-3833

For press inquiries, contact:

Nick Foot, BWW Communications

PR Director

+44 (0)1491 636393