27. marts 2019
Mouser Now Stocking Ultra-Tiny Bosch BMX160 9-Axis Sensor for AR/VR, Wearables and More
Mouser Now Stocking Ultra-Tiny Bosch BMX160 9-Axis Sensor
for AR/VR, Wearables and More
March 27, 2019 – Mouser Electronics, Inc., the industry's leading New Product Introduction (NPI) distributor with the widest selection of semiconductors and electronic components, is now stocking the BMX160 9-axis sensor from Bosch. The compact, power-efficient sensor combines Bosch's advanced accelerometer, gyroscope and geomagnetic sensor technologies to deliver an ideal solution for a wide range of applications such as smartphones, 3D scanning, fitness trackers, gaming, and augmented reality (AR) and virtual reality (VR) devices.
The Bosch BMX160 sensor, available from Mouser Electronics, incorporates a 16-bit digital, triaxial accelerometer; 16-bit digital, triaxial gyroscope; and triaxial geomagnetic sensor to accurately measure orientation and detect motion in nine degrees of freedom (DoF). The device offers acceleration ranges of ±2 g to ±16 g and gyroscopic range up to 2,000 degrees per second (°/s). Optimized for low offset, low noise and best temperature stability, the sensor offers an extremely low drift for accurate real-time user experience.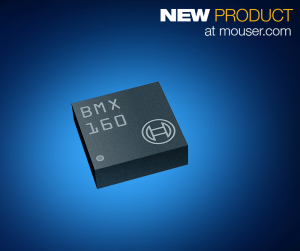 The BMX160 sensor's built-in power management unit and ultra-low-power background application features enable the application processor to remain in sleep mode much longer. With a typical current consumption of only 1580 μA, the sensor is ideal for always-on applications in battery-driven devices. The device is pin- and register-compatible with the Bosch BMI160 inertial measurement unit (IMU), simplifying integration into existing designs, and comes factory calibrated and ready to use in a compact 2.5 × 3.0 × 0.95 mm package.
For development, the BMX160 shuttle board enables designers to gain easy access to the sensor's pins via a simple socket. And because all Bosch sensor shuttle boards have identical footprints, they can interface with the company's other advanced development tools for optimal flexibility.
For more information, visit http://www.mouser.com/bosch-sensortec-bmx160.
Mouser / Bosch BMX160 9-axis Sensor
Page Two
With its broad product line and unsurpassed customer service, Mouser strives to empower innovation among design engineers and buyers by delivering advanced technologies. Mouser stocks the world's widest selection of the latest semiconductors and electronic components for the newest design projects. Mouser Electronics' website is continually updated and offers advanced search methods to help customers quickly locate inventory. Mouser.com also houses data sheets, supplier-specific reference designs, application notes, technical design information, and engineering tools.
About Mouser Electronics
Mouser Electronics, a Berkshire Hathaway company, is an award-winning, authorized semiconductor and electronic component distributor focused on rapid New Product Introductions from its manufacturing partners for electronic design engineers and buyers. The global distributor's website, Mouser.com, is available in multiple languages and currencies and features more than 5 million products from over 750 manufacturers. Mouser offers 23 support locations around the world to provide best-in-class customer service and ships globally to over 600,000 customers in more than 220 countries/territories from its 750,000 sq. ft. state-of-the-art facility south of Dallas, Texas. For more information, visit http://www.mouser.com.
About The Bosch Group
The Bosch Group, a leading global supplier of technology and services, is designed to improve quality of life worldwide with products and services that are innovative and spark enthusiasm.
Trademarks
Mouser and Mouser Electronics are registered trademarks of Mouser Electronics, Inc. All other products, logos, and company names mentioned herein may be trademarks of their respective owners.
– 30 –
For further information, contact:

Kevin Hess, Mouser Electronics

Senior Vice President of Marketing

(817) 804-3833

For press inquiries, contact:

Nick Foot, BWW Communications

PR Director

+44 (0)1491 636393