28. juni 2017
Mouser Now Stocking TE Connectivity's Sliver Internal Cabled Interconnects for High-Speed Computing at 25 Gbps and Beyond
Mouser Now Stocking TE Connectivity's Sliver Internal Cabled Interconnects for High-Speed Computing at 25 Gbps and Beyond
June 28, 2017 – Mouser Electronics, Inc., the industry's leading New Product Introduction (NPI) distributor with the widest selection of semiconductors and electronic components, is now stocking the Sliver internal cabled interconnects from TE Connectivity (TE), a global leader in connectivity and sensors. Helping to address the latest high-speed demands in networking, TE's Sliver internal cabled interconnects offer improved performance and extended reach while also saving space and lowering design costs for data rate signals within a variety of data communication platforms.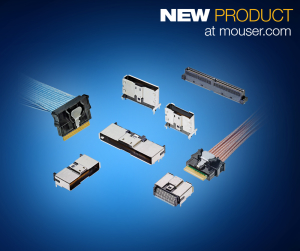 TE's Sliver internal cabled interconnects, available from Mouser Electronics, address expanding network challenges experienced by designers by providing a flexible, robust and cost-effective system that can help manage large workloads and higher data rates (at 25 Gbps and beyond) and support longer-term data growth. Designed to work alongside a cable assembly as a surface-mounted connector with an exceptionally small footprint, Sliver internal cabled interconnects enable designers to make a seamless, simple connection from point A to point B by incorporating a high-density connector and cable assembly that routes high-speed signals from the microprocessors to other locations such as other boards, microprocessor chips, and inputs/outputs (I/O). This solution helps eliminate the need for re-timers and costlier, lower-loss printed circuit board (PCB) materials, simplifying design and lowering overall costs.
Delivering excellent return loss and crosstalk performance, all while providing a low-loss link, TE's Sliver internal cabled interconnects can be used across many 85- and 100-Ohm applications, data rates and protocols (including Ethernet, PCIe, SAS, SATA and InfiniBand). The unique robust metal housing on the connector cage helps withstand cable pull, and an active latch on the housing provides additional connection security. All Sliver internal cabled interconnects support present and future bandwidth needs without requiring re-qualification and redesign.
TE's Sliver internal cabled interconnects are available in a super-slim design with a 0.6 mm contact pitch. Target applications include data center and networking equipment, such as routers, switches, servers, high-performance computing (HPC), and storage devices.
To learn more, visit http://www.mouser.com/new/TE-Connectivity/te-sliver-internal-cabled-connector/.
Mouser / TE Connectivity Sliver Internal Cabled Interconnects
Page Two
With its broad product line and unsurpassed customer service, Mouser strives to empower innovation among design engineers and buyers by delivering advanced technologies. Mouser stocks the world's widest selection of the latest semiconductors and electronic components for the newest design projects. Mouser Electronics' website is continually updated and offers advanced search methods to help customers quickly locate inventory. Mouser.com also houses data sheets, supplier-specific reference designs, application notes, technical design information, and engineering tools.
About Mouser Electronics
Mouser Electronics, a Berkshire Hathaway company, is an award-winning, authorized semiconductor and electronic component distributor focused on rapid New Product Introductions from its manufacturing partners for electronic design engineers and buyers. The global distributor's website, Mouser.com, is available in multiple languages and currencies and features more than 4 million products from over 600 manufacturers. Mouser offers 22 support locations around the world to provide best-in-class customer service and ships globally to over 550,000 customers in 170 countries from its 750,000 sq. ft. state-of-the-art facility south of Dallas, Texas. For more information, visit http://www.mouser.com.
About TE Connectivity
TE Connectivity is a $12 billion global technology leader. Our connectivity and sensor solutions are essential in today's increasingly connected world. We collaborate with engineers to transform their concepts into creations — redefining what's possible using intelligent, efficient and high-performing TE products and solutions proven in harsh environments. Our 75,000 people, including over 7,000 engineers, partner with customers in close to 150 countries across a wide range of industries. We believe EVERY CONNECTION COUNTS.
Trademarks
Mouser and Mouser Electronics are registered trademarks of Mouser Electronics, Inc. All other products, logos, and company names mentioned herein may be trademarks of their respective owners.
TE Connectivity, TE, TE Connectivity (logo) and EVERY CONNECTION COUNTS are trademarks.
– 30 –
Further information, contact:

Nick Foot, BWW Communications

PR Director

+44 (0)1491 636393

For press inquiries, contact:

Kelly DeGarmo, Mouser Electronics

Manager, Corporate Communications and Media Relations

(817) 804-7764