10. juli 2017
Mouser Now Stocking Silicon Labs' Latest Blue Gecko Bluetooth 5 SoCs
Mouser Now Stocking Silicon Labs' Latest Blue Gecko Bluetooth 5 SoCs
July 10, 2017 – Mouser Electronics, Inc., the authorized global distributor with the newest semiconductors and electronic components, is now stocking the EFR32BG12 and EFR32BG13 Blue Gecko systems-on-chips (SoCs) from Silicon Labs. Part of the Wireless Gecko portfolio, these Bluetooth® low energy SoCs deliver superior RF performance, enhanced cryptography acceleration, larger memory options, on-chip capacitive touch control, and additional low-power peripherals and sensor interfaces.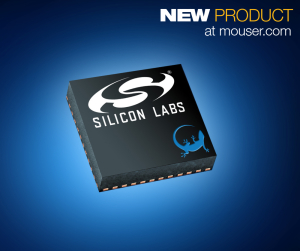 Silicon Labs' EFR32BG12 and EFR32BG13 Blue Gecko SoCs, available from Mouser Electronics, integrate a high-performance 32-bit 40 MHz ARM® Cortex®-M4 core with a 2.4 GHz and sub-1GHz radio transceiver. The devices offer more memory than previous generations of Blue Gecko devices, with EFR32BG12 devices offering 1 Mbyte of flash memory and 256 kbytes of RAM, while the EFR32BG13 devices offer 512 kbytes of flash memory and 64 kbytes of RAM. This significant memory expansion makes it easier to develop complex, feature-rich Internet of Things (IoT) applications supporting multiple protocol stacks, real-time operating systems such as Micrium OS, backup images for devices and over-the-air (OTA) updates for field upgrades to extend the life of IoT products.
The SoCs feature a 2 Mbps Bluetooth PHY, providing ample throughput for applications running a Bluetooth 5-compliant stack. The Bluetooth 5 standard enables four times the range, twice the speed, and 800 percent greater broadcasting capacity plus improved co-existence with other wireless IoT protocols. The devices also support a robust set of peripherals, including a hardware crypto accelerator, 12-bit analog-to-digital converter (ADC), digital-to-analog-converter (DAC), a 12-channel Peripheral Reflex System, and various communication interfaces. In addition, the devices handle multiple security options, including AES with 128- or 256-bit keys, elliptical curve cryptography (ECC), SHA-1, and SHA-224/256.
The SoCs also include an on-chip oscillator that eliminates the need for an external 32 KHz crystal typically required for Bluetooth low energy devices. This integrated precision low-frequency resistor-capacitor oscillator (PLFRCO) enables developers to reduce BOM costs when used in high-volume designs requiring a 32 KHz crystal to meet Bluetooth low energy sleep clock accuracy specifications. The PLFRCO is guarantees robust, reliable Bluetooth low energy connections across the devices' entire operating temperature range.
EFR32BG12 and EFR32BG13 Blue Gecko SoCs are ideal for enabling energy-friendly Bluetooth 5 networking for IoT devices, wellness products, home and building automation, and smart metering.
For more information, visit http://www.mouser.com/new/Silicon-Laboratories/efr32bg-blue-gecko/.
Mouser / Silicon Labs EFR32BG12 and EFR32BG13 Blue Gecko SoCs
Page Two
With its broad product line and unsurpassed customer service, Mouser strives to empower innovation among design engineers and buyers by delivering advanced technologies. Mouser stocks the world's widest selection of the latest semiconductors and electronic components for the newest design projects. Mouser Electronics' website is continually updated and offers advanced search methods to help customers quickly locate inventory. Mouser.com also houses data sheets, supplier-specific reference designs, application notes, technical design information, and engineering tools.
About Mouser Electronics
Mouser Electronics, a Berkshire Hathaway company, is an award-winning, authorized semiconductor and electronic component distributor focused on rapid New Product Introductions from its manufacturing partners for electronic design engineers and buyers. The global distributor's website, Mouser.com, is available in multiple languages and currencies and features more than 4 million products from over 600 manufacturers. Mouser offers 22 support locations around the world to provide best-in-class customer service and ships globally to over 550,000 customers in 170 countries from its 750,000 sq. ft. state-of-the-art facility south of Dallas, Texas. For more information, visit http://www.mouser.com.
About Silicon Labs
Silicon Labs is a leading provider of silicon, software and solutions for the Internet of Things, Internet infrastructure, industrial automation, consumer and automotive markets. The company solves the electronics industry's toughest problems, providing customers with significant advantages in performance, energy savings, connectivity and design simplicity. Backed by world-class engineering teams with unsurpassed software and mixed-signal design expertise, Silicon Labs empowers developers with the tools and technologies they need to advance quickly and easily from initial idea to final product.
Trademarks
Mouser and Mouser Electronics are registered trademarks of Mouser Electronics, Inc. All other products, logos, and company names mentioned herein may be trademarks of their respective owners.
– 30 –
Further information, contact:

Kevin Hess, Mouser Electronics

Senior Vice President of Marketing

(817) 804-3833

For press inquiries, contact:

Nick Foot, BWW Communications

PR Director

+44 (0)1491 636393