7. marts 2018
Mouser Now Stocking Panasonic's Low-Power PAN1760A BLE Module for Advanced IoT Designs
Mouser Now Stocking Panasonic's Low-Power PAN1760A BLE Module for Advanced IoT Designs
March 7, 2018 – Mouser Electronics, Inc., the industry's leading New Product Introduction (NPI) distributor with the widest selection of semiconductors and electronic components, is now stocking the PAN1760A Series RF module from Panasonic. The low-power Bluetooth® low energy module offers years of operation using only a CR2032 battery for simple and reliable Internet of Things (IoT) designs.
The Panasonic PAN1760A module, available from Mouser Electronics, is a fully autonomous device based on a Toshiba TC35678 system-on-chip (SoC) with an Arm® Cortex®-M0 core and embedded Toshiba Bluetooth 4.2 low energy stack. With integrated 256 Kbytes of flash and 83 Kbytes of RAM for application code storage and execution, the PAN1760A is suited for stand-alone operation in many applications without the need for an external processor, which helps save cost, complexity, and space.
The PAN1760A features excellent Bluetooth low energy functionalities — including mesh, extended Maximum Transmission Unit (MTU), and low energy secure connections — along with comprehensive GATT service and profiles. The module offers I2C, SPI, and two UART interfaces and four PWM outputs, plus five external and one internal analog-to-digital converters (ADCs). The module is also software- and hardware-compatible with the PAN1760, PAN1761, and PAN1026 Bluetooth modules, enabling designers to easily migrate previously developed software such as Bluetooth low energy profiles and applications.
The PAN1760A module benefits from a peak power consumption of only 3.3 mA in transmit (Tx) and receive (Rx) mode, enabling advanced wireless functionalities in IoT, medical, and industrial applications without compromising battery life. The module is supported by the comprehensive PAN1760A Evaluation Kit, which provides two USB dongles to allow designers to develop, run and debug code. The dongles feature breakout headers that provide an easy way to connect sensors and other devices for rapid prototyping.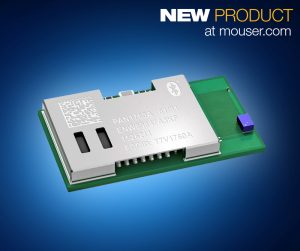 To learn more, visit http://www.mouser.com/panasonic-pan1760a-modules.
Mouser / Panasonic PAN1760A Module
With its broad product line and unsurpassed customer service, Mouser strives to empower innovation among design engineers and buyers by delivering advanced technologies. Mouser stocks the world's widest selection of the latest semiconductors and electronic components for the newest design projects. Mouser Electronics' website is continually updated and offers advanced search methods to help customers quickly locate inventory. Mouser.com also houses data sheets, supplier-specific reference designs, application notes, technical design information, and engineering tools.
About Mouser Electronics
Mouser Electronics, a Berkshire Hathaway company, is an award-winning, authorized semiconductor and electronic component distributor focused on rapid New Product Introductions from its manufacturing partners for electronic design engineers and buyers. The global distributor's website, Mouser.com, is available in multiple languages and currencies and features more than 5 million products from over 700 manufacturers. Mouser offers 22 support locations around the world to provide best-in-class customer service and ships globally to over 600,000 customers in 170 countries from its 750,000 sq. ft. state-of-the-art facility south of Dallas, Texas. For more information, visit http://www.mouser.com.
About Panasonic Industrial Devices Sales Company of America
Panasonic Industrial Devices Sales Company of America is the advanced industrial components and electronic devices sales division of Panasonic Corporation of North America, the principal North American subsidiary of Panasonic Corporation. The company provides cutting-edge components that power a diverse range of wireless and mechanical devices. Standard and custom components range from industrial automation devices to passive components, relays, connectors, sensors, wireless connectivity, semiconductors and more. Thriving as an innovator of consumer electronics, home appliances, communications, automotive and healthcare, Panasonic is continuously developing and improving cutting-edge, high quality, high technology components that power a diverse range of devices and products. The company is also pursuing advanced environmental initiatives to encourage the growth of environmental awareness and sustainability worldwide.
Trademarks
Mouser and Mouser Electronics are registered trademarks of Mouser Electronics, Inc. All other products, logos, and company names mentioned herein may be trademarks of their respective owners.
Further information, contact:
Kevin Hess, Mouser Electronics
Senior Vice President of Marketing
(817) 804-3833
Kevin.Hess@mouser.com
For press inquiries, contact:
Nick Foot, BWW Communications
PR Director
+44 (0) 1491 636393
Nick.Foot@bwwcomms.com