30. august 2018
Mouser Now Stocking Molex Cellular Flexible Antennas for LTE and 4G Technologies
Mouser Now Stocking Molex Cellular Flexible Antennas for LTE and 4G Technologies
August 30, 2018 – Mouser Electronics, Inc., the industry's leading New Product Introduction (NPI) distributor with the widest selection of semiconductors and electronic components, is now stocking a variety of cellular flexible antennas from Molex. The wide-band antenna series future-proofs wireless application developments to support evolving LTE and 4G cellular technologies.
Molex cellular flexible antennas, available from Mouser Electronics, feature a balanced transmission design that minimizes ground-plane effects and significantly reduces costs and engineering resources needed for additional circuitry, frequency tuning, and electronic component integration. The antennas' poly-flexible, double-sided adhesive tape enables easy peel-and-stick mounting anywhere within the device casing.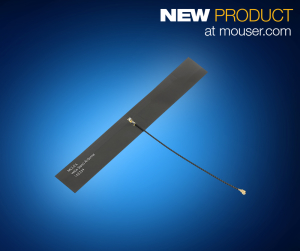 The 146185 series quad-band antennas are available in six micro-coaxial cable length options, from 50mm to 300mm, to ensure maximum design flexibility in meeting connectivity needs. Additionally, the 105263 series multi(6)-band antennas are available in 100, 150, or 200mm options, and the 146234 series is available in cable lengths of 100, 200, or 300mm.
Molex's cellular flexible antennas are suitable for a wide range of applications, including telecommunications and networking, industrial automation, smart grid concentrators, remote sensors, home entertainment, and alarm systems.
To learn more, visit http://www.mouser.com/molex-cellular-flexible-antennas. For more information on Molex's wide selection of standalone antennas, go to http://www.mouser.com/molex-standalone-ant.
Mouser / Molex Cellular Flexible Antennas
Page Two
With its broad product line and unsurpassed customer service, Mouser strives to empower innovation among design engineers and buyers by delivering advanced technologies. Mouser stocks the world's widest selection of the latest semiconductors and electronic components for the newest design projects. Mouser Electronics' website is continually updated and offers advanced search methods to help customers quickly locate inventory. Mouser.com also houses data sheets, supplier-specific reference designs, application notes, technical design information, and engineering tools.
About Mouser Electronics
Mouser Electronics, a Berkshire Hathaway company, is an award-winning, authorized semiconductor and electronic component distributor focused on rapid New Product Introductions from its manufacturing partners for electronic design engineers and buyers. The global distributor's website, Mouser.com, is available in multiple languages and currencies and features more than 5 million products from over 700 manufacturers. Mouser offers 23 support locations around the world to provide best-in-class customer service and ships globally to over 600,000 customers in more than 220 countries/territories from its 750,000 sq. ft. state-of-the-art facility south of Dallas, Texas. For more information, visit http://www.mouser.com.
About Molex
Molex brings together innovation and technology to deliver electronic solutions to customers worldwide. With a presence in more than 40 countries, Molex offers a full suite of solutions and services for many markets, including data communications, consumer electronics, industrial, automotive, commercial vehicle and medical.
Trademarks
Mouser and Mouser Electronics are registered trademarks of Mouser Electronics, Inc. All other products, logos, and company names mentioned herein may be trademarks of their respective owners.
– 30 –
Further information, contact:

Kevin Hess, Mouser Electronics

Senior Vice President of Marketing

(817) 804-3833

For press inquiries, contact:

Nick Foot, BWW Communications

PR Director

+44 (0)1491 636393