19. juli 2018
Mouser Now Stocking Maxim's Highly Integrated MAXM17574 DC-DC Step-Down Power Module
Mouser Now Stocking Maxim's Highly Integrated MAXM17574
DC-DC Step-Down Power Module
July 19, 2018 – Mouser Electronics, Inc., the industry's leading New Product Introduction (NPI) distributor with the widest selection of semiconductors and electronic components, is now stocking the MAXM17574 DC-DC step-down power module from Maxim Integrated. The flexible, space-saving device allows developers to reduce design complexity and time-to-market in applications ranging from industrial power supplies to HVAC and building control.
The Maxim MAXM17574 power module, available from Mouser Electronics, delivers reliable performance even in harsh industrial environments, offering thermal protection, RESET output-voltage monitoring, and hiccup mode overload protection. The high-efficiency module integrates a synchronous step-down DC-DC converter, fully shielded inductor, and compensation components in a single, low-profile system-in-package (SiP).
With a wide input-voltage range of 4.5 V to 60 V and an output-voltage adjustable range from 0.9 V to 15 V, the power module delivers up to 3 A of continuous output current across a wide industrial ambient operating temperature range of minus 40 to 125 degrees Celsius. The module is housed in a 9.0 × 15 × 9.2 mm package and provides simplified PCB design with only five external components required for a complete power solution. In addition to use in industrial power supply applications, the MAXM17574 devices are ideal for distributed supply regulation, base station point-of-load regulators, and FPGA and DSP point-of-load regulators.
The MAXM17574 module is supported by the MAXM17574 evaluation kit, which is preset for a 5 V output at load currents up to 3 A. The flexible kit features an adjustable soft-start, open-drain RESET signal, adjustable input undervoltage lockout, and external frequency synchronization.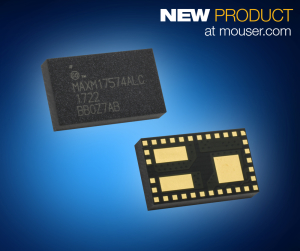 To learn more, visit http://www.mouser.com/maxim-maxm17574-modules.
Mouser / Maxim MAXM17574 DC-DC Step-Down Power Modules
With its broad product line and unsurpassed customer service, Mouser strives to empower innovation among design engineers and buyers by delivering advanced technologies. Mouser stocks the world's widest selection of the latest semiconductors and electronic components for the newest design projects. Mouser Electronics' website is continually updated and offers advanced search methods to help customers quickly locate inventory. Mouser.com also houses data sheets, supplier-specific reference designs, application notes, technical design information, and engineering tools.
About Mouser Electronics
Mouser Electronics, a Berkshire Hathaway company, is an award-winning, authorized semiconductor and electronic component distributor focused on rapid New Product Introductions from its manufacturing partners for electronic design engineers and buyers. The global distributor's website, Mouser.com, is available in multiple languages and currencies and features more than 5 million products from over 700 manufacturers. Mouser offers 23 support locations around the world to provide best-in-class customer service and ships globally to over 600,000 customers in more than 220 countries/territories from its 750,000 sq. ft. state-of-the-art facility south of Dallas, Texas. For more information, visit http://www.mouser.com.
About Maxim Integrated
Maxim is the leader in analog integration. From mobile to industrial solutions, Maxim is making analog smaller, smarter and more energy efficient.
Trademarks
Mouser and Mouser Electronics are registered trademarks of Mouser Electronics, Inc. All other products, logos, and company names mentioned herein may be trademarks of their respective owners.
Further information, contact:

Kevin Hess, Mouser Electronics

Senior Vice President of Marketing

(817) 804-3833

For press inquiries, contact:

Nick Foot, BWW Communications

PR Director

+44 (0) 1491 636393