9. oktober 2017
Mouser Now Shipping ON Semiconductor's Sigfox Connectivity Solutions for Low-Power IoT Networks
Mouser Now Shipping ON Semiconductor's Sigfox Connectivity Solutions for Low-Power IoT Networks
October 9, 2017 – Mouser Electronics, Inc., the industry's leading New Product Introduction (NPI) distributor with the widest selection of semiconductors and electronic components, is now offering Sigfox connectivity solutions from ON Semiconductor. ON Semiconductor's family of Sigfox-compliant devices provides a range of both hardware and software development tools for simplifying new designs for Internet of Things (IoT) applications.
ON Semiconductor's Sigfox portfolio available from Mouser Electronics offers ultra-low-power connectivity devices and development kits to meet the needs of IoT devices transmitting small amounts of data. The AX-SFxx and AX-SFxx-API radio frequency (RF) transceivers provide single-chip solutions for a node on the Sigfox network, with both up- and down-link functionality. The devices offer functionality in the radio configuration zones (RCZs) 1, 2, 3, 4, and 7 and are controlled by either AT commands (AX-SFxx) or through the AXSEM Sigfox Library (AX-SFxx-API). The devices feature eight general-purpose input/output (GPIO) pins with receive and transmit (RX/TX) switching control.
Engineers can use ON Semiconductor Sigfox development kits to quickly develop Sigfox-connected applications using the Sigfox SoC solutions with an included two-year Sigfox subscription. The kits are pre-programmed with the Sigfox stack and a comprehensive and easy-to-use serial protocol based on AT commands. The kits have an SMA connector to allow for both conducted measurements, as well as radiated measurements using the included whip antenna.
ON Semiconductor's Sigfox connectivity solutions are ideal for building and home automation, automatic meter reading, control and lighting, and sensor and asset tracking.
For more information on Sigfox connectivity as well as similar technologies, read Mouser's technical article Standardizing IoT Connectivity by the Kilometer: Sigfox, LoRa®, or LTE? at http://www.mouser.com/applications/sigfox-lora-lte/.
To learn more about ON Semiconductor's Sigfox connectivity solutions, visit http://www.mouser.com/new/onsemiconductor/on-semiconductor-sigfox-solutions/.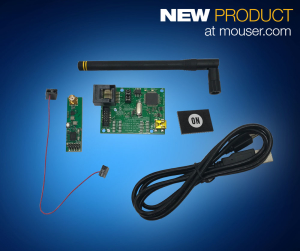 Mouser / ON Semiconductor Sigfox Connectivity Solutions
With its broad product line and unsurpassed customer service, Mouser strives to empower innovation among design engineers and buyers by delivering advanced technologies. Mouser stocks the world's widest selection of the latest semiconductors and electronic components for the newest design projects. Mouser Electronics' website is continually updated and offers advanced search methods to help customers quickly locate inventory. Mouser.com also houses data sheets, supplier-specific reference designs, application notes, technical design information, and engineering tools.
About Mouser Electronics
Mouser Electronics, a Berkshire Hathaway company, is an award-winning, authorized semiconductor and electronic component distributor focused on rapid New Product Introductions from its manufacturing partners for electronic design engineers and buyers. The global distributor's website, Mouser.com, is available in multiple languages and currencies and features more than 4 million products from over 600 manufacturers. Mouser offers 22 support locations around the world to provide best-in-class customer service and ships globally to over 550,000 customers in 170 countries from its 750,000 sq. ft. state-of-the-art facility south of Dallas, Texas. For more information, visit https://www.mouser.com/.
About ON Semiconductor
ON Semiconductor is a premier supplier of high-performance, energy-efficient silicon solutions for green electronics. ON Semiconductor's broad portfolio of power and signal management, logic, discrete and custom devices helps customers efficiently solve their design challenges in automotive, communications, computing, consumer, industrial, LED lighting, medical, military/aerospace and power applications.
Trademarks
Mouser and Mouser Electronics are registered trademarks of Mouser Electronics, Inc. All other products, logos, and company names mentioned herein may be trademarks of their respective owners.
Further information, contact:

Kevin Hess, Mouser Electronics

Senior Vice President of Marketing

(817) 804-3833

For press inquiries, contact:

Nick Foot, BWW Communications

PR Director

(+44) 1491 636393