6. august 2018
Mouser Now Shipping Microchip SAM L10 and L11 Cortex-M23 MCUs
Mouser Now Shipping Microchip SAM L10 and L11 Cortex-M23 MCUs
SAM L11 First 32-bit Microcontroller to Offer Arm TrustZone Security Technology
August 6, 2018 – Mouser Electronics, Inc., the authorized global distributor with the newest semiconductors and electronic components, is now shipping the SAM L10 and L11 microcontrollers from Microchip Technology. The SAM L10 and L11 microcontrollers are based on a 32-bit Arm® Cortex®-M23 core and feature picoPower® technology to offer the industry's lowest power consumption in their class. The SAM L11 variant adds integrated hardware security and is the first 32-bit microcontroller family to feature Arm TrustZone® Technology.
Microchip's SAM L10 and L11 microcontrollers, available from Mouser Electronics, run at 32 MHz and feature up to 64 Kbytes of flash memory and up to 16 Kbytes of SRAM. The SAM L10 devices employ a single memory protection unit (MPU), two debug access levels (DALs), whereas SAM L11 devices employ two MPUs, three DALs, and TrustZone for ARMv8-M, a programmable environment that provides hardware isolation between certified libraries, IP and application code.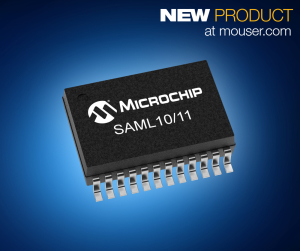 The SAM L10 and L11 microcontrollers feature flexible clock distribution optimized for low power and a 32.768 kHz crystal oscillator as well as power-on-reset, programmable brown-out detection, 8-channel Direct Memory Access Controller (DMAC), and 8-channel event system for inter-peripheral core-independent operation. Both microcontroller families offer Microchip's Peripheral Touch Controller (PTC) for capacitive touch capabilities even in the presence of moisture and noise.
For development, Mouser also offers the SAM L10 and L11 Xplained Pro Evaluation Kits. Each kit is supported by the Atmel Studio 7 integrated development platform, IAR Embedded Workbench, Arm Keil® Microcontroller Development Kit as well as Atmel START, a free online tool to configure peripherals and software that accelerates development.
The SAM L10 and L11 microcontrollers are ideal for a range of low-power applications, including Internet of Things (IoT), security, automotive, embedded control, medical and other human machine interface (HMI) designs.
To learn more, visit http://www.mouser.com/microchip-sam-l10-l11-mcus.
Mouser / Microchip SAM L10 and L11 Microcontrollers
Page Two
With its broad product line and unsurpassed customer service, Mouser strives to empower innovation among design engineers and buyers by delivering advanced technologies. Mouser stocks the world's widest selection of the latest semiconductors and electronic components for the newest design projects. Mouser Electronics' website is continually updated and offers advanced search methods to help customers quickly locate inventory. Mouser.com also houses data sheets, supplier-specific reference designs, application notes, technical design information, and engineering tools.
About Mouser Electronics
Mouser Electronics, a Berkshire Hathaway company, is an award-winning, authorized semiconductor and electronic component distributor focused on rapid New Product Introductions from its manufacturing partners for electronic design engineers and buyers. The global distributor's website, Mouser.com, is available in multiple languages and currencies and features more than 5 million products from over 700 manufacturers. Mouser offers 23 support locations around the world to provide best-in-class customer service and ships globally to over 600,000 customers in more than 220 countries/territories from its 750,000 sq. ft. state-of-the-art facility south of Dallas, Texas. For more information, visit http://www.mouser.com.
Trademarks
Mouser and Mouser Electronics are registered trademarks of Mouser Electronics, Inc. All other products, logos, and company names mentioned herein may be trademarks of their respective owners.
– 30 –
Further information, contact:

Kevin Hess, Mouser Electronics

Senior Vice President of Marketing

(817) 804-3833

For press inquiries, contact:

Nick Foot, BWW Communications

PR Director

+44 (0)1491 636393