17. juli 2018
Mouser Now Shipping Analog Devices' AD5767 Voltage Output denseDAC for Optical Networking, Automation, and Telecom
Mouser Now Shipping Analog Devices' AD5767 Voltage Output denseDAC for Optical Networking, Automation, and Telecom
June 17, 2018 – Mouser Electronics, Inc., the industry's leading New Product Introduction (NPI) distributor with the widest selection of semiconductors and electronic components, is now stocking the AD5767 12-bit voltage output denseDAC® digital-to-analog converter (DAC) from Analog Devices Inc. Designed to reduce the system footprint for wired telecommunications systems without compromising performance, the 16-channel DAC provides the required discrete components and necessary bias ranges for coherent, fiber-based optical systems from medium- to long-haul implementations.
The Analog Devices AD5767 DAC, available from Mouser Electronics, delivers a broad range of unipolar or bipolar output voltages from the user-supplied 2.5 V reference. Engineers can monitor each of the DAC's 16 channels using the integrated output voltage multiplexer, and adjust each output from a minimum output voltage of -20 V to a maximum output voltage of +14 V.
The output buffers on the DAC can also sink or source up to 20 mA, and, if needed, the DAC can execute low-frequency dithering functionality, which eliminates the need for external circuitry. This reduction of external components makes the DAC highly desirable for indium phosphide Mach-Zehnder modulator (InP MZM) biasing applications. For communications, the AD5767 features a versatile four-wire serial interface that operates at a clock rate of up to 50 MHz for write mode and is compatible with a serial peripheral interface (SPI), QSPI, MICROWIRE, and DSP interface standards.
Analog Devices' AD5767 DAC is now in stock at Mouser Electronics in a space-saving 4 mm × 4 mm WLCSP package and 6 mm × 6 mm LFCSP package. The DAC features a wide operating temperature range of minus 40 degrees to 105 degrees Celsius, and is suited for industrial automation, optical networking, analog output modules, test and measurement equipment, and data acquisition applications.
The AD5767 DAC is supported by the full-EVAL-AD5767 evaluation board, which integrates an Analog Devices ADP5071 switching regulator to offer a complete power solution. The evaluation board enables designers to control the AD5767 DAC using the USB port of a Windows-based PC running Analog Device's Analysis, Control, Evaluation (ACE) evaluation software. The ACE software provides an intuitive graphical user interface (GUI) to configure modes of operation through the synchronous serial port interface.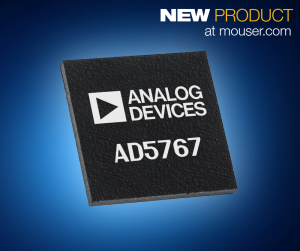 To learn more about the AD5767 12-bit DAC, visit http://www.mouser.com/adi-ad5766-ad5767-dacs.
Mouser / Analog Devices AD5767 DAC
With its broad product line and unsurpassed customer service, Mouser strives to empower innovation among design engineers and buyers by delivering advanced technologies. Mouser stocks the world's widest selection of the latest semiconductors and electronic components for the newest design projects. Mouser Electronics' website is continually updated and offers advanced search methods to help customers quickly locate inventory. Mouser.com also houses data sheets, supplier-specific reference designs, application notes, technical design information, and engineering tools.
About Mouser Electronics
Mouser Electronics, a Berkshire Hathaway company, is an award-winning, authorized semiconductor and electronic component distributor focused on rapid New Product Introductions from its manufacturing partners for electronic design engineers and buyers. The global distributor's website, Mouser.com, is available in multiple languages and currencies and features more than 5 million products from over 700 manufacturers. Mouser offers 23 support locations around the world to provide best-in-class customer service and ships globally to over 600,000 customers in more than 220 countries/territories from its 750,000 sq. ft. state-of-the-art facility south of Dallas, Texas. For more information, visit http://www.mouser.com.
About Analog Devices
Analog Devices is the leading global high-performance analog technology company dedicated to solving the toughest engineering challenges. We enable our customers to interpret the world around us by intelligently bridging the physical and digital with unmatched technologies that sense, measure, power, connect and interpret. Visit http://www.analog.com.
Trademarks
Mouser and Mouser Electronics are registered trademarks of Mouser Electronics, Inc. All other products, logos, and company names mentioned herein may be trademarks of their respective owners.
Further information, contact:

Kevin Hess, Mouser Electronics

Senior Vice President of Marketing

(817) 804-3833

For press inquiries, contact:

Nick Foot, BWW Communications

PR Director

+44 (0) 1491 636393