2. december 2020
Mouser Hosts Workshop with CRL to Help Hardware Innovators Prepare for Manufacturing
Mouser Electronics, Inc., the New Product Introduction (NPI) leader empowering innovation, will be co-hosting a three-day online event to help UK-based startups test, validate and communicate their technical requirements to manufacturers. The workshop, hosted in partnership with the Central Research Laboratory (CRL), takes place from Monday 7th – Wednesday 9th December.
The interactive and personalised workshop is targeted towards early-stage hardware startups taking their first product to manufacture as well as scaling product companies developing their first in-house design. Mouser has invited expert partners from Molex, Analog Devices, TTI and UK-based CEM Wilson Process Systems to add valuable knowledge and insight for electronics design and manufacturing.
Attendees will be guided through the process of preparing for production, finding suppliers, communicating their requirements and formalising the relationship to ensure that commercial targets, timelines and customer expectations are met.
The collaboration is part of a partnership agreement Mouser announced with CRL in July this year, designed to accelerate and improve product development among startups in the United Kingdom. As the UK's first purpose-built hardware accelerator programme, the startup incubator helps people with exceptional design and engineering talent to not only benefit from entrepreneurial advice and support for their commercial product ideas but also to access the product hardware and machinery needed to make those ideas a reality.
As part of Mouser's and CRL's mission to empower innovation among design entrepreneurs, the workshop is structured to help make the manufacturing journey easier for UK startups and other innovative hardware companies that are on the brink of rapid growth.
"Startups and companies in the process of looking for manufacturers are often unsure of what to look for, or what costs and timelines they should expect," says Mark Patrick, Technical Marketing Manager, EMEA for Mouser Electronics. "This event is an essential guide to pre-production testing and setting clear product design requirements, which will not only save vast amounts of time and money but also ensure that product developers can set up and leverage their supply chain to deliver reliable, good-quality products."
CRL's Accelerator 2021 programme is also now open for applications, offering unrivalled support to product makers and hardware pioneers at every stage of the journey, from concept development through prototyping and first batch production to scaling up for commercial orders. The award-winning incubator programme, which will run from May to November 2021, helps hardware inventors to focus on growing their businesses while providing them with targeted opportunities for mentoring and funding along the way.
To apply for a place at the three-day Preparing for Manufacture workshop, visit https://www.eventbrite.co.uk/e/apply-for-a-place-preparing-for-manufacture-3-day-programme-tickets-127458914043.
To apply for a place in the 2021 CRL Accelerator programme visit https://centralresearchlaboratory.com/crl-accelerator/.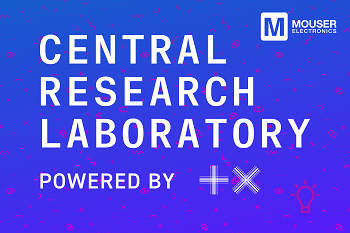 About Mouser Electronics
Mouser Electronics, a Berkshire Hathaway company, is an authorised semiconductor and electronic component distributor focused on New Product Introductions from its manufacturing partners for electronic design engineers and buyers. The global distributor's website, Mouser.com, is available in multiple languages and currencies and features more than 5 million products from over 1,100 manufacturer brands. Mouser offers 27 support locations around the world to provide best-in-class customer service in local language, currency and time zone. The distributor ships to over 630,000 customers in more than 223 countries/territories from its 93,000 square-metre, state-of-the-art facilities in the Dallas, Texas, metro area. For more information, visit http://www.mouser.com.