17. november 2023
Mouser Electronics Supports IoT Development with Webinar On Compact RF Antenna Solutions
Mouser Electronics, Inc., the New Product Introduction (NPI) leader™ empowering innovation, will be hosting a free webinar to help hardware engineers to develop antenna solutions for increasingly compact IoT and smart devices. Mouser has partnered with Amphenol RF for the "RF Antenna Solutions For IoT Devices And Smart Technology" webinar, which will take place on 5 December at 3pm CET.
"IoT devices have become prolific with the rise of smart technology, but the evolving design restrictions posed by compact devices can pose a significant challenge for designers," says Mark Patrick, Director Technical Content, EMEA at Mouser Electronics. "At Mouser, we continue to be at the forefront of supporting IoT innovators by providing them with practical tips to optimise their designs."
Participants in this webinar will learn about the variety of RF antenna solutions available for emerging IoT applications, and how both internal and external antennas can be incorporated into devices with limited space and other design restrictions.
Amphenol RF has a wide range of antenna solutions available for IoT applications, including:
These antennas can be used to solve specific design challenges, such as mounting, size restrictions, frequency range and data transmission capabilities. During the webinar, Mike Comer, Director of Product Marketing & Business Development at Amphenol RF, will advise participants on how to select the best option for their projects. He will also explore the various protocols that can be used to optimise the specific usage of individual antenna types.
To register for the webinar, visit: https://emea.info.mouser.com/webinar-amphenolrf-antennasolutions-emea-lp?pid=publitek&cid=pr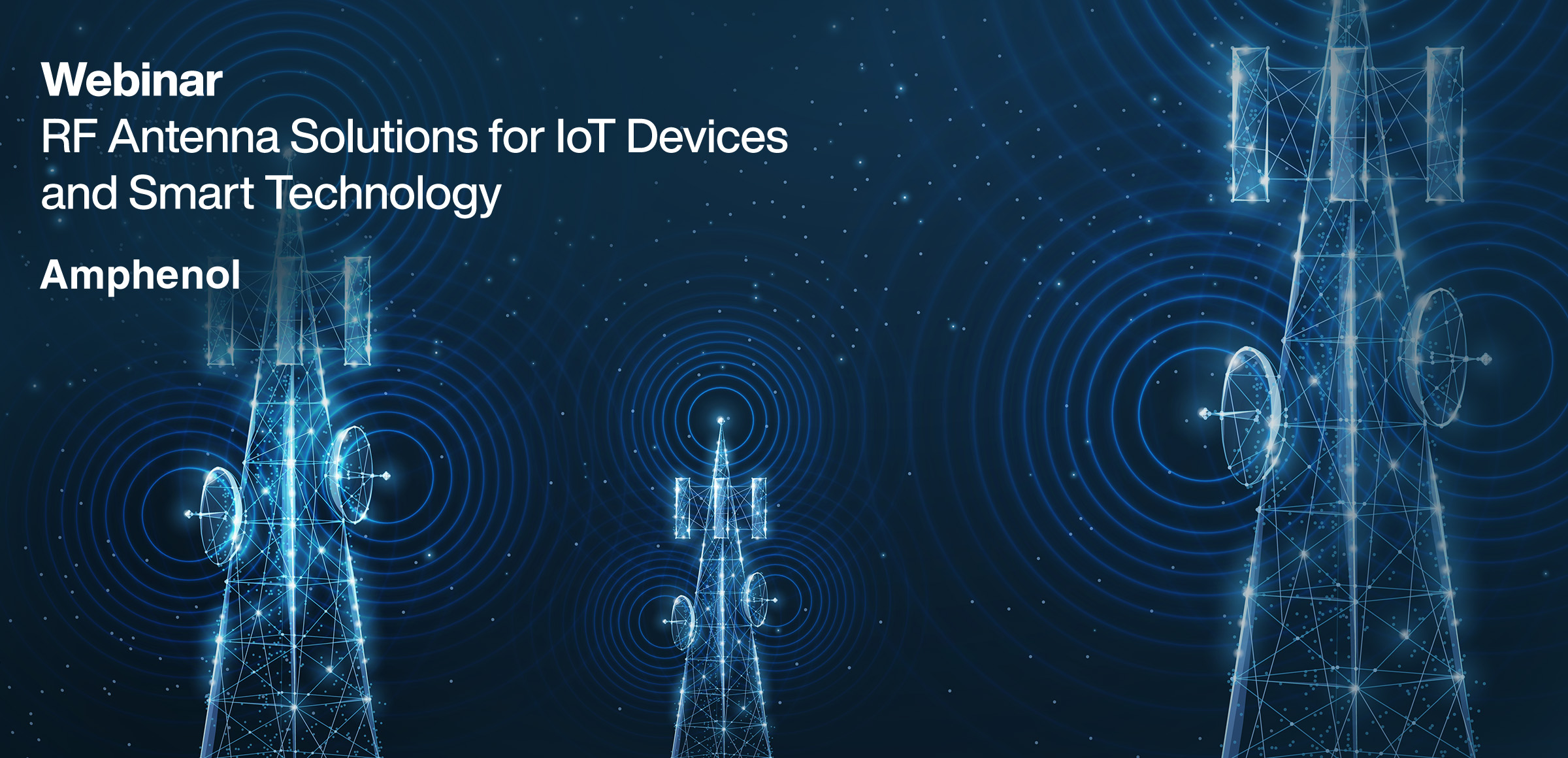 About Mouser Electronics
Mouser Electronics, a Berkshire Hathaway company, is an authorised semiconductor and electronic component distributor focused on New Product Introductions from its leading manufacturer partners. Serving the global electronic design engineer and buyer community, the global distributor's website, mouser.com, is available in multiple languages and currencies and features more than 6.8 million products from over 1,200 manufacturer brands. Mouser offers 27 support locations worldwide to provide best-in-class customer service in local language, currency and time zone. The distributor ships to over 650,000 customers in 223 countries/territories from its 1 million-square-foot, state-of-the-art distribution facilities in the Dallas, Texas, metro area. For more information, visit https://www.mouser.com/.
About Amphenol RF
Amphenol RF now includes the Amphenol Connex product line. Amphenol RF is the world leader in the design, manufacture and supply of RF connector systems for the automotive, broadband, instrumentation, internet, military/aerospace and wireless infrastructure markets. With the combination of their global footprint and experience extending over a half-century, Amphenol RF is your RF Global Solutions Provider for the 21st Century.