20. juli 2017
Mouser Electronics Stocks Infineon's XMC1400 MCUs for Industrial Applications
Mouser Electronics Stocks Infineon's XMC1400 MCUs for Industrial Applications
July 19, 2017 – Mouser Electronics, Inc., the authorized global distributor with the newest semiconductors and electronic components, is now stocking the XMC1400 industrial series microcontrollers from Infineon Technologies. Members of Infineon's XMC1000 family of microcontrollers, the XMC1400 series devices offer greater control performance and additional connectivity tailored to applications such as LED lighting, digital power conversion, motor control, industrial automation, and human-machine interfaces (HMI).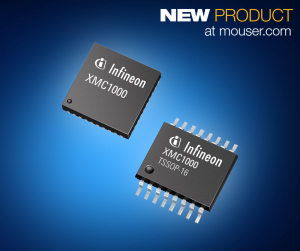 The Infineon XMC1400 microcontrollers, available from Mouser Electronics, are real-time-capable devices based on a 32-bit ARM® Cortex®-M0 core with comprehensive peripheral functionality. Offering up to 200 kBytes of flash and 16 kBytes of RAM, the 48MHz microcontrollers deliver a set of highly flexible peripherals, including timers, PWM modules, and analog-to-digital converters (ADCs) that can operate at double frequency (96MHz).
Specific to industrial control, the devices contain Capture/Compare Units 8 (CCU8) for complex pulse-width modulation (PWM), Capture/Compare Units 4 (CCU4) for signal monitoring and PWM, two position interfaces (POSIF) for motor positioning, high speed analog comparators, and a Brightness and Color Control Unit (BCCU) for flicker-free digital dimming and color control of LEDs. The devices offer standard communications interfaces such as UART, I2C, SPI, LIN and I2S. The XMC1403 and XMC1404 microcontrollers also offer two CAN nodes with 32 message objects.
Infineon's XMC1400 microcontrollers are specified at minus 40 to 105 degrees Celsius ambient temperature for robustness in industrial environments, and ships with a complimentary Infineon DAVE™ toolchain with low-level drivers and apps.
To learn more, visit http://www.mouser.com/new/Infineon-Technologies/infineon-xmc1400/.
Mouser / Infineon XMC1400 Industrial Series Microcontrollers
Page Two
With its broad product line and unsurpassed customer service, Mouser strives to empower innovation among design engineers and buyers by delivering advanced technologies. Mouser stocks the world's widest selection of the latest semiconductors and electronic components for the newest design projects. Mouser Electronics' website is continually updated and offers advanced search methods to help customers quickly locate inventory. Mouser.com also houses data sheets, supplier-specific reference designs, application notes, technical design information, and engineering tools.
About Mouser Electronics
Mouser Electronics, a Berkshire Hathaway company, is an award-winning, authorized semiconductor and electronic component distributor focused on rapid New Product Introductions from its manufacturing partners for electronic design engineers and buyers. The global distributor's website, Mouser.com, is available in multiple languages and currencies and features more than 4 million products from over 600 manufacturers. Mouser offers 22 support locations around the world to provide best-in-class customer service and ships globally to over 550,000 customers in 170 countries from its 750,000 sq. ft. state-of-the-art facility south of Dallas, Texas. For more information, visit http://www.mouser.com.
About Infineon Technologies
Infineon Technologies is a leading global designer, manufacturer and supplier of a broad range of semiconductors used in various microelectronic applications. Infineon's product portfolio consists of logic products, including digital, mixed-signal, and analog integrated circuits, as well as discrete semiconductor products.
Trademarks
Mouser and Mouser Electronics are registered trademarks of Mouser Electronics, Inc. All other products, logos, and company names mentioned herein may be trademarks of their respective owners.
– 30 –
Further information, contact:

Kevin Hess, Mouser Electronics

Senior Vice President of Marketing

(817) 804-3833

For press inquiries, contact:

Nick Foot, BWW Communications

PR Director

+44 (0)1491 636393