8. august 2017
Mouser Electronics Sponsors Microchip MASTERs Conference
Mouser Electronics Sponsors Microchip MASTERs Conference
Global Distributor Joins Supplier to Encourage Engineers to Dream, Develop, Deliver
August 8, 2017 – Mouser Electronics, Inc., the industry's leading New Product Introduction (NPI) distributor with the widest selection of semiconductors and electronic components, is a Silver Sponsor of the 2017 Microchip MASTERs Conference. From August 16–19 at the JW Marriott Desert Ridge Resort in Phoenix, Arizona, MASTERs offers an in-depth exchange of technical information between customers and Microchip subject-matter experts, including the company's technical partners and design partners.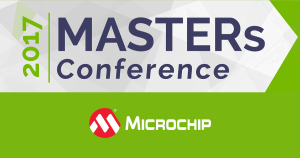 The Microchip MASTERs Conference is the premier technical training event for embedded control engineers. In this 21st year of the event, the MASTERs Conference presents the theme Dream. Develop. Deliver.
The MASTERs Conference features four days of networking opportunities, fun activities, exhibitor booths, and over 110 classes and 50 hands-on workshops for engineers of all skill levels. Engineers can choose from classes about Microchip's products, as well as general embedded control topics such as motor control, power supply design, lighting control, communication protocols like Bluetooth®, LoRa, USB and TCP/IP, C programming, graphic display technologies, touch sense methods, and analog system design. Most of these classes are taught by the same application and design engineers who create the products, application notes, and demo boards that are used in the classrooms.
To learn more about the 2017 Microchip MASTERs Conference, visit https://eng.info.mouser.com/microchip-masters-2017. To learn more about Microchip Technology, visit http://www.mouser.com/microchip/.
Mouser / 2017 Microchip MASTERs Conference
Page Two
With its broad product line and unsurpassed customer service, Mouser strives to empower innovation among design engineers and buyers by delivering advanced technologies. Mouser stocks the world's widest selection of the latest semiconductors and electronic components for the newest design projects. Mouser Electronics' website is continually updated and offers advanced search methods to help customers quickly locate inventory. Mouser.com also houses data sheets, supplier-specific reference designs, application notes, technical design information, and engineering tools.
About Mouser Electronics
Mouser Electronics, a Berkshire Hathaway company, is an award-winning, authorized semiconductor and electronic component distributor focused on rapid New Product Introductions from its manufacturing partners for electronic design engineers and buyers. The global distributor's website, Mouser.com, is available in multiple languages and currencies and features more than 4 million products from over 600 manufacturers. Mouser offers 22 support locations around the world to provide best-in-class customer service and ships globally to over 550,000 customers in 170 countries from its 750,000 sq. ft. state-of-the-art facility south of Dallas, Texas. For more information, visit http://www.mouser.com.
About Microchip Technology
Microchip Technology Inc. is a leading provider of microcontroller, mixed-signal, analog and Flash-IP solutions, providing low-risk product development, lower total system cost and faster time to market for thousands of diverse customer applications worldwide. Headquartered in Chandler, Arizona, Microchip offers outstanding technical support along with dependable delivery and quality.
Trademarks
Mouser and Mouser Electronics are registered trademarks of Mouser Electronics, Inc. All other products, logos, and company names mentioned herein may be trademarks of their respective owners.
– 30 –
Further information, contact:

Kevin Hess, Mouser Electronics

Senior Vice President of Marketing

(817) 804-3833

For press inquiries, contact:

Nick Foot, BWW Communications

PR Director

+44 (0)1491 636393