30. juli 2019
Mouser Electronics Signs Global Agreement with Formerica
Mouser Electronics Signs Global Agreement with Formerica
Global Distributor Stocks Full Line, Including Fiber Channel and 100G Optical Solutions
July 30, 2019 – Mouser Electronics, Inc., the authorized global distributor with the newest semiconductors and electronic components, announces a global distribution agreement with Formerica Optoelectronics, a pioneer and leading provider of optical interconnect solutions. Using innovative technologies that offer higher energy efficiency, greater reliability, and superior performance, the Formerica portfolio consists of a broad range of optical transceivers, active optical cables (AOC)/fanouts, optical bypass modules (OBM), fiber channel products, and serial digital interface (SDI) transceivers.
Formerica's Fiber channel optical transceivers are hot-pluggable, Gigabit small form factor optical modules (SFP+) with built-in digital diagnostic functions and LC duplex receptacles. The devices are enclosed in an all-metal housing to provide superior electromagnetic interference (EMI) performance, are RoHS compliant, and function using a single 3.3 V power supply. Target applications for the transceivers include high-speed storage area networks, 10GBASE-SR Ethernet and 4G/8G/16G fiber channel systems.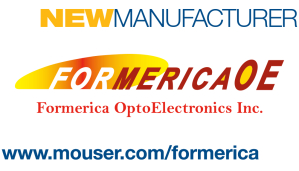 Formerica's 100G optical transceivers support 100 gigabits per second (Gbps) data rate links with a reach of up to 150 meters (via OM4). The transceivers feature low power consumption and use a standard 12/8 lane optical fiber with MPO pluggable optical connector. Like the fiber channel optical transceivers, the 100G products are hot-pluggable, RoHS compliant, and have a case operating temperature range from 0 to 70 degrees Celsius. The transceivers are compliant with 100G Ethernet IEEE 802.3bm 100GBASE SR4 and SFF-8665 (QSFP28 Solution; Revision 1.8) standards. Target applications include 100GBASE Ethernet Links, InfiniBand (IB) QDR, DDR, and EDR interconnects. Additional data rates below 100G, including 1G, 10G, 25G, and 40G, are available.
Formerica products are ideal for data centers, enterprise IT, networking, industrial automation and control, medical imaging, video surveillance, 5G, Internet of Things (IoT), artificial intelligence (AI), and broadcasting applications. To learn more, visit http://www.mouser.com/formerica.
Mouser / Formerica New Supplier Announcement
Page Two
With its broad product line and unsurpassed customer service, Mouser strives to empower innovation among design engineers and buyers by delivering advanced technologies. Mouser stocks the world's widest selection of the latest semiconductors and electronic components for the newest design projects. Mouser Electronics' website is continually updated and offers advanced search methods to help customers quickly locate inventory. Mouser.com also houses data sheets, supplier-specific reference designs, application notes, technical design information, and engineering tools.
About Mouser Electronics
Mouser Electronics, a Berkshire Hathaway company, is an award-winning, authorized semiconductor and electronic component distributor focused on rapid New Product Introductions from its manufacturing partners for electronic design engineers and buyers. The global distributor's website, Mouser.com, is available in multiple languages and currencies and features more than 5 million products from over 750 manufacturers. Mouser offers 25 support locations around the world to provide best-in-class customer service and ships globally to over 600,000 customers in more than 220 countries/territories from its 750,000 sq. ft. state-of-the-art facility south of Dallas, Texas. For more information, visit http://www.mouser.com.
About Formerica Optoelectronics
Formerica Optoelectronics Inc. is a technology leader of 40Gb/s, 100Gb/s optical solutions for telecomm, datacom, 16Gb/s fiber channel/SAS, video surveillance, industrial control, and 5G/4G/LTE backhaul. Formerica is also a key enabler of high-definition video transmission products for digital signage, magnetic resonance imaging, and broadcasting markets with world-class quality and reliability. With its factory located in Taiwan, Formerica's products are Trade Agreement Act (TAA) compliant, suitable for Mil/Aero/DoD/TLA and assured communication, and no risk to China tariff.
Trademarks
Mouser and Mouser Electronics are registered trademarks of Mouser Electronics, Inc. All other products, logos, and company names mentioned herein may be trademarks of their respective owners.
– 30 –
For further information, contact:

Kevin Hess, Mouser Electronics

Senior Vice President of Marketing

(817) 804-3833

For press inquiries, contact:

Nick Foot, BWW Communications

PR Director

+44 (0)1491 636393