14. marts 2018
Mouser Electronics Signs Global Agreement with Doodle Labs — First Distributor to Stock Company's Industrial Wi-Fi Transceivers
Mouser Electronics Signs Global Agreement with Doodle Labs — First Distributor to Stock Company's Industrial Wi-Fi Transceivers
March 14, 2018 – Mouser Electronics, Inc., the industry's leading New Product Introduction (NPI) distributor with the widest selection of semiconductors and electronic components, announces a global distribution agreement with Doodle Labs to stock the company's pioneering industrial Wi-Fi transceivers. Offering best-in-class performance, Doodle Labs transceivers achieve long range through high transmit power, and the devices' rugged construction allows for efficient performance in extreme temperature ranges. The company's portfolio of transceivers feature high interference immunity, enabling the stable performance demanded by manufacturers deploying solutions for complex applications.
Doodle Labs industrial Wi-Fi transceivers, now available from Mouser Electronics, feature an integrated low-noise amplifier to pick up low-energy signals from mobile devices, allowing for exceptional performance in demanding circumstances. Extensive coverage is supported by up to 30 dBm of RF power, while high band isolation supports concurrent dual-band operation for multi-band routers. The transceivers' hardware "RF Kill" feature enables full compliance with FAA regulations, allowing the devices to be used to provide wireless service in airborne applications.
Doodle Labs' complete embedded industrial Wi-Fi product portfolio has been certified as fully compliant by the U.S. Federal Communications Commission and Industry Canada, in addition to receiving CE certification from the European Commission. The form-factor compatible transceivers offer reliable performance and versatility, and their pre-certified regulatory compliance allows manufacturers to significantly shorten their time to market in developing new wireless internet solutions.
Demonstrating proven performance in a wide array of demanding environments, Doodle Labs' transceivers can be deployed in a variety of military and industrial applications. The industrial Wi-Fi devices are suitable for use in unmanned vehicles and robots, as their exceptional temperature and vibration resiliency meet rugged military requirements. The transceivers are also ideal for providing passenger Wi-Fi for train or air travel. Robust construction allows for use in harsh environments in industries such as mining and oil and gas. Additionally, the long range and extensive coverage enabled by the transceivers make them suitable for wireless mesh networking applications.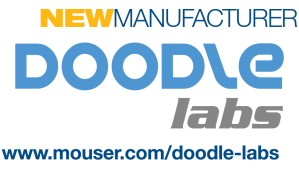 To learn more, visit http://www.mouser.com/doodle-labs.
Mouser / Doodle Labs New Supplier Announcement
With its broad product line and unsurpassed customer service, Mouser strives to empower innovation among design engineers and buyers by delivering advanced technologies. Mouser stocks the world's widest selection of the latest semiconductors and electronic components for the newest design projects. Mouser Electronics' website is continually updated and offers advanced search methods to help customers quickly locate inventory. Mouser.com also houses data sheets, supplier-specific reference designs, application notes, technical design information, and engineering tools.
About Mouser Electronics
Mouser Electronics, a Berkshire Hathaway company, is an award-winning, authorized semiconductor and electronic component distributor focused on rapid New Product Introductions from its manufacturing partners for electronic design engineers and buyers. The global distributor's website, Mouser.com, is available in multiple languages and currencies and features more than 5 million products from over 700 manufacturers. Mouser offers 22 support locations around the world to provide best-in-class customer service and ships globally to over 600,000 customers in 170 countries from its 750,000 sq. ft. state-of-the-art facility south of Dallas, Texas. For more information, visit http://www.mouser.com.
About Doodle Labs
Doodle Labs is focused on developing the highest-performance embedded wireless broadband transceivers and subsystems. The company offers an extensive line of transceivers in the 200 MHz to 7 GHz frequency range, serving customers from numerous industry verticals. These radio subsystems enable OEMs to incorporate state-of-the-art wireless broadband capabilities with minimum integration efforts and tremendous flexibility.
Trademarks
Mouser and Mouser Electronics are registered trademarks of Mouser Electronics, Inc. All other products, logos, and company names mentioned herein may be trademarks of their respective owners.
Further information, contact:
Kevin Hess, Mouser Electronics
Senior Vice President of Marketing
(817) 804-3833
Kevin.Hess@mouser.com
For press inquiries, contact:
Nick Foot, BWW Communications
PR Director
+44 (0) 1491 636393
Nick.Foot@bwwcomms.com