17. marts 2023
Mouser Electronics Signs Distribution Agreement with Astrocast to Deliver Satellite IoT Components
Mouser Electronics, Inc., the industry's leading New Product Introduction (NPI) distributor with the widest selection of semiconductors and electronic components™, announces a new distribution agreement with Astrocast, a leading nanosatellite IoT network operator. Through the agreement, Mouser offers engineers Astrocast's Satellite IoT (SatIoT) technology to customers in Australia, Finland, France, Germany, Italy, New Zealand, Spain, Sweden, Switzerland and the United Kingdom.
Astrocast operates a global nanosatellite IoT network, offering services in industries such as smart agriculture, infrastructure, maritime, environment and utilities. The Astrocast network enables companies to monitor, track and communicate with remote assets via satellite, utilising their Astronode S module, available from Mouser Electronics. The Astronode S is a satellite communication module with a serial interface and a compact, surface mount form factor. The device is optimised for low-energy operation, making it ideal for highly integrated, battery-powered IoT systems. The Astronode S module enables the monitoring and control of devices with bidirectional satellite communication for up to 10 years off a single battery.
Also available from Mouser is the Astronode Patch antenna, a miniaturised antenna designed for communication with Astrocast's IoT satellites in low earth orbit (LEO). The Patch is manufactured on a high-permittivity ceramic substrate, resulting in a reduced antenna footprint while maintaining good RF performance at the operating frequencies of the Astrocast network in L band. The antenna's extremely low profile allows for seamless placement and device integration.
Mouser will also be offering the Astronode S+, a certified, ready-to-install industrial satellite communication device based on the Astronode S and an Astronode Patch antenna. The Astronode S+ is designed to quickly and easily connect to applications via the full Astronode S digital interface or via RS232, both available on the industrial-grade board-to-cable connector. No resources are required for electronic and RF design, enabling a short time to market. This device features a small form factor allowing discrete installations.
To learn more about Astrocast products available from Mouser, visit https://eu.mouser.com/manufacturer/astrocast/.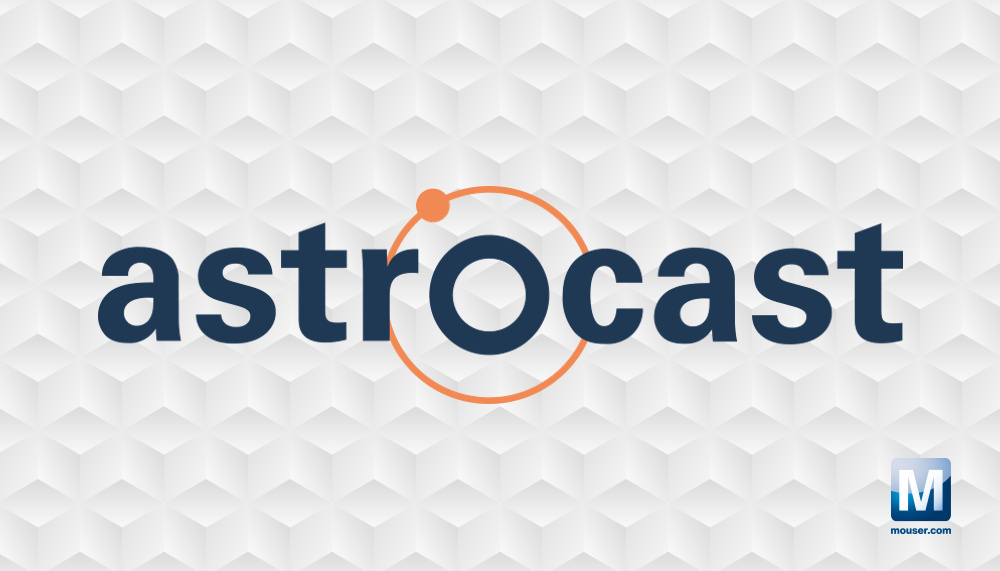 About Mouser Electronics
Mouser Electronics, a Berkshire Hathaway company, is an authorised semiconductor and electronic component distributor focused on New Product Introductions from its leading manufacturer partners. Serving the global electronic design engineer and buyer community, the global distributor's website, mouser.com, is available in multiple languages and currencies and features more than 6,8 million products from over 1.200 manufacturer brands. Mouser offers 27 support locations worldwide to provide best-in-class customer service in local language, currency and time zone. The distributor ships to over 650.000 customers in 223 countries/territories from its 93.000 square-meter, state-of-the-art facilities in the Dallas, Texas, metro area. For more information, visit https://www.mouser.com/.
About Astrocast
Founded in 2014, Astrocast SA is a global nanosatellite IoT network operator relying on superior L-band spectrum that enables system integrators and device manufacturers to develop solutions to monitor, track, and communicate with remote assets worldwide for diverse industries such as Agriculture & Livestock, Maritime, and Environment & Utilities, to name a few. In partnership with Airbus, CEA/LETI and ESA, Astrocast developed Astronode S, an ultra-low power and miniaturised module compatible with inexpensive L-band patch antennas.