15. maj 2018
Mouser Electronics Signs Advanced Energy Industries to Global Distribution Partnership
Mouser Electronics Signs Advanced Energy Industries
to Global Distribution Partnership
May 15, 2018 – Mouser Electronics, Inc., the industry's leading New Product Introduction (NPI) distributor with the widest selection of semiconductors and electronic components, announces a global distribution partnership with Advanced Energy Industries (AE), a global leader in precision power conversion. Through the agreement, Mouser will stock AE's power portfolio, including high-voltage and thermal products.
"This partnership with Advanced Energy bolsters our commitment to providing the latest products and technologies to our customers worldwide," said Jeff Newell, Mouser Electronics' Senior Vice President of Products. "We look forward to providing engineers and buyers worldwide with AE's innovative power solutions, backed by Mouser's unsurpassed customer service and best-in-class logistics."
"This agreement will enhance the customer NPI experience and enable customers to access and source our power technology solutions 24/7," said Greg Provenzano, Senior Vice President of Sales and Corporate Marketing at Advanced Energy. "Mouser's specialization in rapid introduction of new products to engineers and support for the design community in all stages of their design makes them a great partner for Advanced Energy as we expand our footprint in industrial applications worldwide."
Both the A Series and AA Series consist of miniature, PCB-mount, high-voltage, regulated DC-DC converters. Designed and built utilizing state-of-the-art power-conversion topology, these units feature surface-mount technology and encapsulation techniques that provide high reliability and performance. Both series of converters feature a wide input voltage range, an output current monitor, and indefinite output short-circuit protection for applications such as electrophoresis, bias supplies, electrostatic detectors, mass spectrometry, and photomultiplier tubes (PMTs). AA Series converters are 22 percent smaller than their standard A Series counterparts, while adding an output voltage monitor and producing the same high reliability and performance.
With highly flexible interfacing for the load and power-supply side, the plug-and-play Thyro-A® digital thyristor controllers precisely and reliably control power in three operating modes: full-wave cycle, phase-control, and half wave frequency package control (for single-phase devices). For standard processes, engineers can adjust the module itself, which eases handling and speeds commissioning. The modules also offer integration with automation systems to enable expanded functionality.
The High Power C Series of high-voltage regulated DC-to-DC converters directly addresses the high power-density needs, delivering up to 60 W, 125 W, or 250 W. This high power density is especially suited to high-energy systems with large capacitances, fast repetition rates, or high continuous-DC-power requirements. Typical applications for the High Power C Series include laser, capacitor charging, pulsed power, pulse generator, and test equipment.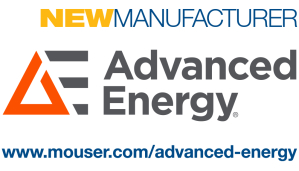 To learn more, visit http://www.mouser.com/advanced-energy.
Mouser / Advanced Energy Industries New Supplier Announcement
With its broad product line and unsurpassed customer service, Mouser strives to empower innovation among design engineers and buyers by delivering advanced technologies. Mouser stocks the world's widest selection of the latest semiconductors and electronic components for the newest design projects. Mouser Electronics' website is continually updated and offers advanced search methods to help customers quickly locate inventory. Mouser.com also houses data sheets, supplier-specific reference designs, application notes, technical design information, and engineering tools.
About Mouser Electronics
Mouser Electronics, a Berkshire Hathaway company, is an award-winning, authorized semiconductor and electronic component distributor focused on rapid New Product Introductions from its manufacturing partners for electronic design engineers and buyers. The global distributor's website, Mouser.com, is available in multiple languages and currencies and features more than 5 million products from over 700 manufacturers. Mouser offers 23 support locations around the world to provide best-in-class customer service and ships globally to over 600,000 customers in 170 countries from its 750,000 sq. ft. state-of-the-art facility south of Dallas, Texas. For more information, visit http://www.mouser.com.
About Advanced Energy
Advanced Energy is a global leader in innovative power and control technologies for high-growth, precision power solutions for thin films processes and industrial applications. The company has devoted more than three decades to perfecting power—enabling design breakthroughs and driving growth for leading semiconductor and industrial customers.
Trademarks
Mouser and Mouser Electronics are registered trademarks of Mouser Electronics, Inc. All other products, logos, and company names mentioned herein may be trademarks of their respective owners.
Further information, contact:

Kevin Hess, Mouser Electronics

Senior Vice President of Marketing

(817) 804-3833

For press inquiries, contact:

Nick Foot, BWW Communications

PR Director

+44 (0) 1491 636393