10. juni 2022
Mouser Electronics Receives Bourns 2021 Global E-Commerce Distributor of the Year Award
Mouser Electronics, Inc., the industry's leading New Product Introduction (NPI) distributor with the widest selection of semiconductors and electronic components™, proudly announces that it has been named 2021 e-Commerce Distributor of the Year by Bourns® Inc., a leading manufacturer and supplier of electronic components. Bourns awarded Mouser for achieving exceptional sales success and growth through the design fulfilment distributor's™ best-in-class internet marketing programs.
"We are honoured to receive this major award, which celebrates the strong partnership between Mouser and Bourns," said Jeff Newell, Senior Vice President of Products at Mouser Electronics. "Together, we share the highest standards for quality and customer service, which has benefited both companies and our customers for over 20 years."
'Mouser is continually a major contributor in helping us meet Bourns' sales and growth goals. Their professionalism and breakthrough programs delivered stellar performance again in 2021," said James Harrington, Senior Vice President, Worldwide Sales at Bourns. "On behalf of the whole Bourns organisation, I am thrilled to recognise Mouser's achievements in inspiring innovation and their excellent e-commerce representation of Bourns' products."
Mouser is an authorised distributor for Bourns and continues to be a leading partner in offering Bourns' newest products. Mouser stocks an impressive array of Bourns circuit protectors, sensors, controls, and resistive components. Bourns is known for their innovative development of new technologies and the ability to consistently expand manufacturing capabilities to meet their customers' changing global needs.
Mouser has received multiple top awards in recent years from Bourns, including e‑Commerce Distributor of the Year award for 2019, 2018, 2015, 2014 and 2012, as well as 2016 Distributor of the Year (Catalog Partner) in EMEA, 2012 European Distributor of the Year POS Growth Award and the 2012 Asia Distributor of the Year POS Growth Award.
For more information about Bourns products available at Mouser, visit https://eu.mouser.com/manufacturer/bourns/.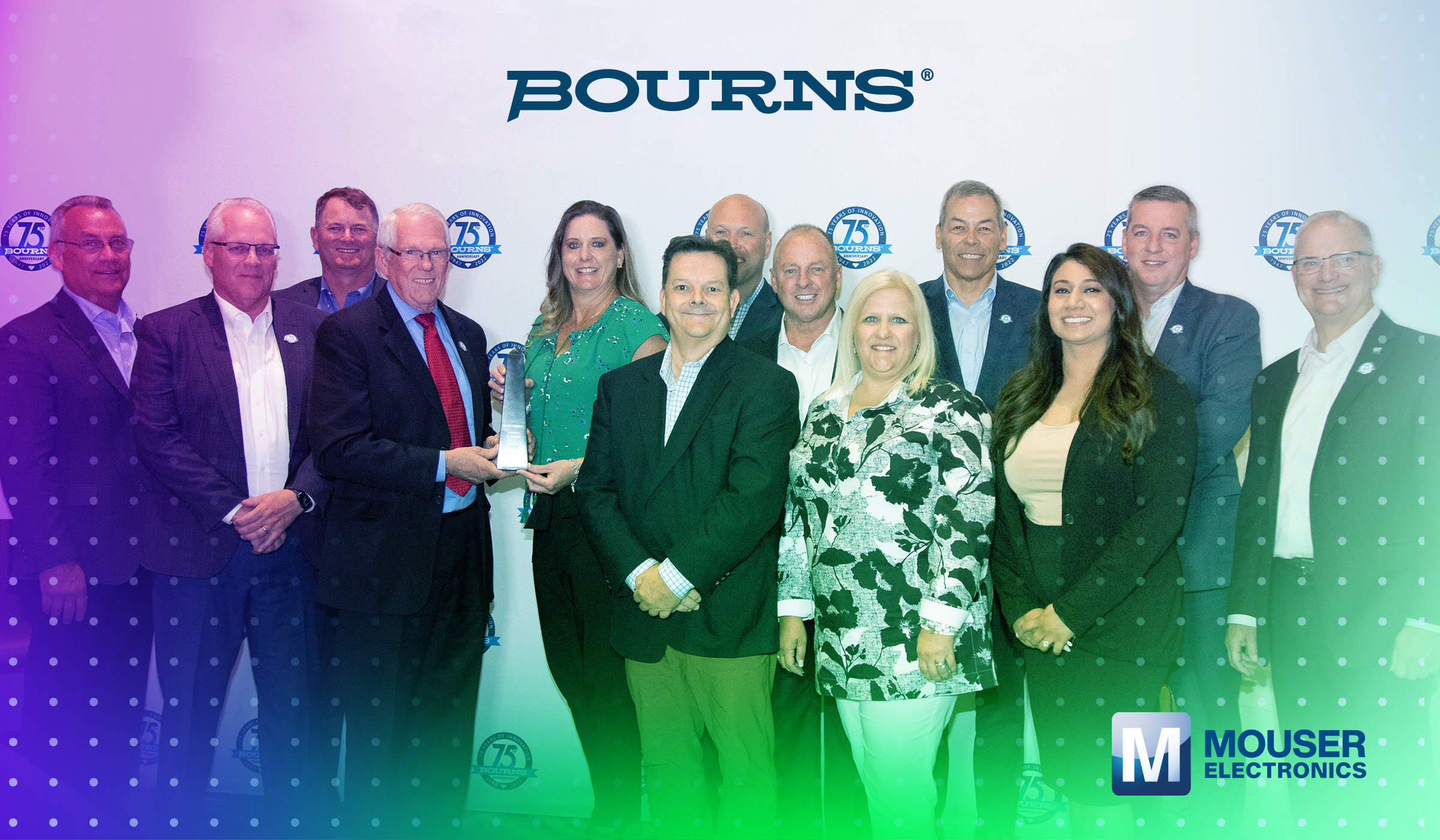 About Mouser Electronics
Mouser Electronics, a Berkshire Hathaway company, is an authorised semiconductor and electronic component distributor focused on New Product Introductions from its leading manufacturer partners. Serving the global electronic design engineer and buyer community, the global distributor's website, mouser.com, is available in multiple languages and currencies and features more than 6,8 million products from over 1.200 manufacturer brands. Mouser offers 27 support locations worldwide to provide best-in-class customer service in local language, currency and time zone. The distributor ships to over 650.000 customers in 223 countries/territories from its 93.000 square-meter, state-of-the-art facilities in the Dallas, Texas, metro area. For more information, visit https://www.mouser.com/.
About Bourns
Bourns is a leading manufacturer and supplier of automotive sensors, circuit protection solutions, magnetic products, microelectronic modules, trimming and precision potentiometers, panel controls, encoders, and resistive products. Headquartered in Riverside, CA, Bourns serves a broad range of markets, including telecommunications, computer, industrial, instrumentation, automotive, consumer, non-critical life support medical, audio, and various other market segments. Bourns products are manufactured according to ISO-9000 standards under Six Sigma quality programs. Bourns automotive products are manufactured in accordance with IATF 16949.