27. juni 2019
Mouser Electronics Now Shipping Skyworks SKY85726-11 Wi-Fi 6 Front-End Module
Mouser Electronics Now Shipping Skyworks SKY85726-11 Wi-Fi 6 Front-End Module
June 27, 2019 – Mouser Electronics, Inc., the authorized global distributor with the newest semiconductors and electronic components, is now stocking the SKY85726-11 front end module (FEM) from Skyworks Solutions. The 5 GHz WLAN device is ideal for Wi-Fi® 6 (802.11ax)-based Internet of Things (IoT) systems, offering a fully integrated solution in a compact 3 × 3 mm form factor.
The Skyworks Solutions SKY85726-11 FEM, available from Mouser Electronics, integrates a 5 GHz power amplifier (PA), single-pole double-throw (SPDT) transmit-receive switch, and low noise amplifier (LNA) with bypass mode into a single 16-pin QFN device. The LNA and PA disable functions ensure low leakage current in off mode, and an integrated power detector provides closed-loop power control within the system. The device offers excellent linearity with high gain and 50 dB antenna for isolation.
Mouser is also stocking the Skyworks SKY85726-11EK1 evaluation board, which includes SMA connectors and pinouts to help engineers demonstrate the capabilities of the SKY85726-11 FEM.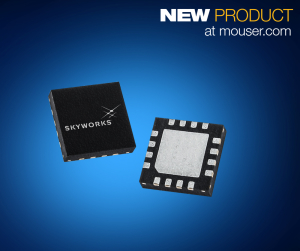 To learn more, visit http://www.mouser.com/skyworks-sky8572611-wlan-fem.
Mouser / Skyworks Solutions SKY85726-11 Front End Module
Page Two
With its broad product line and unsurpassed customer service, Mouser strives to empower innovation among design engineers and buyers by delivering advanced technologies. Mouser stocks the world's widest selection of the latest semiconductors and electronic components for the newest design projects. Mouser Electronics' website is continually updated and offers advanced search methods to help customers quickly locate inventory. Mouser.com also houses data sheets, supplier-specific reference designs, application notes, technical design information, and engineering tools.
About Mouser Electronics
Mouser Electronics, a Berkshire Hathaway company, is an award-winning, authorized semiconductor and electronic component distributor focused on rapid New Product Introductions from its manufacturing partners for electronic design engineers and buyers. The global distributor's website, Mouser.com, is available in multiple languages and currencies and features more than 5 million products from over 750 manufacturers. Mouser offers 25 support locations around the world to provide best-in-class customer service and ships globally to over 600,000 customers in more than 220 countries/territories from its 750,000 sq. ft. state-of-the-art facility south of Dallas, Texas. For more information, visit http://www.mouser.com.
About Skyworks Solutions
Skyworks Solutions, Inc. is empowering the wireless networking revolution. The company's highly innovative analog semiconductors are connecting people, places and things spanning a number of new and previously unimagined applications within the aerospace, automotive, broadband, cellular infrastructure, connected home, industrial, medical, military, smartphone, tablet, and wearable markets. Skyworks is a global company with engineering, marketing, operations, sales, and support facilities located throughout Asia, Europe and North America and is a member of the S&P 500 and Nasdaq-100 market indices.
Trademarks
Mouser and Mouser Electronics are registered trademarks of Mouser Electronics, Inc. All other products, logos, and company names mentioned herein may be trademarks of their respective owners.
– 30 –
For further information, contact:

Kevin Hess, Mouser Electronics

Senior Vice President of Marketing

(817) 804-3833

For press inquiries, contact:

Nick Foot, BWW Communications

PR Director

+44 (0)1491 636393