21. april 2017
Mouser Electronics Now Shipping OSRAM's
Mouser Electronics Now Shipping OSRAM's
High-Efficacy DURIS E 2835 LEDs
April 20, 2017 – Mouser Electronics, Inc., the industry's leading New Product Introduction (NPI) distributor with the widest selection of semiconductors and electronic components, is now stocking the DURIS® E 2835 LEDs from OSRAM Opto Semiconductors. Aimed at providing uniform, homogeneous light distribution, the DURIS E 2835 family are mid-power light-emitting diodes (LEDs) that combine good efficacy and a wide beam angle in an industry-standard 2835 (2.8 mm × 3.5 mm) footprint. The LEDs are ideal for retrofits and general indoor lighting designs in a variety of consumer and industrial applications.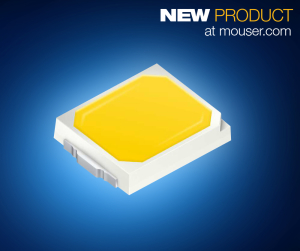 OSRAM DURIS E 2835 LEDs are available from Mouser Electronics in two output versions of 0.2 W (3V) and 1.0 W (9V) to give designers choice of performance and cost. The 0.2 W LEDs feature higher luminous efficacy, as well as lower power dissipation and lower luminous flux. The 1.0 W LEDs feature higher luminous flux, lower luminous efficacy, and higher power dissipation. Both versions are housed in a compact surface-mount package and offer a wide 120-degree beam angle at 50 percent luminous intensity. The LEDs offer illumination color options of warm white, cool white, or neutral white (2700 K to 6500 K) with a minimum Color Rendering Index (CRI) of 80. The LEDs can withstand up to 2 kV of electrostatic discharge (ESD) voltage according to ANSI/ESDA/JEDEC JS-001 (HBM, Class 2). The 0.2 W LEDs are ideal for linear and area lighting fixtures and T8 tubes, and the 1.0 W LEDs are suited for lamps and consumer downlights and fixtures.
The 0.2 W LEDs feature typical luminous efficacy of 150 lm/W at 5000 K and luminous flux of 27 lm at 5000 K with forward voltage and current of 3.0 V and 60 mA. By contrast, the 1.0 W LEDs have lower luminous efficacy of 118 lm/W at 3000 K and higher typical luminous flux of 113 lm at 3000 K with a typical operating voltage of 9.6 V and forward current of 100 mA.  Both versions offer an operating temperature range of minus 40 to 85 degrees Celsius and a junction temperature of 120 degrees Celsius.
OSRAM DURIS E 2835 LEDs are ideal for drop-in replacement designs and upgrades to other 2835-size LEDs and common mid-power offerings. For more information, visit http://www.mouser.com/new/osram/osram-duris-e2835-led/.
Mouser / OSRAM DURIS E 2835 LEDs
Page Two
With its broad product line and unsurpassed customer service, Mouser strives to empower innovation among design engineers and buyers by delivering advanced technologies. Mouser stocks the world's widest selection of the latest semiconductors and electronic components for the newest design projects. Mouser Electronics' website is continually updated and offers advanced search methods to help customers quickly locate inventory. Mouser.com also houses data sheets, supplier-specific reference designs, application notes, technical design information, and engineering tools.
About Mouser Electronics
Mouser Electronics, a subsidiary of TTI, Inc., is part of Warren Buffett's Berkshire Hathaway family of companies. Mouser is an award-winning, authorized semiconductor and electronic component distributor focused on rapid New Product Introductions from its manufacturing partners for electronic design engineers and buyers. The global distributor's website, Mouser.com, is available in multiple languages and currencies and features more than 4 million products from over 600 manufacturers. Mouser offers 22 support locations around the world to provide best-in-class customer service and ships globally to over 500,000 customers in 170 countries from its 750,000 sq. ft. state-of-the-art facility south of Dallas, Texas. For more information, visit http://www.mouser.com.
About OSRAM Opto Semiconductors
OSRAM Opto Semiconductors is a world leading manufacturer of optoelectronic semiconductors for the lighting, sensor, and visualization sectors. The extensive product portfolio of OSRAM Opto Semiconductors includes a wide selection of high-brightness high-power LEDs in the visible range along with other semiconductor technologies used in a variety of lighting applications.
Trademarks
Mouser and Mouser Electronics are registered trademarks of Mouser Electronics, Inc. All other products, logos, and company names mentioned herein may be trademarks of their respective owners.
– 30 –
Further information, contact:

Nick Foot, BWW Communications

PR Director

+44 (0) 1491 636393

For press inquiries, contact:

Kelly DeGarmo, Mouser Electronics

Manager, Corporate Communications and Media Relations

(817) 804-7764