7. november 2018
Mouser Electronics Now Shipping New Arduino Uno WiFi Rev 2
Mouser Electronics Now Shipping New Arduino Uno WiFi Rev 2
megaAVR-based Board Integrates Wi-Fi, Sensors, and Security for IoT Designs
November 7, 2018 – Mouser Electronics, Inc., the authorized global distributor with the newest semiconductors and electronic components, is now shipping the highly anticipated Uno WiFi Rev 2 from Arduino. The first AVR®-based, natively enabled Internet of Things (IoT) board from Arduino, the Uno WiFi Rev 2 board integrates an 8-bit microcontroller, Wi-Fi module, sensors, and hardware-based security in the familiar Uno Rev 3 form factor. The new board addresses the wireless connectivity and low power demands of the growing IoT market.
The Arduino Uno WiFi Rev 2, available from Mouser Electronics, is based on the new Microchip Technology ATmega4809 megaAVR® microcontroller. The ATmega4809 offers Core Independent Peripherals (CIPs) and an integrated high-speed analog-to-digital converter (ADC) with voltage reference for faster conversion of analog signals. The microcontroller also provides more memory than on previous Uno boards, boasting 48 kBytes of flash and 6 kBytes of RAM, plus three UARTs to enable communication with more than one RF module.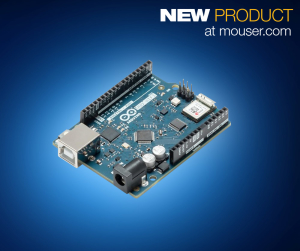 The Uno WiFi Rev 2 includes a u-blox NINA-W13 module with integrated TCP/IP protocol stack to provide 802.11b/g/n Wi-Fi connectivity enabling access to a Wi-Fi network or for use as an access point. The board also features support for over-the-air (OTA) programming for transfer of Arduino sketches or Wi-Fi firmware. Wireless security is provided by a Microchip ECC608 CryptoAuthentication IC, which combines hardware-based key storage with hardware cryptographic accelerators to implement authentication and encryption protocols. Other features include onboard debugging, inertial measurement unit (IMU) with 3-axis accelerometer and 3-axis gyroscope, 14 digital input/output pins (six PWM outputs), and six analog inputs.
Designed to ease deployment of designs that need Wi-Fi connectivity, the Arduino Uno WiFi Rev 2 is ideal for prototyping IoT applications such as smart agriculture, smart home, motor control, automation, wearables, and other open source projects.
To learn more, visit http://www.mouser.com/arduino-uno-wifi-rev2.
Mouser / Arduino Uno WiFi Rev 2
Page Two
With its broad product line and unsurpassed customer service, Mouser strives to empower innovation among design engineers and buyers by delivering advanced technologies. Mouser stocks the world's widest selection of the latest semiconductors and electronic components for the newest design projects. Mouser Electronics' website is continually updated and offers advanced search methods to help customers quickly locate inventory. Mouser.com also houses data sheets, supplier-specific reference designs, application notes, technical design information, and engineering tools.
About Mouser Electronics
Mouser Electronics, a Berkshire Hathaway company, is an award-winning, authorized semiconductor and electronic component distributor focused on rapid New Product Introductions from its manufacturing partners for electronic design engineers and buyers. The global distributor's website, Mouser.com, is available in multiple languages and currencies and features more than 5 million products from over 750 manufacturers. Mouser offers 23 support locations around the world to provide best-in-class customer service and ships globally to over 600,000 customers in more than 220 countries/territories from its 750,000 sq. ft. state-of-the-art facility south of Dallas, Texas. For more information, visit http://www.mouser.com.
About Arduino
Arduino is an open-source electronics prototyping platforms based on flexible, easy-to-use hardware and software. Arduino prototyping platforms are intended for artists, designers, beginners, hobbyists, and anyone interested in creating interactive objects or environments. Arduino projects can sense the environment by receiving input from a variety of sensors and can affect their surroundings by controlling lights, motors, and other actuators. Arduino projects can be stand-alone or they can communicate with software running on a computer.
Trademarks
Mouser and Mouser Electronics are registered trademarks of Mouser Electronics, Inc. All other products, logos, and company names mentioned herein may be trademarks of their respective owners.
– 30 –
Further information, contact:

Kevin Hess, Mouser Electronics

Senior Vice President of Marketing

(817) 804-3833

For press inquiries, contact:

Nick Foot, BWW Communications

PR Director

+44 (0)1491 636393