23. september 2020
Mouser Electronics Now Shipping ams TMF8801-EVM Eval Kit for ToF Distance Sensing
Mouser Electronics, Inc., the industry's leading New Product Introduction (NPI) distributor with the widest selection of semiconductors and electronic components, is now stocking the TMF8801-EVM evaluation kit from ams. The TMF8801-EVM allows engineers to evaluate the operation of the ams TMF8801 1D time-of-flight (ToF) sensor for applications such as smartphones, industrial robotics, and autonomous appliances.
The ams TMF8801-EVM, available from Mouser Electronics, includes a ToF sensor enclosure and sample glass, USB type A to micro-USB cable, USB flash drive with EVM GUI software, and EVM documentation.
The onboard TMF8801 ToF sensor offers highly accurate depth accuracy detection through a sub-nanosecond light pulse and an anti-aliasing "stop-watch" method to measure round-trip time of the pulse. The TMF8801 provides single-zone detection of an object irrespective of the color, reflectivity, and texture. This single module with VCSEL emitter offers high dynamic range and detection sensing measurements with a 20 mm to 2500 mm distance range. This device utilises highly sensitive single-photon avalanche diode (SPAD) detection with fast compact time-to-digital converters to make highly accurate distance measurements within ±5 percent and is capable of operation in both dark environments and in the presence of sunlight.
At just 2.2 mm × 3.6 mm × 1.0 mm, the TMF8801 is more than 30 percent smaller than other ToF sensors on the market, making it ideal for compact, space-constrained designs in applications such as laser detect auto-focus (LDAF), presence detection, industrial ranging, object and collision avoidance, fast ranging navigation detection, and inventory control.
For more information on the ams TMF8801 sensor, go to https://eu.mouser.com/new/ams/ams-tmf8801-sensor/. To learn more about the ams TMF8801-EVM evaluation kit, visit https://eu.mouser.com/new/ams/ams-tmf8801-evm-eval-kit/.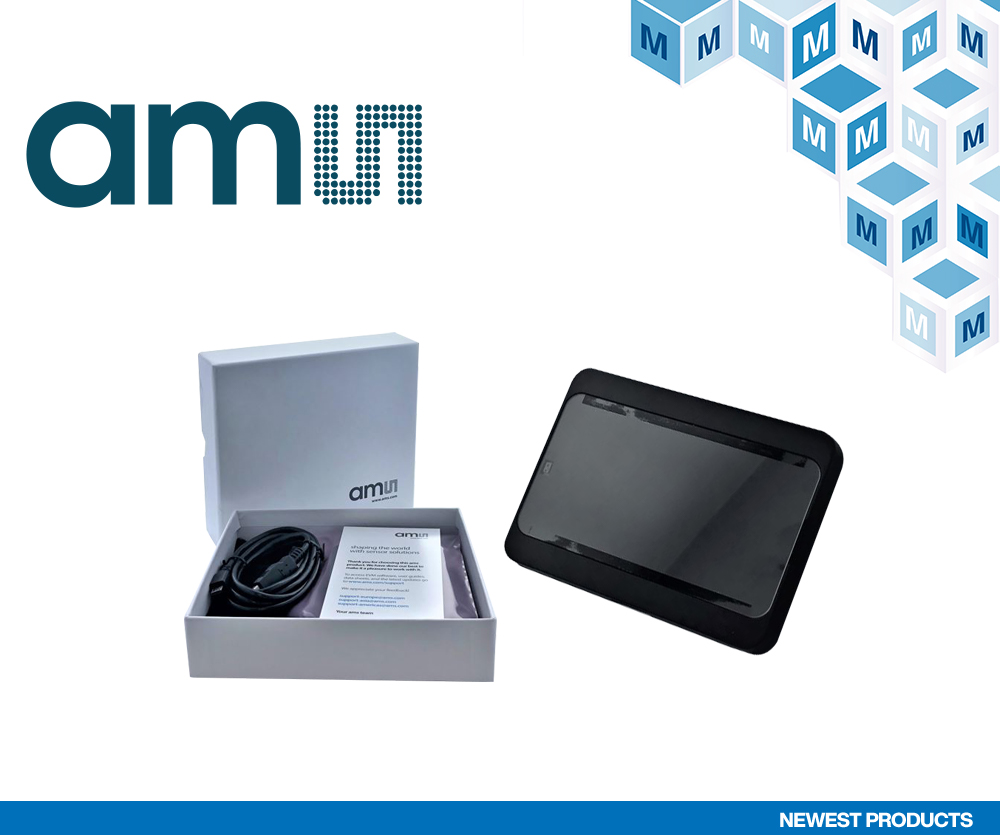 About Mouser Electronics
Mouser Electronics, a Berkshire Hathaway company, is an award-winning, authorised semiconductor and electronic component distributor focused on rapid New Product Introductions from its manufacturing partners for electronic design engineers and buyers. The global distributor's website, mouser.com, is available in multiple languages and currencies and features more than 5 million products from over 800 manufacturers. Mouser offers 27 support locations around the world to provide best-in-class customer service and ships globally to over 630.000 customers in more than 223 countries/territories from its 93.000 square meter state-of-the-art facilities south of Dallas, Texas. For more information, visit http://www.mouser.com.