23. juli 2019
Mouser Electronics' Newest Methods Technology eZine Explores the Arrival of 5G
Mouser Electronics' Newest Methods Technology eZine
Explores the Arrival of 5G
July 23, 2019 – Mouser Electronics, Inc., the New Product Introduction (NPI) leader empowering innovation, announces the latest issue of its Methods technology and solutions eZine. The new issue, The Future with 5G, highlights the upcoming arrival of 5G networks, their implications for internet access plus consumer and industrial services, as well as remaining challenges to be resolved before the deployment of 5G.
This issue of Methods features articles written by experts from Mouser Electronics, in addition to contributions from the industry's leading figures. Offering a broad overview of 5G and its applications, the issue provides a detailed introduction to 5G and insightful examinations of topics such as 5G antenna design, security, and infrastructure. The newest issue of Methods also features an article by Dr. Emad Farag of Nokia Bell Labs on the 3GPP Release 15 5G Standard.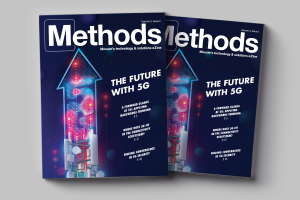 "5G is one of the world's most anticipated technological advancements, and its deployment will have wide-spread implications for industries and consumers," said Kevin Hess, Senior Vice President of Marketing at Mouser Electronics. "Our newest issue of Methods helps readers to understand the changes that 5G will bring, through the help of added context and deep insights provided by the industry's leading experts."
The 5G issue of Methods includes a thoughtful foreword from Jean-Pierre Bienaimé, Chairman of the Economic and Social Research Institute on Telecommunications. Bienaimé's introduction points out the challenges facing 5G deployment, while highlighting the initiatives underway throughout the world to address these challenges.
In addition to the Methods eZine, Mouser offers a number of resources for design engineers and buyers, including blogs, eBooks, and newsletters. Mouser's Applications and Technologies sites offer exclusive design resources, white papers, videos, and product information, enabling design engineers to reach new heights product development and innovation.
Find all issues of Methods, including the newest issue on 5G, at https://eng.info.mouser.com/methods-ezine.
Mouser / Methods Vol. 3 Iss. 2 Future with 5G
Page Two
With its broad product line and unsurpassed customer service, Mouser strives to empower innovation among design engineers and buyers by delivering advanced technologies. Mouser stocks the world's widest selection of the latest semiconductors and electronic components for the newest design projects. Mouser Electronics' website is continually updated and offers advanced search methods to help customers quickly locate inventory. Mouser.com also houses data sheets, supplier-specific reference designs, application notes, technical design information, and engineering tools.
About Mouser Electronics
Mouser Electronics, a Berkshire Hathaway company, is an award-winning, authorized semiconductor and electronic component distributor focused on rapid New Product Introductions from its manufacturing partners for electronic design engineers and buyers. The global distributor's website, Mouser.com, is available in multiple languages and currencies and features more than 5 million products from over 750 manufacturers. Mouser offers 25 support locations around the world to provide best-in-class customer service and ships globally to over 600,000 customers in more than 220 countries/territories from its 750,000 sq. ft. state-of-the-art facility south of Dallas, Texas. For more information, visit http://www.mouser.com.
Trademarks
Mouser and Mouser Electronics are registered trademarks of Mouser Electronics, Inc. All other products, logos, and company names mentioned herein may be trademarks of their respective owners.
– 30 –
For further information, contact:

Kevin Hess, Mouser Electronics

Senior Vice President of Marketing

(817) 804-3833

For press inquiries, contact:

Nick Foot, BWW Communications

PR Director

+44 (0)1491 636393