27. september 2018
Mouser Electronics New Product Insider: September 2018
Mouser Electronics New Product Insider: September 2018
Global Distributor Leads in New Product Introductions
September 27, 2018 – Mouser Electronics, Inc. specializes in the rapid introduction of new products and technologies. As the industry leader in New Product Introductions (NPIs), Mouser makes it a priority to stock the newest products and technologies from our 700+ manufacturer partners, giving customers an edge and helping speed time to market.
Last month, Mouser launched more than 302 new products ready for same-day shipment.
Some of the products introduced by Mouser last month include:
Due to its interface and low pin count, Micron's serial NOR flash is a simple, easy-to-use solution for applications that code shadow. Features such as advanced security and memory protection provide peace of mind for securing vital program code and sensitive user data.
The MKR VIDOR 4000 lets engineers essentially create their own controller board, boasting an array of robust hardware plus Wi-Fi and Bluetooth® connectivity on top of an Intel® Cyclone® 10 field programmable gate array (FPGA) and Microchip SAM D21 microcontroller.
The small but powerful SFH 4718A infrared LED (IRED) is the first in the IR OSLON Black family to feature a narrow beam angle of ± 25 degrees, enabling illumination units for camera systems with a medium capture range without requiring secondary optics.
The industry's first flexible PIFA antenna for 802.11 Wi-Fi multiple input/multiple output (MIMO) applications, Laird's FlexMIMO includes two integrated 2.4/5 GHz dual-band antenna elements specifically designed for MIMO applications, such as automated equipment, medical devices, and Internet of Things (IoT) devices.
To see more of the New Product Insider highlights, go to http://www.mouser.com/newproductinsider.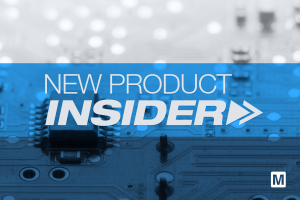 Mouser / New Product Insider September 2018
With its broad product line and unsurpassed customer service, Mouser strives to empower innovation among design engineers and buyers by delivering advanced technologies. Mouser stocks the world's widest selection of the latest semiconductors and electronic components for the newest design projects. Mouser Electronics' website is continually updated and offers advanced search methods to help customers quickly locate inventory. Mouser.com also houses data sheets, supplier-specific reference designs, application notes, technical design information, and engineering tools.
About Mouser Electronics
Mouser Electronics, a Berkshire Hathaway company, is an award-winning, authorized semiconductor and electronic component distributor focused on rapid New Product Introductions from its manufacturing partners for electronic design engineers and buyers. The global distributor's website, Mouser.com, is available in multiple languages and currencies and features more than 5 million products from over 700 manufacturers. Mouser offers 23 support locations around the world to provide best-in-class customer service and ships globally to over 600,000 customers in more than 220 countries/territories from its 750,000 sq. ft. state-of-the-art facility south of Dallas, Texas. For more information, visit http://www.mouser.com.
Trademarks
Mouser and Mouser Electronics are registered trademarks of Mouser Electronics, Inc. All other products, logos, and company names mentioned herein may be trademarks of their respective owners.
Further information, contact:

Kevin Hess, Mouser Electronics

Senior Vice President of Marketing

(817) 804-3833

For press inquiries, contact:

Nick Foot, BWW Communications

PR Director

+44 (0) 1491 636393