17. maj 2023
Mouser Electronics Honours President & CEO Glenn Smith on 50-Year Anniversary with the Company
Mouser Electronics, Inc., the industry's leading New Product Introduction distributor with the widest selection of semiconductors and electronic components, is pleased to announce the 50th service anniversary of Mouser President and Chief Executive Officer Glenn Smith, who continues to impress with his dedication to the company, employees and the industry.
Much has changed since 1973 when college junior Smith got a part-time job in the warehouse of what was little more than an electronics startup in San Diego. He was one of just 12 employees. Since then, Smith helped build  the small company into the top-10 component distribution giant that Mouser is today with 27 offices around the globe, serving over 650,000 customers and distributing products from over 1,200 manufacturer partners. Mouser's central hub is the company's global headquarters and distribution centre in Mansfield, Texas. Smith is quick to attribute Mouser's success to the hard work of innumerable people.
"Nothing we have accomplished here would have been possible without diligence, enthusiasm and perseverance of the entire Mouser team – past and present," Smith says. "I would not be here today, after 50 years, without the exceptional teamwork of Mouser employees. Each of us continues to play an important role in making our company thrive. Together, we have accomplished great things, and we are far from finished."
Smith's foresight and leadership qualities at Mouser were evident from the start. From the warehouse he quickly ascended to management positions at every department, including technical sales, marketing, purchasing, operations and information technology. In 1985, he was promoted to Senior Vice President and General Manager in charge of day-to-day operations.
In 1986, Smith was instrumental in moving the operation to Mansfield, placing Mouser near DFW International Airport to expand the company's distribution capabilities. Two years later, Smith was named President. In 2000, Fort Worth-based TTI, Inc. acquired Mouser, and in 2004, Smith was elevated his current role of President and Chief Executive Officer of Mouser. Mouser and TTI were acquired by the Warren Buffett-owned Berkshire Hathaway, Inc. in 2007.
Throughout the years, Mouser and Smith have won many industry and local awards. Smith's commitment to the electronics component industry earned him the 2011 Distinguished Service Award from the Electronic Component Industry Association, at which Smith served on the board of directors. In 2012, Mouser received an Employer of Excellence Award for Tarrant County for significant economic and community impact on North Texas. In 2019, Smith was named Top Public CEO from the Fort Worth Business Press. Mouser also won a 2014 Large Business of the Year Award and a 2021 Best Places to Work Award.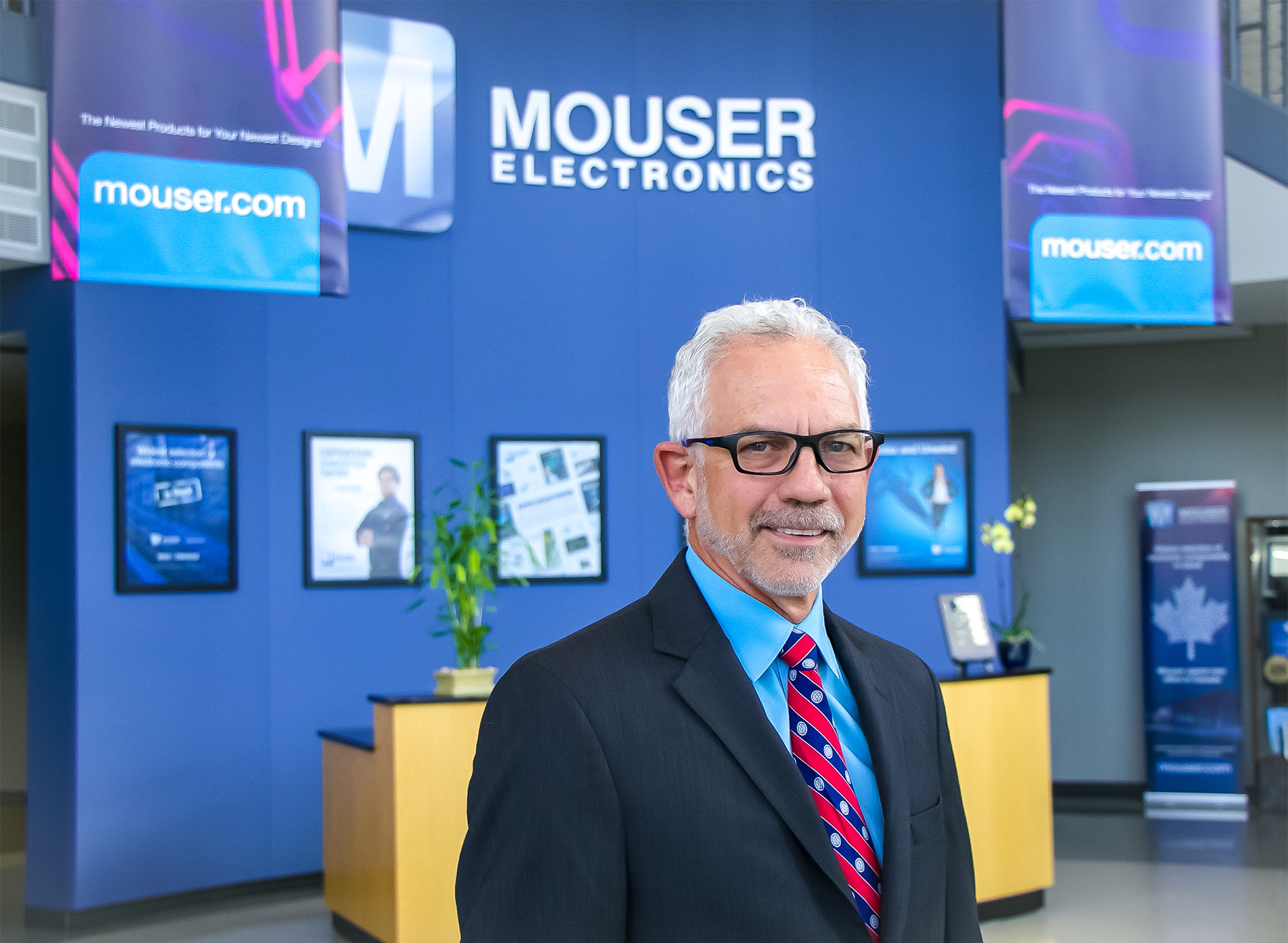 About Mouser Electronics
Mouser Electronics, a Berkshire Hathaway company, is an authorised semiconductor and electronic component distributor focused on New Product Introductions from its leading manufacturer partners. Serving the global electronic design engineer and buyer community, the global distributor's website, mouser.com, is available in multiple languages and currencies and features more than 6.8 million products from over 1,200 manufacturer brands. Mouser offers 27 support locations worldwide to provide best-in-class customer service in local language, currency and time zone. The distributor ships to over 650,000 customers in 223 countries/territories from its 1 million-square-foot, state-of-the-art distribution facilities in the Dallas, Texas, metro area. For more information, visit https://www.mouser.com/.