23. januar 2019
Mouser Electronics Enters Global Agreement with Pyreos to Distribute Pyroelectric Sensors
Mouser Electronics Enters Global Agreement with Pyreos
to Distribute Pyroelectric Sensors
January 23, 2019 – Mouser Electronics, Inc., the authorized global distributor with the newest semiconductors and electronic components, has signed a global distribution agreement with Pyreos, a U.K.-based passive infrared sensor developer and manufacturer. Through the agreement, Mouser is now stocking a variety of Pyreos' mid-infrared detectors for applications in air quality, breath measurement for medical applications, gas and flame detection, motion, and gesture.
The Pyreos product line available from Mouser Electronics includes ezPyro™ digital SMD pyroelectric infrared (IR) sensors, the world's first surface mount pyroelectric sensors for gas and flame detection and food analysis. Comprised of gas detection sensors, flame sensors, and broadband sensors, the ezPyro SMD sensors offer high sensitivity, fast response, low power consumption, high levels of configurability, and easy integration. Industry-standard I²C communication and supporting software library enables plug-and-play connectivity to microcontrollers and allows easy tuning and calibration.  Mouser Electronics is also stocking Pyreos linear arrays and evaluation kit as well as a variety of single, dual and quad TO-39 sensors.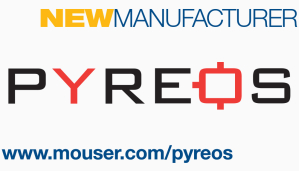 The Pyreos thin film pyroelectric flame sensors offer exceptionally high responsivity and a wide field of view of typically up to 120 degrees. These current mode sensors have excellent signal-to-noise ratio (SNR) at the 3 – 30 Hz frequency range. In the case of a flame they can provide accurate discrimination of flame sources in triple IR flame detection systems. All Pyreos sensors have class-leading rapid recovery of less than one second from thermal and mechanical shocks.
To learn more, visit http://www.mouser.com/pyreos.
Mouser / Pyreos New Supplier Announcement
Page Two
With its broad product line and unsurpassed customer service, Mouser strives to empower innovation among design engineers and buyers by delivering advanced technologies. Mouser stocks the world's widest selection of the latest semiconductors and electronic components for the newest design projects. Mouser Electronics' website is continually updated and offers advanced search methods to help customers quickly locate inventory. Mouser.com also houses data sheets, supplier-specific reference designs, application notes, technical design information, and engineering tools.
About Mouser Electronics
Mouser Electronics, a Berkshire Hathaway company, is an award-winning, authorized semiconductor and electronic component distributor focused on rapid New Product Introductions from its manufacturing partners for electronic design engineers and buyers. The global distributor's website, Mouser.com, is available in multiple languages and currencies and features more than 5 million products from over 750 manufacturers. Mouser offers 23 support locations around the world to provide best-in-class customer service and ships globally to over 600,000 customers in more than 220 countries/territories from its 750,000 sq. ft. state-of-the-art facility south of Dallas, Texas. For more information, visit http://www.mouser.com.
About Pyreos
Pyreos was formed in 2007 to take advantage of the growing market for advanced infrared sensor technology in gas and flame detection, motion sensing and spectroscopic analysis. Siemens contributed seed technology in the form of proprietary developments and a patent portfolio for ceramic thin film MEMS IR sensor technology.
Trademarks
Mouser and Mouser Electronics are registered trademarks of Mouser Electronics, Inc. All other products, logos, and company names mentioned herein may be trademarks of their respective owners.
– 30 –
Further information, contact:

Kevin Hess, Mouser Electronics

Senior Vice President of Marketing

(817) 804-3833

For press inquiries, contact:

Nick Foot, BWW Communications

PR Director

+44 (0)1491 636393