15. maj 2023
Mouser Electronics Earns 2022 Global Performance of the Year Award from Harwin
Mouser Electronics, Inc., the authorised global distributor with the newest semiconductors and electronic components, is pleased to announce that it has been awarded the 2022 Global Performance of the Year Award from Harwin, a world leader in the manufacture of interconnect components.
Harwin cited Mouser's continued expansion of the Harwin customer base, combined with impressive sales growth figures as basis for the award. Alongside this are the marketing engagement activities that Mouser has done, covering widespread promotion through e-newsletters and online advertising, plus the creation of highly informative technical and multimedia content.
Other key factors that have been instrumental in gaining this accolade are the speed with which new product introductions (NPIs) are launched and the major commitments made to inventory. The latest Harwin product lines are quickly added to Mouser stock, then widely promoted to customers.
"The team at Mouser is an invaluable asset to Harwin, providing valued support to the company in achieving its long-term growth objectives," explains Anthony Bruggeman, Head of Distribution, Americas at Harwin. "The ceaseless NPI activity combined with first-class marketing campaigns are putting our products front and centre. This means a larger number of engineers are being made aware of the products and are then designing them in."
"We are honoured to receive this prestigious award and thank Harwin for recognizing the outstanding efforts of our teams around the world," responded Jeff Newell, Mouser Electronics' Senior Vice President, Products. "We greatly value our partnership and will continue to fulfil customers' needs through best-in-class service, innovation and collaboration. We look forward to continued success in years to come."
Previously, Harwin recognized Mouser with the Global Sales Achievement Award in 2020 and awarded Jeri Hull, Supplier Manager at Mouser, with their 5 Star Award for her exceptional work launching the latest Harwin new product introductions (NPIs).
For more information about Harwin products available from Mouser, visit https://eu.mouser.com/manufacturer/harwin/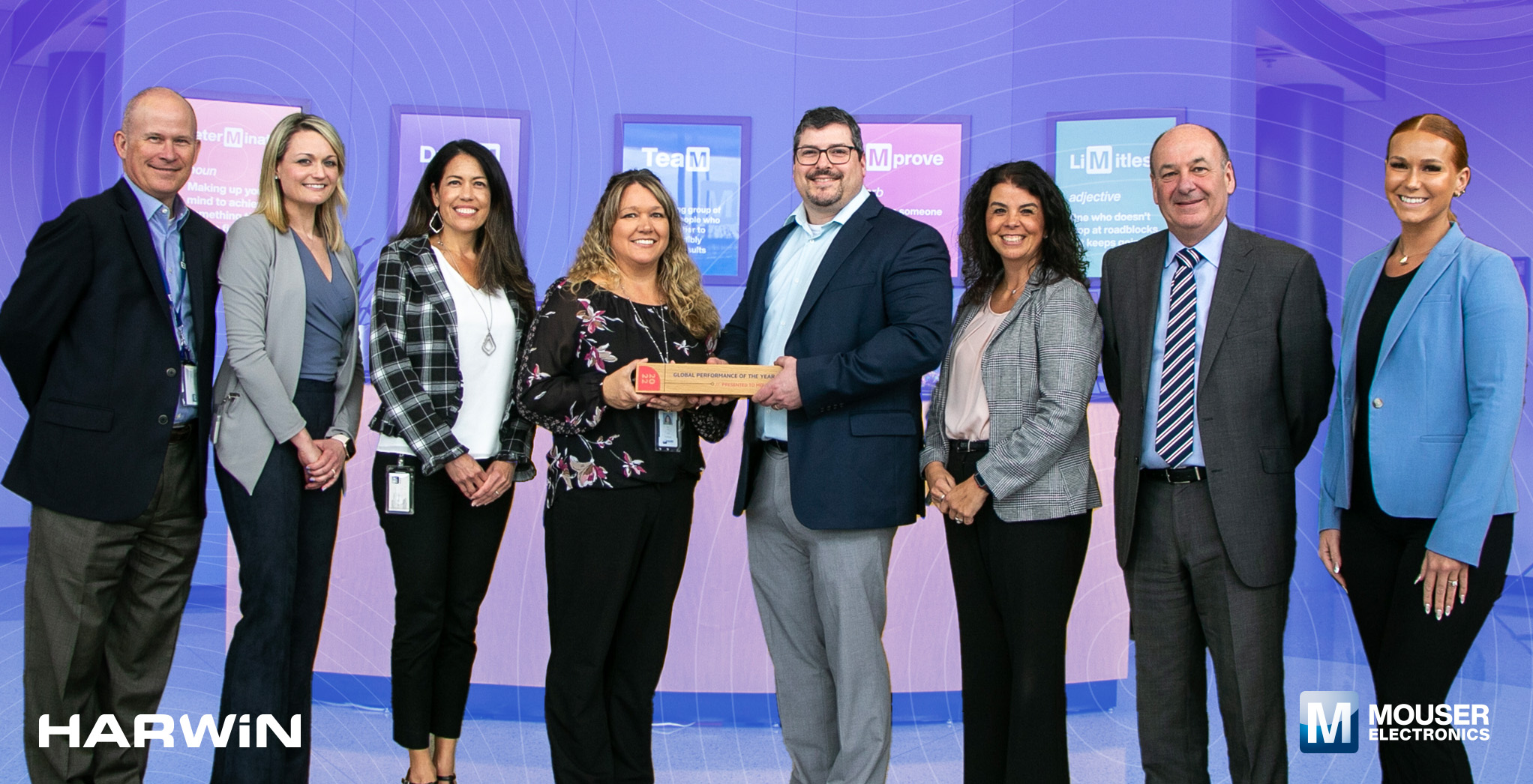 About Mouser Electronics
Mouser Electronics, a Berkshire Hathaway company, is an authorised semiconductor and electronic component distributor focused on New Product Introductions from its leading manufacturer partners. Serving the global electronic design engineer and buyer community, the global distributor's website, mouser.com, is available in multiple languages and currencies and features more than 6.8 million products from over 1,200 manufacturer brands. Mouser offers 27 support locations worldwide to provide best-in-class customer service in local language, currency and time zone. The distributor ships to over 650,000 customers in 223 countries/territories from its 1 million-square-foot, state-of-the-art distribution facilities in the Dallas, Texas, metro area. For more information, visit https://www.mouser.com/.
About Harwin
Harwin is a manufacturer of High Reliability Interconnects suitable for harsh environments and are able to withstand extreme vibration, shock and temperature. Datamate, Gecko and M300 product lines have a proven history in Military, Aerospace and other safety critical markets. Other board level solutions include EMC Shielding products which increase reliability, flexibility and cost savings through the process of automated placement. Industry standard connectors and PCB hardware are also available from Harwin for commercial applications.