3. april 2019
Mouser Electronics Delivers Winning Combinations for Customers from Renesas and IDT
Mouser Electronics Delivers Winning Combinations for Customers from Renesas and IDT
April 3, 2019 – Mouser Electronics, Inc., the industry's leading New Product Introduction (NPI) distributor with the widest selection of semiconductors and electronic components, is excited to offer "winning combinations" from Renesas Electronics and IDT, a Renesas Company, following successful completion of Renesas' acquisition of IDT on March 29, 2019.
Renesas and IDT offer complementary product portfolios that come together to create a wide range of comprehensive solutions. These winning combinations capture and highlight the technological advantages of Renesas and IDT in the fast-growing industrial and infrastructure applications for the data economy.
IDT's industry-leading radio frequency (RF) products, high-performance timing, memory interface, real-time interconnect, optical interconnect, power and sensor solutions, combined with Renesas' microcontrollers, system-on-chips (SoCs), and power management ICs, present myriad solutions for customers.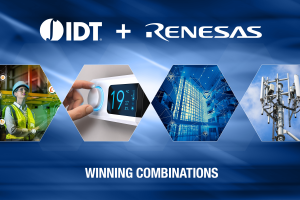 Winning combinations for industrial applications include HVAC air quality sensor and air quality control solutions, which incorporate the IDT ZMOD4410 gas sensor and HS300x humidity sensor family, along with the Renesas RL78/G14 microcontroller to provide a complete solution for HVAC systems, smart appliances, and smart home/office applications. To support industrial automation applications, the Industrial sensing with IO-Link interface includes Renesas' industry-leading RL78 microcontroller, and IDT's best-in-class ZSSC3224 sensor signal conditioner and ZIOL2401 IO-Link interface for a complete solution.
For infrastructure applications, the cellular base station is a combination of a wide range of bias control DCPs, voltage references, digital converters, and highly integrated and industry-proven timing tree solutions. Wireline infrastructure computing is timing and power solutions that reduce component count and logistics for applications like 10G – 400G Ethernet switches, enterprise core, edge routers, optical transport networks, packet transport networks, and access network equipment.
To learn more about winning combinations from Renesas and IDT, visit http://www.mouser.com/idt-renesas-winning-combinations.
Mouser / Renesas and IDT Winning Combinations
Page Two
With its broad product line and unsurpassed customer service, Mouser strives to empower innovation among design engineers and buyers by delivering advanced technologies. Mouser stocks the world's widest selection of the latest semiconductors and electronic components for the newest design projects. Mouser Electronics' website is continually updated and offers advanced search methods to help customers quickly locate inventory. Mouser.com also houses data sheets, supplier-specific reference designs, application notes, technical design information, and engineering tools.
About Mouser Electronics
Mouser Electronics, a Berkshire Hathaway company, is an award-winning, authorized semiconductor and electronic component distributor focused on rapid New Product Introductions from its manufacturing partners for electronic design engineers and buyers. The global distributor's website, Mouser.com, is available in multiple languages and currencies and features more than 5 million products from over 750 manufacturers. Mouser offers 23 support locations around the world to provide best-in-class customer service and ships globally to over 600,000 customers in more than 220 countries/territories from its 750,000 sq. ft. state-of-the-art facility south of Dallas, Texas. For more information, visit http://www.mouser.com.
Trademarks
Mouser and Mouser Electronics are registered trademarks of Mouser Electronics, Inc. All other products, logos, and company names mentioned herein may be trademarks of their respective owners.
– 30 –
For further information, contact:

Kevin Hess, Mouser Electronics

Senior Vice President of Marketing

(817) 804-3833

For press inquiries, contact:

Nick Foot, BWW Communications

PR Director

+44 (0)1491 636393