29. maj 2020
Mouser Electronics Announces Global Agreement with Trenz Electronic to Distribute Industrial-Grade Xilinx-Based SoMs
Mouser Electronics, Inc., the authorised global distributor with the newest semiconductors and electronic components, has signed a global distribution agreement with Trenz Electronic, manufacturers of industrial-grade multiprocessor system-on-chip (MPSoC) system-on-modules (SoMs). With this deal, Mouser now distributes a selection of Trenz Electronic's industrial-grade Xilinx FPGA-based MPSoC SoMs, which feature powerful switch-mode power supplies for all on-board voltages, providing a high-performance solution to shorten product development time.
Trenz Electronic's TE0803 MPSoC SoMs, now available from Mouser Electronics, integrate a Xilinx Zynq UltraScale+ FPGA and up to 8 GBytes of 64-bit DDR4 SDRAM and 128 MBytes of flash memory. The TE0803 modules include up to eight high-speed serial transceiver pairs, plus a large number of configurable I/Os.
The TE0820 MPSoC SoMs are also based on a Zynq UltraScale+ FPGA and feature up to 4 GBytes of 32-bit DDR4 SDRAM and a maximum 128 MBytes of SPI boot flash memory. The 4 cm × 5 cm modules include four high-speed serial I/O interfaces and 132 high-performance programmable logic (HP PL) I/Os.
Trenz Electronic's TE0720 SoMs feature a Xilinx Zynq-7000 SoC with up to 1 GByte of DDR3/L SDRAM and 32 MBytes of quad SPI flash memory. The modules incorporate a USB PHY transceiver as well as a Gigabit Ethernet PHY transceiver.
As an authorised distributor, Mouser Electronics is focused on the rapid introduction of new products and technologies, giving customers an edge and helping speed time to market. Over 800 semiconductor and electronic component manufacturers count on Mouser to help them introduce their products into the global marketplace. Mouser's customers can expect 100% certified, genuine products that are fully traceable from each manufacturer. To learn more, visit http://www.mouser.com
To learn more, visit https://eu.mouser.com/manufacturer/trenz/.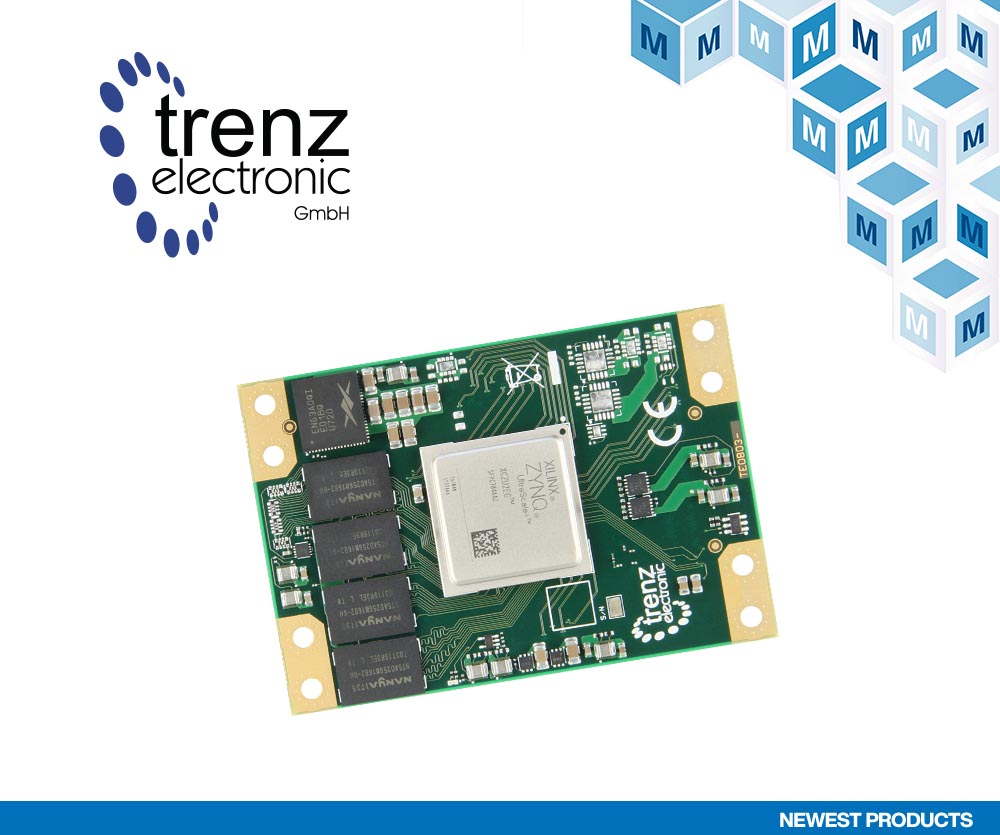 With its broad product line and unsurpassed customer service, Mouser strives to empower innovation among design engineers and buyers by delivering advanced technologies. Mouser stocks the world's widest selection of the latest semiconductors and electronic components for the newest design projects. Mouser Electronics' website is continually updated and offers advanced search methods to help customers quickly locate inventory. Mouser.com also houses data sheets, supplier-specific reference designs, application notes, technical design information, and engineering tools.
About Mouser Electronics
Mouser Electronics, a Berkshire Hathaway company, is an award-winning, authorized semiconductor and electronic component distributor focused on rapid New Product Introductions from its manufacturing partners for electronic design engineers and buyers. The global distributor's website, mouser.com, is available in multiple languages and currencies and features more than 5 million products from over 800 manufacturers. Mouser offers 27 support locations around the world to provide best-in-class customer service and ships globally to over 630.000 customers in more than 223 countries/territories from its 93.000 square meter state-of-the-art facilities south of Dallas, Texas. For more information, visit http://www.mouser.com.