21. april 2021
Mouser Electronics and QuickLogic Corporation Sign Global Distribution Agreement
Mouser Electronics, Inc., the industry's leading New Product Introduction (NPI) distributor with the widest selection of semiconductors and electronic components, today announces a global distribution agreement with QuickLogic® Corporation, a developer of embedded FPGA IP; ultra-low-power, multi-core, voice-enabled systems-on-chips (SoCs); and endpoint artificial intelligence (AI) solutions. Through the agreement, Mouser now stocks QuickLogic's EOS™ S3 microcontroller- and FPGA-based platform and QuickFeather development kit.
The EOS S3 sensor processing platform is a multi-core SoC that enables a vast array of concurrent sensor applications, from basic to computationally demanding algorithms for smartphone, wearable, and Internet of Things (IoT) devices. The EOS S3 platform available from Mouser integrates an ultra-low-power Arm® Cortex®-M4F microcontroller subsystem and embedded FPGA (eFPGA) fabric, with optional Sensory Low-Power Sound Detect (LPSD) for on-chip voice recognition. The heterogeneous architecture of the EOS S3 enables designers to partition their software and use cases across the variety of cores to optimise their system for lowest power consumption.
The QuickFeather development kit is a small form factor system ideal for enabling the next generation of low-power machine learning (ML)-capable IoT devices. The QuickFeather, powered by the EOS S3, is based on open source hardware and compatible with the Adafruit Feather form factor. The board is built around a 100% open source software ecosystem, including SymbiFlow FPGA tools, Zephyr and FreeRTOS real-time operating systems, and Renode).  Additionally, a multitude of third-party software is available for a variety of sensor processing, voice, and AI/ML use cases, including SensiML and Google's TensorFlow Lite for Microcontrollers.
To learn more, visit https://eu.mouser.com/manufacturer/quicklogic/.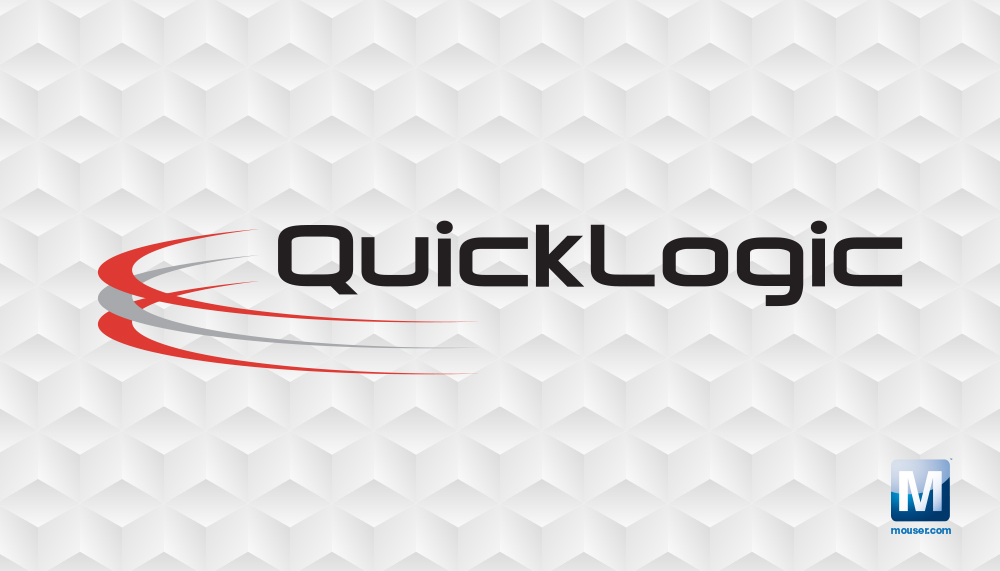 About Mouser Electronics
Mouser Electronics, a Berkshire Hathaway company, is an authorised semiconductor and electronic component distributor focused on New Product Introductions from its leading manufacturer partners. Serving the global electronic design engineer and buyer community, the global distributor's website, mouser.com, is available in multiple languages and currencies and features more than 5 million products from over 1,100 manufacturer brands. Mouser offers 27 support locations worldwide to provide best-in-class customer service in local language, currency and time zone. The distributor ships to over 630,000 customers in 223 countries/territories from its 1 million-square-foot, state-of-the-art distribution facilities in the Dallas, Texas, metro area. For more information, visit eu.mouser.com.