23. maj 2017
Mouser Electronics and OLED Developer Visionox Sign Global Distribution Agreement
Mouser Electronics and OLED Developer Visionox
Sign Global Distribution Agreement
May 22, 2017 – Mouser Electronics, Inc., the authorized global distributor with the newest semiconductors and electronic components, today announced a global distribution agreement with Visionox, an industry leader in the development of organic light emitting diodes (OLEDs) and display solutions. Visionox is a cutting-edge company that has a proven ability not only for innovation but also for quickly moving discoveries from the lab to manufacturing.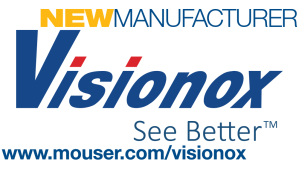 The Visionox product line, available at Mouser Electronics, includes PMOLED, AMOLED, and TFT LCD display modules. The company's passive-matrix OLED (PMOLED) modules are available in a variety of sizes, resolutions, and interfaces with white, full-color, yellow/blue, and yellow/green display options. Visionox's patented TrueColor™ active-matrix OLED (AMOLED) technology delivers life-like brilliant colors by controlling each pixel with its own red, green and blue OLED. The AMOLED displays are available in 1.2-inch round, 1.45-inch rectangle, and HD 5.50-inch rectangle options. The company's thin film transistor (TFT) LCD displays are made in-house, from TFT cells to modules. The displays are composed of a TFT LCD panel, driver ICs, flexible printed circuit (FPC), and a backlight unit, and are available in sizes ranging from 4.3 inches to 15.0 inches.
To learn more, visit http://www.mouser.com/visionox/.
Mouser / Visionox New Supplier Announcement
Page Two
With its broad product line and unsurpassed customer service, Mouser strives to empower innovation among design engineers and buyers by delivering advanced technologies. Mouser stocks the world's widest selection of the latest semiconductors and electronic components for the newest design projects. Mouser Electronics' website is continually updated and offers advanced search methods to help customers quickly locate inventory. Mouser.com also houses data sheets, supplier-specific reference designs, application notes, technical design information, and engineering tools.
About Mouser Electronics
Mouser Electronics, a Berkshire Hathaway company, is an award-winning, authorized semiconductor and electronic component distributor focused on rapid New Product Introductions from its manufacturing partners for electronic design engineers and buyers. The global distributor's website, Mouser.com, is available in multiple languages and currencies and features more than 4 million products from over 600 manufacturers. Mouser offers 22 support locations around the world to provide best-in-class customer service and ships globally to over 550,000 customers in 170 countries from its 750,000 sq. ft. state-of-the-art facility south of Dallas, Texas. For more information, visit http://www.mouser.com.
About Visionox
Visionox was founded at Beijing's Tsinghua University in 1996 as an OLED technology company. Staying true to its research-oriented roots, it has consistently led the industry with groundbreaking research, earning more than 3,000 patents and growing to become the world's largest PMOLED maker and third-largest AMOLED maker.
Trademarks
Mouser and Mouser Electronics are registered trademarks of Mouser Electronics, Inc. All other products, logos, and company names mentioned herein may be trademarks of their respective owners.
– 30 –
Further information, contact:

Nick Foot, BWW Communications

PR Director

+44 (0) 0149 636393

For press inquiries, contact:

Kelly DeGarmo, Mouser Electronics

Manager, Corporate Communications and Media Relations

(817) 804-7764