15. januar 2019
Mouser Electronics and Inventek Systems Announce Global Distribution Agreement
Mouser Electronics and Inventek Systems Announce
Global Distribution Agreement
January 15, 2019 – Mouser Electronics, Inc., the authorized global distributor with the newest semiconductors and electronic components, announces a global distribution agreement with Inventek Systems, a market leader in full-service wireless and IoT connectivity focused on 802.11 a/b/g/n/ac Wi-Fi, Bluetooth®, combo platforms of Wi-Fi and Bluetooth/Bluetooth low energy, and GPS modular IoT platform solutions. Inventek also supports all associated antenna requirements for the target radio of choice. Through the agreement, Mouser now stocks Inventek's FCC-, CE‑, and IE-certified Wi-Fi and Bluetooth/Bluetooth low energy combo modules and corresponding Inventek Systems Module ARduino Test (ISMART) evaluation boards.
Inventek's Wi-Fi and Bluetooth/Bluetooth low energy combo modules offer a quick, easy, and cost-effective method for adding wireless connectivity to Internet of Things (IoT) devices. The ISM4343-WBM-L151 embedded 2.4 GHz Wi-Fi and Bluetooth/Bluetooth low energy system-in-package (SiP) module is based on a Cypress CYW4343 chip with Bluetooth 4.1 and an STMicroelectronics STM32F412 Arm®-Cortex®-M4 microcontroller with 1 Mbyte of internal flash memory.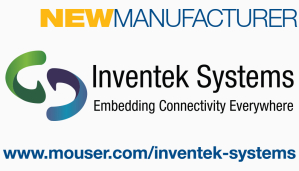 The ISM43340-M4G-L44 is an embedded 2.4 GHz/5 GHz dual-band Wi-Fi, Bluetooth low energy, and Bluetooth 4.0 module based on the Broadcom BCM43340 quad–radio device with an integrated STM32F405 Arm Cortex-M4 microcontroller. This platform is available with an integrated dual-band chip antenna or with an external U.FL antenna connector for use with the Inventek dual-band U.FL PCB antenna.
The ISM43340-L77 dual-band Wi-Fi and Bluetooth/Bluetooth low energy radio-only SiP provides the highest level of integration, with 2.4 GHz/5 GHz single-stream 802.11 a/b/g/n Wi-Fi, MAC/baseband/radio, and Bluetooth 4.0. Based on a Broadcom BCM43340 quad-radio device. The ISM43340-L77 is intended for embedded Linux and Android applications running on qualified host processors with an SDIO interface.
The modules are all supported by evaluation boards, also available from Mouser. The evaluation boards feature an onboard Wi-Fi/Bluetooth module, UART, JTAG, expansion headers, status LEDs, user buttons, and more. The Inventek ISMART evaluation boards are compatible with the Arduino footprint, allowing developers to attach a variety of microcontrollers shields. In addition, Inventek's proprietary connectivity and cloud agent AT Command software, Inventek's Wireless Interoperability Network (IWIN), provides a robust, user-friendly design environment to ensure maximum acceleration of design.
To learn more about Inventek Systems, visit http://www.mouser.com/inventek-systems.
Mouser / Inventek Systems New Supplier Announcement
Page Two
With its broad product line and unsurpassed customer service, Mouser strives to empower innovation among design engineers and buyers by delivering advanced technologies. Mouser stocks the world's widest selection of the latest semiconductors and electronic components for the newest design projects. Mouser Electronics' website is continually updated and offers advanced search methods to help customers quickly locate inventory. Mouser.com also houses data sheets, supplier-specific reference designs, application notes, technical design information, and engineering tools.
About Mouser Electronics
Mouser Electronics, a Berkshire Hathaway company, is an award-winning, authorized semiconductor and electronic component distributor focused on rapid New Product Introductions from its manufacturing partners for electronic design engineers and buyers. The global distributor's website, Mouser.com, is available in multiple languages and currencies and features more than 5 million products from over 750 manufacturers. Mouser offers 23 support locations around the world to provide best-in-class customer service and ships globally to over 600,000 customers in more than 220 countries/territories from its 750,000 sq. ft. state-of-the-art facility south of Dallas, Texas. For more information, visit http://www.mouser.com.
About Inventek Systems
Inventek Systems is a market leader in full-service hardware and software wireless IoT connectivity solutions focused on 802.11 a/b/g/n/ac, Bluetooth, Bluetooth low energy, GPS, and combo Wi-Fi+BT/BLE platforms. Inventek provides a wide range of embedded options from low-cost system-in-a-package (SiP) radio-only systems to complete modular-based custom solutions (radio-only+MCU+certified antenna).
Inventek Systems' expertise in complete cloud services in combination with enhanced proprietary connectivity software and modular solutions positions Inventek as a leader in market competitive system solutions across a wide range of consumer- and industrial-based applications. Inventek's connectivity offering and IoT-ready solutions are enabling customers around the world to "get connected" with minimal design effort.
Trademarks
Mouser and Mouser Electronics are registered trademarks of Mouser Electronics, Inc. All other products, logos, and company names mentioned herein may be trademarks of their respective owners.
– 30 –
Further information, contact:

Kevin Hess, Mouser Electronics

Senior Vice President of Marketing

(817) 804-3833

For press inquiries, contact:

Nick Foot, BWW Communications

PR Director

+44 (0)1491 636393