13. december 2021
Mouser Electronics and Hartland Controls Announce Global Distribution Agreement
Mouser Electronics, Inc., the authorised global distributor with the newest semiconductors and electronic components, announces a global distribution agreement with Hartland Controls, a Littelfuse company and supplier of components used in HVAC and other industrial applications. According to the agreement, Mouser will offer customers a range of motor run capacitors, definite purpose contactors, transformers, and other electrical control solutions.
"We are excited to collaborate with Mouser to distribute our electrical control devices for the HVAC industry worldwide," said John Collins, vice president industrial controls and sensors at Littelfuse. "Through their logistics expertise and renowned customer service, Mouser helps to empower innovation and move our industry forward. We look forward to mutual success."
"HVAC solutions and other industrial applications require a broad range of mission-critical components, and Hartland Controls consistently delivers reliable performance with impressive service life," said Andy Kerr, Vice President of Supplier Management at Mouser Electronics. "This distribution agreement gives engineers around the globe an expanded choice of Littelfuse products when designing the next generation of electrical control solutions."
The Hartland Controls HCK motor run capacitors boost the current or reduce the power factor to an electrical motor, delivering reliable power supply for a range of applications, including HVAC, food and beverage, electronics, and pools and spas. The start capacitors offer 370 VAC and 440 VAC rated voltage as standard, with 0.1% maximum dissipation factor and 30 µA maximum leakage current.
HCT 40 VA, 50 VA, and 75 VA transformers efficiently change one AC voltage to another by magnetic induction. The 40 VA and 5 0VA transformers are inherently limited, requiring no secondary fusing, while the 75 VA transformers are not inherently limited and do require secondary fusing. The transformers are ideal for applications such as food service, water pumps, and HVAC.
The HCD series three-pole definite-purpose contactors use three wires to control electrical current direction and are typically used in commercial applications. The contactors are rated for 50 FLA to 120 FLA and feature a +130°C Class B insulation system.
HCC series devices are also three-pole definite-purpose contactors, rated for 50 FLA to 60 FLA. The contactors feature a Double E magnet assembly for optimal performance with reduced power use, in addition to an actuator molded from high arc-resistant polyester. The contactors offer reliable performance for commercial and residential HVAC, water and wastewater, and electric vehicle (EV) charging.
To learn more about Hartland Controls products available from Mouser, visit https://eu.mouser.com/manufacturer/hartland-controls/.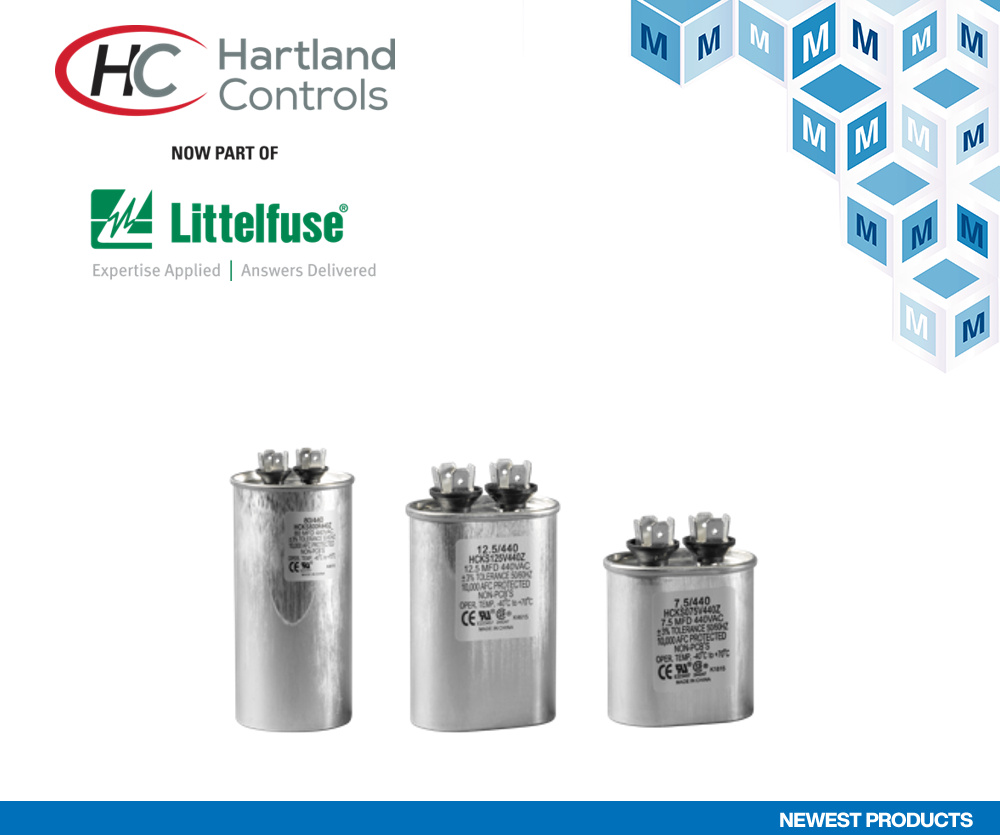 About Mouser Electronics
Mouser Electronics, a Berkshire Hathaway company, is an authorised semiconductor and electronic component distributor focused on New Product Introductions from its leading manufacturer partners. Serving the global electronic design engineer and buyer community, the global distributor's website, mouser.com, is available in multiple languages and currencies and features more than 5 million products from over 1.100 manufacturer brands. Mouser offers 27 support locations worldwide to provide best-in-class customer service in local language, currency and time zone. The distributor ships to over 630.000 customers in 223 countries/territories from its 93.000 square-meter, state-of-the-art facilities in the Dallas, Texas, metro area. For more information, visit https://www.mouser.com/.
About Hartland Controls
Hartland Controls, a Littelfuse company, is a supplier of electrical components used primarily in heating, ventilation, air conditioning, refrigeration (HVAC/R), and other industrial applications. This company specializes in the manufacturing and design of mission critical electrical contactors, class II transformers, capacitors, relays, auxiliary switches, and configured assemblies. For more information visit Hartland Controls.com.
About Littelfuse, Inc.
Littelfuse (NASDAQ: LFUS) is an industrial technology manufacturing company empowering a sustainable, connected, and safer world. Across more than 15 countries, and with 12,000 global associates, we partner with customers to design and deliver innovative, reliable solutions. Serving over 100,000 end customers, our products are found in a variety of industrial, transportation and electronics end markets – everywhere, every day. Learn more at Littelfuse.com.