14. juli 2017
Mouser Electronics and Grant Imahara Discover Innovative Traffic Solutions in Latest Shaping Smarter Cities Series
Mouser Electronics and Grant Imahara Discover Innovative Traffic Solutions in Latest Shaping Smarter Cities Series
July 14, 2017 – Mouser Electronics Inc., a leading global distributor of electronic components, along with celebrity engineer Grant Imahara today released a new video for the Shaping Smarter Cities series, part of Mouser's award-winning Empowering Innovation Together™ program.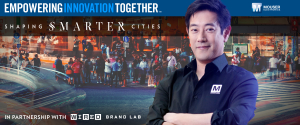 In the newest video, Imahara travels to Porto, Portugal, to investigate how innovators are using technology to help with infrastructure problems caused by rapid urban expansion — specifically massive traffic congestion. The new series is supported by Mouser's valued suppliers Analog Devices, Intel®, Microchip Technology and Molex.
With residents in Porto spending an average of 120 hours a year in traffic, both corporate productivity and the environment have been under assault for decades. Imahara speaks with engineers from Veniam, a Porto-based technology company that has developed a potential solution to stagnant traffic. By implementing large Wi-Fi mesh networks in cities across the world, which use vehicles as roving hotspots, Veniam can gather large quantities of usable data for better traffic management and municipal planning. The networks further benefit citizens by enabling publicly available Wi-Fi connections throughout the city.
"While technology will be the means to create smarter cities, innovators will be the catalysts who actually make it happen," said Glenn Smith, President and CEO of Mouser Electronics. "What we are witnessing in this new video series are some of the world's best engineers and innovators at the very start of a movement that will make life easier for future generations."
"Walking the streets of Porto and speaking with the top engineers at Veniam, I am struck by the passion that they bring to the world with their designs," said Imahara. "In partnerships between companies like Veniam and Mouser, we can easily see how innovation will create more connected cities."
Imahara interviews João Barros, founder and CEO of Veniam, to provide additional details on the hardware and software used to turn moving vehicles into Wi-Fi hotspots. Barros also explains how the collected data can be used to alleviate street congestion, assist with fleet management, help self-driving cars, and improve efficiency for commercial delivery industries — all to provide better infrastructure for smarter cities.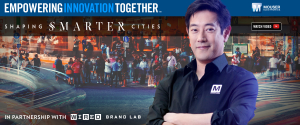 -continued-
Mouser / Shaping Smart Cities: Porto, Portugal
Page 2
Since 2015, the Empowering Innovation Together program has been one of the most visible and recognized marketing programs in the electronic component industry, featuring projects ranging from bringing superhero technology to life to 3D printing a semi-autonomous car with drone technology. For 2017, Mouser's goal is to reach even more innovators around the globe with the Empowering Innovation Together program and solve problems that impact more of humanity.
To learn more about this and all of Mouser's Empowering Innovation Together series, visit http://www.mouser.com/empowering-innovation.
About Mouser Electronics
Mouser Electronics, a Berkshire Hathaway company, is an award-winning, authorized semiconductor and electronic component distributor, focused on the rapid introduction of new products and technologies to electronic design engineers and buyers. Mouser.com features more than 4 million products online from more than 600 manufacturers. Mouser publishes multiple catalogs per year providing designers with up-to-date data on the components now available for the next generation of electronic devices. Mouser ships globally to over 550,000 customers in 170 countries from its 750,000 sq. ft. state-of-the-art facility south of Dallas, Texas. For more information, visit http://www.mouser.com.
About Grant Imahara
Well known in the engineering community, Grant Imahara has paired his engineering expertise with a Hollywood TV and film career. In addition to his roles on MythBusters and BattleBots, Imahara is the inventor behind many famous robotic characters, including the Star Wars prequel-era R2-D2, talking robot sidekick Geoff Peterson from The Late Late Show with Craig Ferguson, and the rhythmic arms on the modern-day Energizer Bunny.
Trademarks
Mouser and Mouser Electronics are registered trademarks of Mouser Electronics, Inc. All other products, logos, and company names mentioned herein may be trademarks of their respective owners.
Intel is a registered trademark of Intel Corporation in the United States and other countries.
– 30 –
Further information, contact:

Kevin Hess, Mouser Electronics

Senior Vice President of Marketing

(817) 804-3833

For press inquiries, contact:

Nick Foot, BWW Communications

PR Director

+44 (0)1491 636393